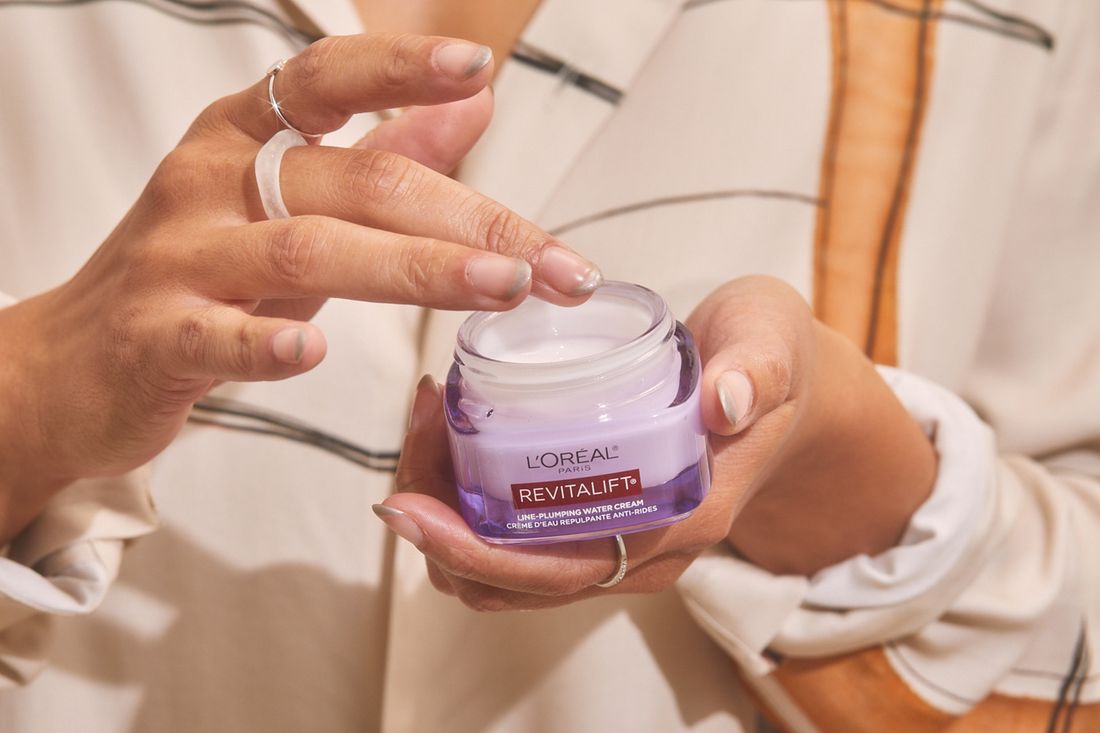 I've always been advised by beauty experts and read in magazines that your skin-care routine is the true base of your makeup routine, and that being consistent and dedicated with your skin-care will make your makeup smoother and easier to apply. As a budding skin-care and beauty maven, I took that advice to heart and over the years I noticed the retinol and hyaluronic acid serums I was using led to smoother, more even, and overall better looking skin.
But while the rest of my routine was stellar, I did have some trouble finding the perfect moisturizer. As someone with combination skin, finding a face cream that would give me the right level of hydration without turning my face into an oil slick seemed impossible. Each pick I tried was either too light, too heavy, or too drying, until the L'Oréal Paris Revitalift Derm Intensives Micro Hyaluronic Acid + Ceramides Line-Plumping Water Cream came across my desk.
I was initially intrigued by the name of the product, as a water cream sounds both hydrating (water) and soothing (cream). In the first few weeks of using the product, I noticed that my skin looked and felt softer and smoother, and I also noticed an overall brighter complexion.
As for my makeup, both my primer and foundation went on much smoother, which laid the perfect base for the concealer, blush, and setting powder that followed. The difference was even noticeable in my photos, as my skin looked clearer and more airbrushed.
The magic of the water cream is all in the formula. The face moisturizer contains hyaluronic acid and ceramides to help the skin attract and lock in moisture while deeply hydrating and strengthening the skin barrier. Compared to other moisturizers I had used previously, the cream absorbs quickly with no sticky or heavy feeling, and I can use it as both a morning and night cream.
In addition to hydration, the water cream helps with plumping the skin, so my makeup looks smoother. Prior to using the moisturizer, my makeup would look great upon first application, but the area around my nose or my laugh lines would soon crease and get flaky. Now, I don't have to worry about that and my skin looks smoother and bouncier even under my foundation and powder.
I never thought the key to a makeup routine would lie in a moisturizer, but this powerhouse cream will be in my beauty bag for a very long time.
This advertising content was produced in collaboration between Vox Creative and our sponsor, without involvement from Vox Media editorial staff.