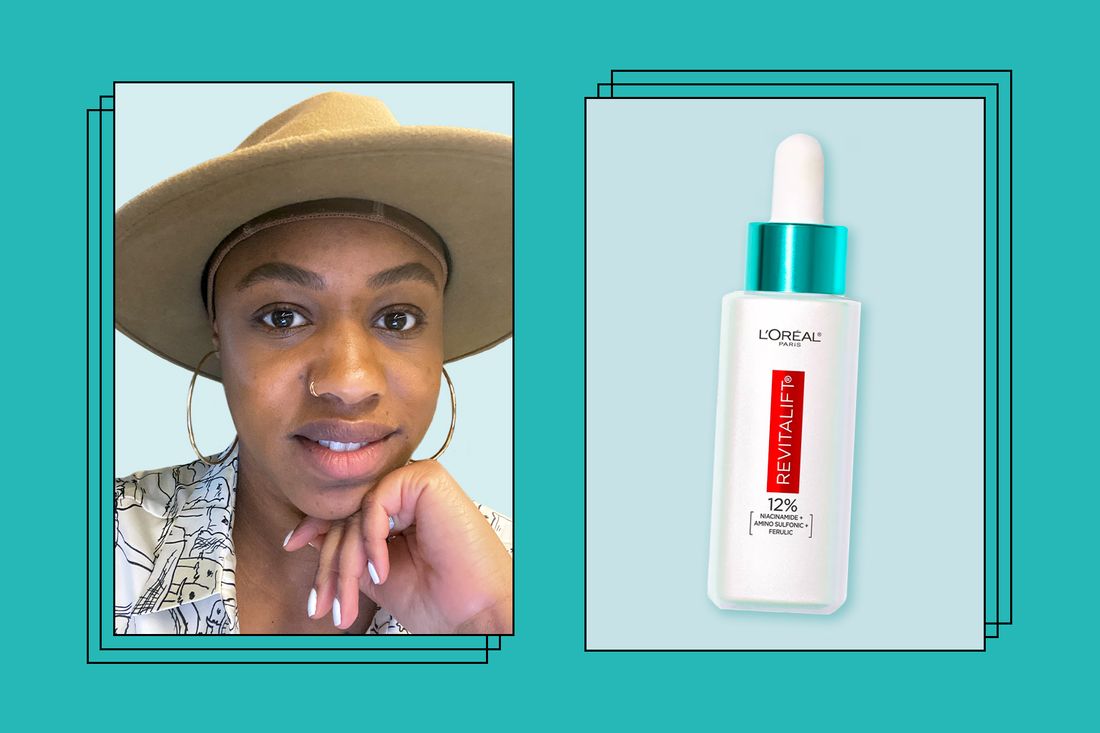 Photo: Shalwah Evans; Photo-illustration: Juliana Campisi
When you have maturing skin that's also acne-prone, keeping dark spots and other blemishes at a minimum is a challenge. Welcome to my fun house — and by fun house I mean the type that's filled with unpredictable twists and distorted visuals of one's self, and ultimately ends with someone in tears.
It seems like every time I get a breakout, or even one lone pimple, it takes forever to heal and it's always dark. I understand that as we age our skin's ability to heal and our skin's cell turnover slow down, so this is to be expected. But at age 39 I feel like I'm too old to still be dealing with consistent breakouts, but also too young for my skin not to be able to handle them quickly. I'm diligent about my skin-care routine so even as the breakouts continued and progressed from whiteheads and blackheads to cysts I stayed positive and cycled, then recycled products into the regimen.
Then two chemical peel burns and many dermatologist visits later I'd almost given up on chasing the perfect glow, until the unthinkable happened — a drugstore (read: affordable) brand dropped a serum that actually helped. The new L'Oréal Paris Revitalift Derm Intensives 12% [Niacinamide + Amino Sulfonic + Ferulic Acid] Dark Spot Serum came into my life at exactly the right time and my summer glow is about to be Instagramable thanks to it. The name is mouthful, I know, but what it does is pretty simple, and incredible — here's why I'm reaching for this product every day.
What Does Niacinamide Do for Your Skin?
First things first, let's break down the different ingredients in this glow-boosting staple. If you haven't heard about the anti-aging ingredient niacinamide by now then you're not on TikTok or Instagram nearly as much as I am (good for you by the way). But even if you swear by these platforms you still may not know why niacinamide is so good for your skin.
Niacinamide, also known as nicotinamide, is a water soluble B3 vitamin that's used in various cosmetics and medicines due to its many benefits. According to a study published by the National Library of Medicine, niacinamide helps improve hyperpigmentation, skin blotchiness, and skin hydration. It's known to have antioxidant capabilities — meaning it fights free radicals and pollutants that age the skin rapidly — and also improves epidermal barrier function, decreasing fine lines and wrinkles as a result.
What Is Amino Sulfonic Acid?
A lesser talked-about ingredient in cosmetics, sulfonic acid has both exfoliating and balancing properties. You may have seen hydroxyethylpiperazine ethane sulfonic acid, or HEPES (an amino sulfonic acid derivative) included in your serums or even sunscreens to help prolong the life of your products as it dissolves the bonds that keep dead skin cells stuck together on the surface of your complexion.
What Does Ferulic Acid Do to Your Skin?
Ferulic acid (FA) is a phytochemical (an active compound) commonly found in fruits and vegetables such as tomatoes, sweet corn, and rice bran. It's a potent antioxidant that's known to have therapeutic effects against diseases like cancer, diabetes, and cardiovascular disease. When it comes to skin benefits, it's proven to protect the skin from free radicals that can cause sagging, uneven skin tone, dullness, and wrinkles. Because it plays well with other antioxidants, it can be paired with them to bring even more benefits to the skin's health and appearance, like it does in this serum.
What the L'Oréal Paris [Niacinamide + Amino Sulfonic + Ferulic Acid] Dark Spot Serum Does for My Skin
So now that I've given Adam Conover a run for his money, let's get down to the nitty gritty of how this serum actually works for my acne-prone, hyperpigmentation-filled, slow-to-heal, dry skin.
The Formula
Anyone who knows me knows how much I swear by a good facial serum, but also how much I can be turned off by a formula that's too sticky or smells like the Brooklyn Botanic Garden — too much flora is just not my thing. I like that this serum is somewhat milky in texture and smooth without being runny. Its fragrance is strong, but not abrasive and to the point that I'm irritated. Plus, it's a pleasant scent (a little fresh, a little soapy) so I don't mind it being so close to my nose.
The serum absorbs quickly and it's not greasy, though it's not drying either. I used it to moisturize my hands after a few washes when there was no lotion in sight and that moisture lasted for hours. I also love that it's paraben free, dye free, mineral oil free, and allergy tested; if I'm being honest I typically don't pay attention to details like this but it did make me feel better about buying the product.
The Ingredients
Like I mentioned, the cocktail of anti-aging ingredients in this face serum helps with a variety of skin concerns, especially dark spots, which was the draw for me. My skin has always responded positively to niacinamide so I was pretty confident that it would be fine in this serum, but this was my first time using a product that boasted ferulic acid and sulfonic acid as main ingredients, so I was glad they didn't irritate my complexion.
After cleansing, I apply five drops in the morning and night on my face and neck. On nights when I'm using another active I switch off from using this just to be on the safe side. Niacinamide is known for being soothing and typically plays well with other ingredients but unless my derm tells me otherwise, I don't mix actives.
The Results
It takes weeks to months to see results from processes like microdermabrasion so you can't expect to see your marks go away after a few nights of this product. However, after just a couple of weeks I've noticed a brightness in the appearance of my face and the skin feels softer. I had a scaly patch of (hyperpigmented) skin above my nose from using too much retinol during a breakout and now it's smoothed out and feels like my skin again. I'm seeing the darkness in the spot starting to lighten up, too.
I can't wait to see how my skin looks at the six- and eight-week mark if this is already happening in just two. If we keep on this trajectory I'll have the glowing, (almost) post-acne-mark-free skin that I crave for the summer. I see foundation-free days in my future.
This advertising content was produced in collaboration between Vox Creative and our sponsor, without involvement from Vox Media editorial staff.