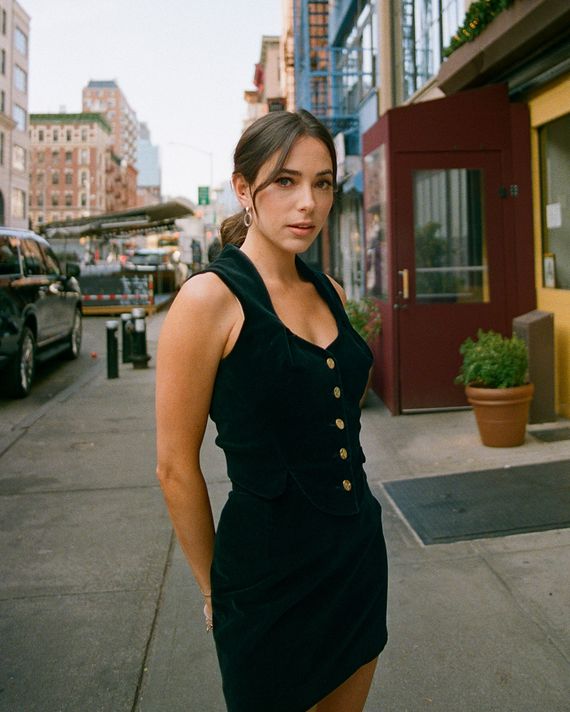 At 9 years old, Mariel Molino concocted a master plan to become famous. She hooked an invite to the birthday bash of a friend of a friend whose party was going to be featured on MTV's My Super Sweet 16. She was convinced the producers would recognize her star power, and while she got some time in front of the camera wearing chunky earrings and Mardi Gras beads, this was unfortunately not her big break.
Molino recounts this childhood anecdote between laughs and sips of a dirty vodka martini (no vermouth, extra dirty, should taste like the ocean) and nibbles of fries at a bar in Manhattan. She's here to promote her new Freeform mystery-thriller series, The Watchful Eye, in which she stars as Elena Santos, a young woman hired as a live-in nanny for a wealthy uptown family in an old-money building called the Greybourne. Soon enough, she discovers a labyrinth of deadly secrets involving the residents. But Elena has her own covert motivations: She took the job to look for a valuable ruby that's supposedly hidden in the mazelike building.
Born in San Diego, Molino is the youngest of four. She always wanted to make her family laugh, ever since she debuted as Crow No. 6 in an elementary-school production of The Wizard of Oz. "It gave me a profound sense of purpose to feel like people were laughing or enjoying themselves, and I felt like, Okay, I think I'm made for this," she says. "Now the reasons why I do what I do have changed — I think I look for deeper meaning and intention — but that initial sense of wonder, curiosity, and magic are still there. It's a feeling that I chase and try to feed as well as I can."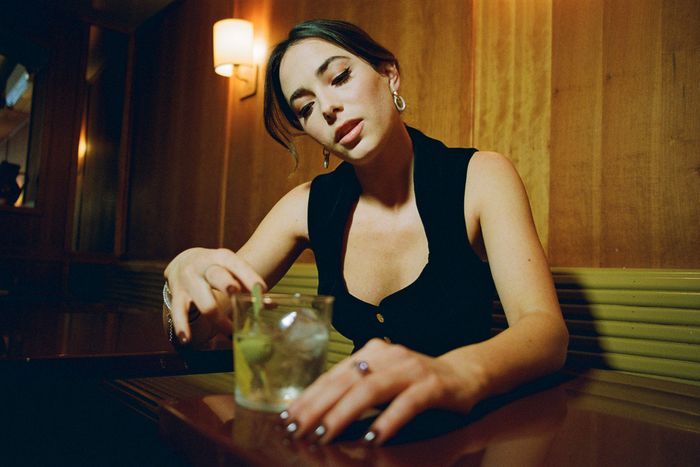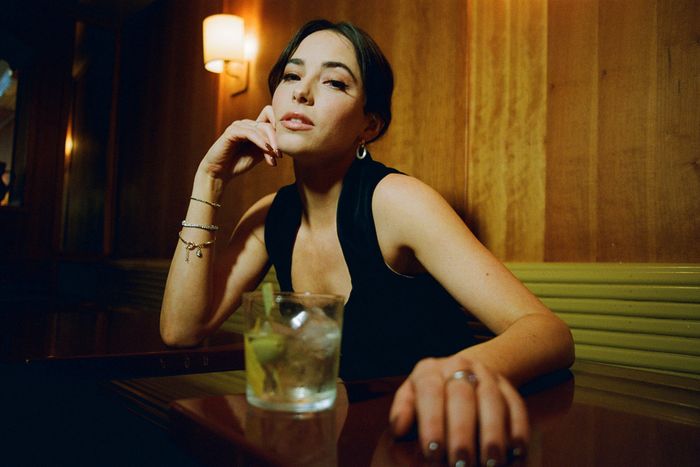 The actress remembers feeling desperate to be driven up to Los Angeles for opportunities, but her parents worked full-time jobs and had no idea how to break into the business. "You can't get an agent without work. But how do you get work without an agent? It's so gate-kept. Everything's a catch-22," she says. On more than one occasion, they were scammed by people who promised to get her into agencies and auditions. "I remember having savings of Baptism money and being like, 'Just take it from there.' Obviously that wasn't the way to do it."
She paused her dreams of being the next Disney darling while she finished school. In 2015, she nabbed her first television role as an extra in the final season of Glee, which led her to more work in Mexico, where she appeared in several telenovelas. During a flashback scene on Entre Correr y Vivir in which she wore a Marilyn Monroe–esque wig, she had just one line, but she so impressed the producer that they offered her another role on the same show, for which she'd be wigless.
After building a résumé south of the border, Molino found herself back Stateside. The Watchful Eye is only her second project in the U.S. (she previously appeared on the ABC soap Promised Land), and she quickly leaned into playing a duplicitous nanny. When she realized it would be her first time as No. 1 on the call sheet, she set aside any anxiety and sought to establish a positive, enthusiastic energy on set with her co-stars. She couldn't help but snap a few discreet photos that documented her onscreen interactions with Kelly Bishop (of Gilmore Girls fame) for her friends at home. Amy Acker, whose character is an uptight Upper East Sider who often verbally spars with Elena, became one of Molino's closest friends, treating her to luxe meals of duck breast and clams after 14-hour work days. "I took a lot of lessons when I was in Promised Land with John Ortiz in putting the work first," she says, "but also trying to always create an environment that was conducive to creativity."
Elena is a young Mexican American woman from Queens with an ability to pass in the world of one-percenters. She faces chilliness from some of the Greybourne residents at first but quickly ingratiates herself through code-switching, minimizing her status as a threat to the elite. As a lighter-skinned Latina, it's easier for her to be accepted by the residents than it is for others.
This resonated with Molino, who has often felt caught between worlds as a white Mexican. "Where do I fit into the puzzle of being Latina? It's something that I'm trying to navigate," she tells me, explaining that her mother's side of the family is of Mexican and Spanish descent, while her paternal grandparents were Jewish Austrians who fled the Nazis and resettled in Mexico because it was the cheapest place to get a visa. "I'm always confused as to where I belong in the conversation … I understand the privilege that comes with looking as I do, that I can pass through so many avenues seamlessly."
Molino doesn't shy away from clocking industry flaws like colorism and calling for improvements in entertainment. "If you look at TV in Mexico and in most of Latin America, you would think the country is Scandinavia," she says. "Latin American TV still does not represent what their countries are like. Are they getting better? Yes. But we still have a ways to go." When it comes to the trend of Latinx-centric series in the United States continually being axed after only a season or two in recent years, she says she hopes the industry will start betting on them more by giving ample time to find their footing, granting creators more autonomy when it comes to the creative side of things, and allocating enough money for marketing and publicity. "We can always improve those stories and make them more groundbreaking, more authentic, more specific."
Molino's eyes widen as she explains how intricately designed the Greybourne sets were: magical two-story creations with secret rooms that fully immersed her in becoming a chismosa who snoops around for clues and stumbles her way into rich people's twisted secrets. Beyond digging around for skeletons in the closet, The Watchful Eye tiptoes into ghost territory, which left Molino excited and scared. She has experienced her fair share of the supernatural over the years, from waitressing for a couple of summers in San Diego at the infamously haunted Hotel del Coronado to filming some Watchful Eye scenes on location at a former asylum. One sequence required her to run through the basement of the facility into a pitch-black tunnel. "Every single time I went into that darkness, I felt something I can't explain," she says.
While Molino knows how the mysteries of The Watchful Eye's first season wrap up, she relishes the idea of viewers piecing together clues and creating their own theories about the Greybourne's phantoms. She hints that those with a — ahem — watchful eye might be able to figure it out if they're paying close attention, but twists and turns will keep most on their toes. "I can tell you that I didn't guess the ending," she says. "At all."
As our martinis glasses dry up and the leftover fries are cleared by a waiter, it's time for Molino to head up to her hotel room, where she'll be celebrating her show's premiere by lounging around in robes with a close childhood friend. They have a special bond, one forged by the trauma of both having lost parents while young. Molino's father died when she was 15, an experience that rewired her with a mentality of immediacy. "You need to go get that dream. You need to go do the thing. You need to go do the most," she says firmly.
Molino says her dad was always supportive of her dreams, potentially putting his own creative desires, like drawing, on the back burner to take his family to a new country and give his children opportunities to succeed. If he were to look at where his daughter is now, he'd be able to see a Times Square billboard — a testament to how far she's come from being the little girl who was just trying to make her family laugh.