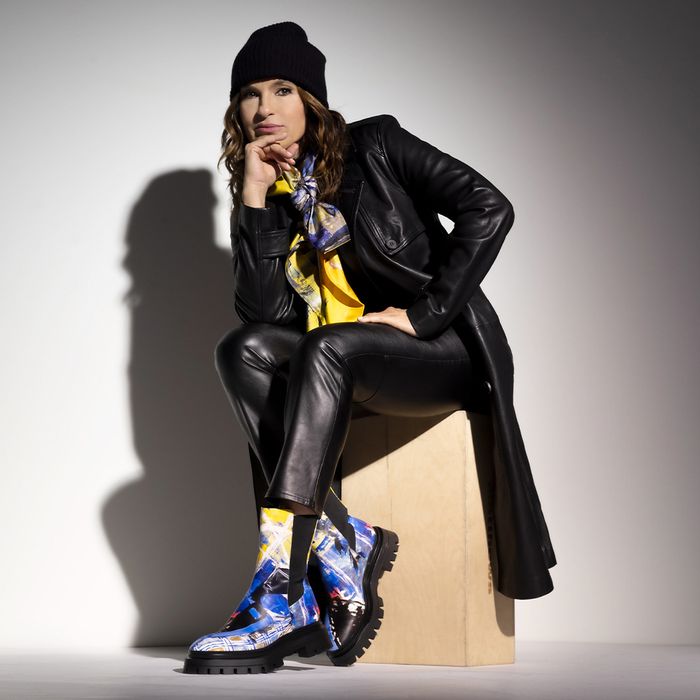 Mariska Hargitay might have been born and raised in California, but to her legions of fans — many of whom have been die-hard admirers of her Law & Order: Special Victims Unit character, Olivia Benson, for more than 24 years — she's a New York institution.
It makes sense, then, that when the people behind the new Stuart Weitzman and KidSuper limited-time capsule collection were thinking of "a New York badass" to play a tough heroine in a short film, Hargitay came to mind.
That film, aptly titled The Shoe-In, was released last week along with the collection of shoes (and a scarf) emblazoned with Colm Dillane's artwork. In the film, Hargitay puts together a crew of New Yorkers for a heist in order to keep a work of art from getting into the wrong hands. (The film was conceived by Dillane, a.k.a. KidSuper.)
Hargitay, 59, talked to me about the playful collaboration, which takes classic Weitzman styles and marries them with KidSuper's vivid art. Our call was also days after her longtime co-star and friend Richard Belzer died, so it seemed only right that we also talk about friendship and SVU.
You mentioned that the clothes in this project might not seem like you, but they actually are so you. Talk to me about your sense of personal style and how you approach getting dressed.
I don't like putting myself in a box in any way. That's a gift that my father gave me. He was like, "They don't tell you; you tell them. Don't let anyone define you." That's my shtick. That applies to fashion, too. Sometimes at seven in the morning, when I'm taking my kids to school, fashion is just putting something on where I won't embarrass myself. I'll go safe, and I'll just throw on a pair of jeans and a groovy robe and shoes that I know are cool. But as I get older, I take more risks, and I think the biggest thing is, How do I feel in this?
Maybe it's the actor in me, but I dress so many different ways, and that's what's fun. I feel strong in Stella McCartney and Alexander McQueen blazers and a pair of killer black pants. Christian Siriano just rocked my world in a black Jayne Mansfield number — I put that on and I started walking a different way. I turned to him and I went, "I got it from my mama." It was such a sacred moment for me, and he gave me this gift that I got to channel her.
How did the Stuart Weitzman and KidSuper collaboration come about, and what made you want to do it?
I don't know who's cooler than KidSuper. I thought he was so cool and so deeply creative. I'd heard about him — my kids love him — and Stuart Weitzman is an establishment. It's this amazing, iconic fashion company I've been a huge fan of. I have several of their shoes. They have a badass vibe to me, and that's sort of my motto in life: being a badass. Olivia Benson is a badass. I like to think of myself as a badass. I certainly push through every day to earn that title, and this was a different kind of badass, because she was a bad guy but she wasn't a bad guy.
I was sorry to hear about Richard Belzer's passing and saw your Instagram tribute to him. It got me thinking: You've been friends with your good friends for a really long time. Can you tell me about how you think about friendship and how you've maintained these relationships for so long?
He was more like family — when you work with somebody and know somebody that intimately. When you're together every day all day, when you're tired, when you're all the different parts of yourself with someone, you really get to know somebody so intimately. So it's brutal.
Friendship is everything to me. I value my friendships the way I value family. Real friends — long-termers, the lifers — become apparent pretty quickly. Friendship is about showing up. It matters to show up for people and say, "You matter. Our relationship matters. Your artistry matters. Your work matters."
When an actor portrays a character for a long time, they sort of meld into one, at least for fans. But you're you; Captain Olivia Benson is Captain Olivia Benson. Or are you the same?
I've been doing this for so long, and the character is me — it's part of me. I couldn't play it if it wasn't. I did so much work at the beginning when I learned about these issues — law enforcement, sexual assault, domestic violence, child abuse, trauma — that I've spent these last 24 years studying that. That studying continues, but I've also spent these last 24 years excavating myself and trying to understand my own inner landscape and which parts I give to that character and which parts that character unlocked in me.
This character has taught me so much. I've become a more whole person, a more self-aware person. I want to inspire people to have the strength to look in the mirror, go deep, and know that they can tolerate the pain and get to the other side so they can achieve what they want, especially the peace that they crave.
How do you keep them separate and leave Olivia and the heavy stuff on the show at work?
How do I keep them separate? I'm madly in love with my husband. He's my home. I come home and we laugh. My children are my angels. All I ever wanted was to be a mom and to have this family, because mine was broken apart at a very early age, so these things are so sacred to me.