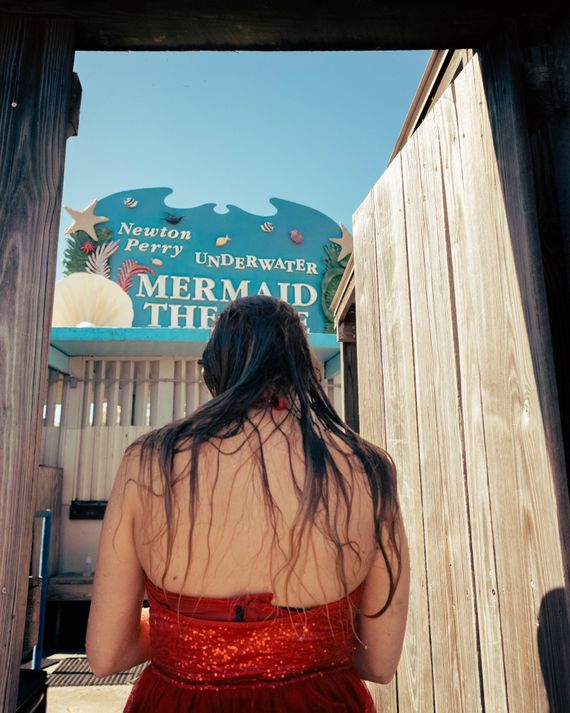 It wasn't often a car would pass along U.S. 19, but when the slow rumble approached Weeki Wachee Springs, named by the Seminole Tribe, the mermaids would be waiting: smiling prettily in their bathing suits, beckoning vehicles to enter their employer's parking lot. In 1946, former U.S. Navy officer Newton Perry scouted the Florida spring as an ideal spot to build a roadside attraction. A year later, he'd cleared out the heaps of abandoned wreckage and junk and built a rudimentary 18-seat theater into the limestone, allowing visitors to peer directly into the spring's seemingly bottomless blue depths.
Perry trained local women to twirl underwater for long stretches without oxygen tanks — eating bananas, drinking bottles of Grapette, performing synchronized ballet — with their shared air hoses hidden out of sight. Together they formed a miraculous image: folkloric sirens come to life. By 1959, broadcast network ABC saw Weeki Wachee's high profit potential and bought the site. A new million-dollar theater was developed to stage daily mermaid shows, with 400 seats and a speaker system. Later, Florida state officials took over the park. The mermaids never left.
In early 2020, Los Angeles–based photographer Chantal Anderson spent several days documenting performers at Weeki Wachee: a small group numbering around 20 mermaids and three princes. Globally, the merfolk subculture had been gathering speed, popular in part for its ability to liberate cosplayers from the confines of their physical form. Merpeople were descending on forums — like MerNetwork — to compare tridents, silicone tail-makers, and party-appearance fees. They were organizing local "pod" meetups via Facebook and attending conventions, like Washington, D.C.'s MerMagic Con, which bills itself as the world's biggest mermaid meetup. As the mermaiding community grows, Weeki Wachee represents a kind of ground zero: the original home of underwater performance. Its cast — athletes who twirl and dance 15 to 20 feet below the water's surface, against strong currents — seem bound across time, connected to one another and to the bubbling depths. When they describe the spring, it's with a reverence that borders on the spiritual.
"I'm fascinated by the cyclical relationship between people and their landscapes," says Anderson. "Living near a natural element, like a body of water, can radically affect a person's well-being. It can shape their whole life. I've never really been anywhere like Weeki Wachee. The water is turquoise. It's so idyllic it feels artificial."
Many of Anderson's subjects no longer work at the park — their tails belong to a new generation — but they remain transfixed by the pristine subaquatic cavern. Some, like 83-year-old veteran Vicki Smith, have thought about the ancient spring for decades. "Vicki lives on a nearby river that connects to the spring," says Anderson. "And she's swum every day in that water for most of her life. Her house is filled with mermaid memorabilia: mermaid paintings, pillows and posters, photo albums from her years performing. I thought it was such a beautiful life to be interacting intimately with this body of water for such a long time."