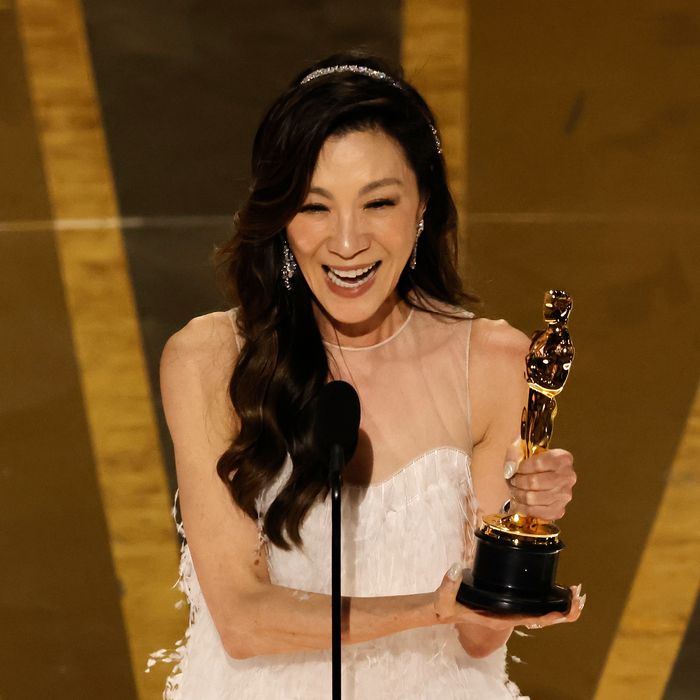 Photo: Kevin Winter/Getty Images
You can exhale now: Michelle Yeoh won the Best Actress Oscar for her role as Evelyn, a laundromat owner sent on the ride of her life while trying to pay her taxes, in Everything Everywhere All at Once. Yeoh is the first Asian woman to take home the Best Actress award and the first woman of color to win since 2002, when Halle Berry became the first woman of color to win for her performance in Monster's Ball.
"For all the little boys and girls who look like me watching tonight," Yeoh said when she took the stage to accept her Oscar, "this is a beacon of hope and possibilities. This is proof that dreams dream big and dreams do come true. And, ladies, don't let anybody tell you you're ever past your prime. Never give up."
Yeoh dedicated the award to her mom and "all the moms in the world because they are really the superheroes." After giving her gold statue a little kiss, she said, "This is history in the making!"
Before she won the award, critics were split between predicting the award would go to Yeoh, Tár's two-time Oscar winner Cate Blanchett, or To Leslie's Andrea Riseborough, whose nomination came as a shock to Academy voters and the general public thanks to her team's grassroots campaign to be included in the race. In a night filled with EEAAO wins (the movie earned seven awards including Best Picture), Yeoh pulled ahead. Her mom must be proud.