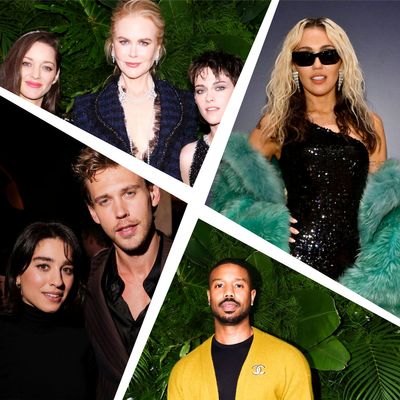 Photo-Illustration: by The Cut; Photos: Getty Images, BFA
While you watched the Oscars from the comfort of your couch last weekend, here are all the parties before and after you might have missed. This week: Chanel celebrates award season in Beverly Hills and Miley Cyrus celebrates with Gucci.
On Wednesday night at the Art Production Fund Gala, sponsored by Saks, there was a room full of the most beautifully dressed people. Paris Hilton brushed past as Beverly Nguyen, holding a Chanel birdcage purse, held court at the bar. The cause? To raise money for public art for projects like Prada Marfa and other programs: "It's about going about your daily life and being inspired by it, being bothered by it, being moved by it in some way. If everyone has access to art, we will evolve as people. Public art is often people's first step in approaching the art world, which can often be very intimidating," said Casey Fremont, executive director of the Art Production Fund. The theme was camp: "We take our themes very seriously," said Fremont. Downstairs, Maria Tash was doing piercings, "an elevated naughty camp theme," she said. "I got a star."
Chicest Duo: Beverly Nguyen & Armando Cabral
Chic, chic, chic. We love the Chanel birdcage bag, Beverly.
Most On Theme: Nina Tiari, Bambi, Jake Brodsky, and Kennedy Yanko
Let this stylish group give you a lesson in dressing for black-tie events. Nina Tiari, Bambi, Jake Brodsky, and Kennedy Yanko grabbed a group pic at the Art Production Fund Gala.
Gilded Dressing: Casey Fremont
Very serious about the theme as always, Fremont posed dripped in gold.
Most Glam: Miley Cyrus
The "Flowers" singer joined Gucci at Gucci Osteria da Massimo Bottura Beverly Hills to fête the release of her album Endless Summer Vacation in this mix of sparkles and fur. Guests enjoyed music by Alex Chapman and food by Mattia Agazzi and left with the brand's newest fragrance, which is just as good as flowers.
Tweed Trio: Marion Cotillard, Nicole Kidman, Kristen Stewart
The Chanel muses strike a pose in the house's signature tweed looks at the Pre-Oscar Awards Dinner. Co-hosted by Charles Finch, guests gathered at the Polo Lounge at the Beverly Hills Hotel.
Best Cozy Look: Michael B. Jordan
Cardigans instead of suits seems like a cozy red-carpet look we can get behind. The actor attended the same event in this bright-yellow look.
Best Blazer: Laura Dern
Laura Dern enjoying Johnnie Walker and her very sparkly blazer might be the closest look we'll get inside the Vanity Fair Oscar Party, but we'll take it.
Duo We'd Like to Easedrop On: Simona Tabasco & Austin Butler
Here's something to hold you over while you wait for season three of White Lotus: The season-two star posed with Austin Butler at the WME 2023 Oscars Party. Do we think he's also a fan of the show? Do you think they'll both be in season three? Much to think about.
Best in All Black: Teyana Taylor, Odell Beckham Jr.
Here's a free styling tip courtesy of Odell Beckham Jr.: a pop of color (or several) in your hair to elevate your all-black outfit. The athlete posed with Teyana Taylor at the same event.
Best Monochrome Look: Precious Lee
Staying on theme, Lee posed with Hennessy's newest bottle, designed by Kim Jones. The brand celebrated the collab at Aman New York and, as always, we love a matching moment.
Best Cause: Beth Hutchens & Cleo Wade
Cleo Wade joined FoundRae and PEN at their America Authors' dinner to celebrate female voices and the newest launch, an 18-karat gold pendant, proceeds from which go to PEN.
Best in Black-tie: Sai de Silva
If you decide to take your love for ballet-core a step further and visit the ballet, take a few notes from Sai de Silva's look at the School of American Ballet's Ball. Feathers? Good. Sequins? Even better. But together? You have a look on your hands.