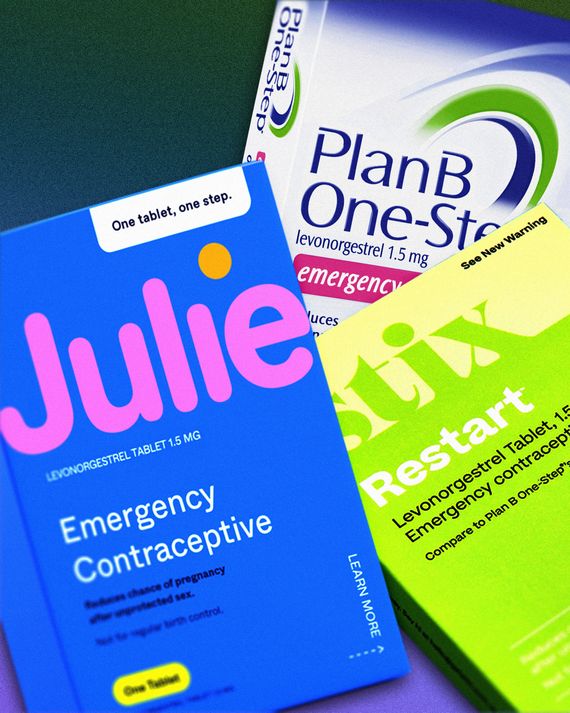 Photo-Illustration: The Cut; Photos: Julie, Plan B, Stix
Hey, sis, what's up?" an OB/GYN asks in an ASMR whisper. She is wearing a mock turtleneck in soothing blue and nodding sympathetically. "You need the morning-after pill? That is seriously no problem. I've got you covered." She holds an azure box stamped with a bubblegum-pink font up to the camera. This is Julie, she explains to her nearly 440,000 TikTok followers; it's an "extremely accessible, extremely relatable" new emergency contraceptive.
The morning-after pill is getting a glow-up from a handful of women's-health companies that say they want to minimize the stigma around emergency contraception, making it a more visible and regular part of potential customers' "For You" pages. Piggybacking on social-media trends, these companies appeal to a particular audience: viewers who not only know who Alix Earle is but likely watched the beauty influencer give a video tour of her college apartment, roach motel and all. "Hi, Alix," the brand Stix replied in a stitched clip. "I just want to say we love and support your frat-boy-less frat house, and while not much could be more iconic than Casa Cucaracha, we have an idea for you." Stix offered to send Earle and her friends free condoms and free doses of its new morning-after pill, Restart.
The intentions here look good: A pill that may prevent pregnancy before it starts takes on new importance in our post-Roe climate, yet that medication — 1.5 milligrams of levonorgestrel, commonly known by its brand name, Plan B One-Step, which may delay ovulation if taken within 72 hours of unprotected sex — remains much harder to get than any over-the-counter drug should be. Morning-after pills no longer require a prescription for purchase, and there are no age restrictions on who can buy them. Yet, in many stores, they still sit behind glass or the pharmacy counter, locked up or not displayed at all. Consumers report that cashiers may still request to see ID at checkout, where they confront the final hurdle: cost. A single tablet of Plan B will run you around $50 if you don't go through insurance, making it one of the most expensive OTC medications on the shelves. For all those reasons, the experience of buying the morning-after pill can be confusing, unpleasant, and anxiety producing.
In bringing their own levonorgestrel tablets to market, both Julie and Stix say they want to improve that experience. They want to empower their customer base with information about sexual health — to "give the next generation a better coming-of-age story than we had," says Julie co-founder Amanda E/J Morrison — and to offer them a more discreet way to manage their reproductive care. Stix founders Jamie Norwood and Cynthia Plotch say personal experience led them to "realize how much is broken in the market about how little … brands were actually thinking about women, the people who are buying and using this product." Both companies work hard in their marketing to draw a line between their morning-after pills and the other options on the market (the ASMR OB/GYN, for example, appears to bleep out the name "Plan B" in her video), but they're priced almost as high as their most famous competitor. Julie, sold online and at Walmart, costs $42.44; Restart, which is available only online, costs $46 before shipping (a customer who needs enough emergency contraception to warrant a monthly subscription gets a discount at $39.10). And that's where the claims to improve accessibility begin to fall apart.
Thanks to its price tag, Plan B "is already out of reach for a lot of customers — particularly for young people," says Kelly Cleland, executive director of the American Society for Emergency Contraception. While "any effort to increase EC awareness is a really good thing," she explains that, when it comes to these new brands, "the messaging seems to be inconsistent: EC is important for everyone, especially young people, but then it's being sold at a price that young people, in general, can't afford."
Despite the emphasis on TikTok promotion, Morrison says Julie is intended primarily for the 18-to-35 bracket. Neither Morrison nor either of her partners, Julie Schott and Brian Bordainick, has a background in health care; Morrison co-founded Mented Cosmetics, a makeup line for women of color, while Schott and Bordainick run Starface, the pimple-patch company. "What we've been trying to do in beauty," Morrison explains, is "not only change the way people talk about themselves but how people feel about themselves." She suggests that lingering stigma makes women feel that talking openly about their bodies is "impolite," "dirty," and "unbecoming," which leaves them ill equipped to understand how those bodies work. "What we have found is the majority of women don't really even know what they're buying, whether it's emergency contraception or birth control," she explains, so Julie enlisted a panel of doctors to serve as medical advisers and bolster the company's social-media content. "We can't sit everybody in a gym and start sex education over from the beginning," Morrison says. Instead, Julie is trying to reach customers on TikTok because "you need to meet them where they are."
Julie launched its morning-after pill in September. Stix introduced Restart in June, tailoring the timeline to the Supreme Court's Dobbs decision. Norwood and Plotch got into DTC health care in 2019, after Plotch ran into her boyfriend's mom at her local drugstore while picking up a pregnancy test. Mortified, Plotch called Norwood to debrief after she left, and the two started thinking about how they could make purchasing personal items a little more private. Stix launched with pregnancy tests; in addition to Restart, it now sells vaginal testing kits, ovulation kits, and condoms. They say their average consumer is about 27 years old, though Norwood grants, "We do love targeting and working with Gen Z because there's such a need for health education."
Stix sells its products exclusively online, which the company sees as a more comfortable and discreet way to purchase emergency contraception. But it adds on extra costs: A person who needs to take the pill immediately may end up paying an extra $12.95 for two-day shipping — risky for a product that must be taken within three days of unprotected sex — driving the final cost up to $58.95 before taxes. (The company says same-day delivery is available in many areas through third-party services, such as GoPuff, which charges a $3.95 fee. In any case, Plotch and Norwood say their products are HSA and FSA eligible.) The founders realize that mail order is an imperfect sales model for a time-sensitive medication but also advocate a be-prepared approach. "For people who live in red states or areas where they have less options, we're seeing more people order the morning-after pill just to have it on hand," Norwood explains.
They're right. Now that abortion is illegal in 14 states, and with the future of abortion pills up in the air, it is smart to keep emergency contraception in the medicine cabinet. And young people do deserve more and better resources to learn about their bodies, given that, by the Guttmacher Institute's count, only 17 states require sex education to be medically accurate — if they require sex education at all. With Plan B, specifically, misconceptions were at one point baked into the packaging. Until December 2022, the FDA declined to remove language — reportedly inserted into the literature following pressure by a Mormon member of a medical review board — erroneously claiming levonorgestrel might prevent a fertilized egg from implanting in the uterine lining from the label. Contraceptives work by preventing fertilization from happening in the first place, and yet the FDA let that line stand for about 16 years, leaving morning-after pills vulnerable to anti-abortion lobbying.
Adding more options to the emergency contraception lineup should also mean there are more access points for people who want to buy it. "The more players there are in the ring offering generics in addition to Plan B, the better," says Megan Kavanaugh, a senior researcher at the Guttmacher Institute who covers contraceptive access. "The goal here is to try to get people what they want and need in convenient and low-cost ways." But the experts I spoke with agreed that cost is a crucial piece of this conversation. Researchers with the Beyond the Pill program at the University of California, San Francisco, and the University of Texas at Austin, recently surveyed 1,830 community-college students ages 18 to 25; of that group, 94 percent reported that they would want to take emergency contraception if they thought they needed it, while 73 percent strongly agreed that the expense would be a concern. "By its very nature, people aren't certain if they need EC when they take it," Cynthia Harper, Beyond the Pill's director and a professor of obstetrics, gynecology, and reproductive sciences at UCSF, says. "They're just hoping to be careful and I just think, for something where you don't know if you actually need it, $50 is a lot of money."
Nailing down why morning-after pills cost what they do is frustratingly difficult. The manufacturing cost of levonorgestrel isn't publicly available information, but people familiar with the field generally agree that it's "dirt cheap to produce," as a former FDA official put it to Mother Jones. The wide range in the price of Plan B generics that the American Society for Emergency Contraception found in its 2023 access report, which surveyed 313 retailers in 21 states, supports that theory. The cost of emergency contraception ranged from $5.18 to $54 in those brick-and-mortar stores with under-$10 options in every category of business that participants visited. Nurx, another company offering sexual-health-care services online and direct to consumer, sells a levonorgestrel tablet for $14.99. But "if it can be sold for $5.18, that means that it's an inexpensive product to make, and it can be affordable," says ASEC's Cleland. "The difference in price is really a choice. It's a choice that companies and stores are making."
Asked about their pricing, Julie and Stix cite their branding costs and donation programs. "I wish the product was only a few cents. It's a couple dollars — well, it's more than a couple," says Morrison. Julie has to pay to ship levonorgestrel to the U.S., she says, and then it has to pay retail costs (as well as its #juliepartners, who promote the pills to their followers). For every packet of Julie purchased, the company also gives one to a donation partner. Right now, Julie works with a network of 20 organizations that the company says it put together specifically to support women living in health-care deserts. "That $42 price point covers two units: It's the unit you are able to go and buy in the store and the unit somebody else is able to go and get in their time of need when they can't afford it," Morrison explains, adding that they surveyed Gen-Z and millennial audiences as they deliberated on price. "Across the board, people said they'd be willing to pay more and help others." The company claims to be the country's largest donor of emergency contraception with 200,000 units donated through January. (Plan B One-Step operates a very similar program on its website, offering coupons and rebates to customers; it purports to have donated at least 153,000 units.)
Stix says Restart's $46 price tag accounts for the company's doctor-reviewed educational efforts, donation bank, branding, and marketing, which comprises not only social media but also large-scale advertising efforts including Restart billboards recently put up near crisis-pregnancy centers in red states. Volunteers can make a minimum contribution of $20 online, which Stix says it uses to ship Restart to anyone who requests the pill — or at least anyone it can vet: When a bunch of male gamers teamed up to deplete its supply, the company caught on and canceled the orders. Stix says it has donated more than 20,000 packets of Restart so far, while Plotch and Norwood say they've raised $300,000 in donations from customers and corporations since launching. It's unclear how much Stix spends on administering its donation fund, and the company did not elaborate in response to further questions.
In our interview, however, Plotch gestures toward the company's generic competitors. While she acknowledges that lower-cost morning-after pills exist, "there isn't trust built around them because there wasn't investment in brand building or in consumer education, which takes time and takes money," she says. In other words, people might not want to buy a cheaper product if they don't know what it is. My suspicion is that the reverse is also true: People may pay more for a product if they think they have to.
Plan B is a drug with an estimated 85 percent profit margin, and in the weeks after Dobbs, major retailers rationed their stock to temper surging demand. Stix and Julie are both businesses, and while their stated goals may be admirable, making money goes unmentioned. I don't know the ins and outs of either company's finances; I don't know what they spend money on and what they don't. But from where I'm sitting, they're selling the same familiar medication at a similar price point as the original and using similar donation programs. Is it a "better morning-after," as Julie's tagline claims, or is it just a better box?
The morning-after pill is available over the counter, but because it's an FDA-approved contraceptive method, it's also covered by ACA-compliant health-insurance plans. For that reason, even though a prescription isn't required to buy it, it may be free with a prescription from a doctor. Maybe you can see why straightforward information about emergency contraception really is useful?