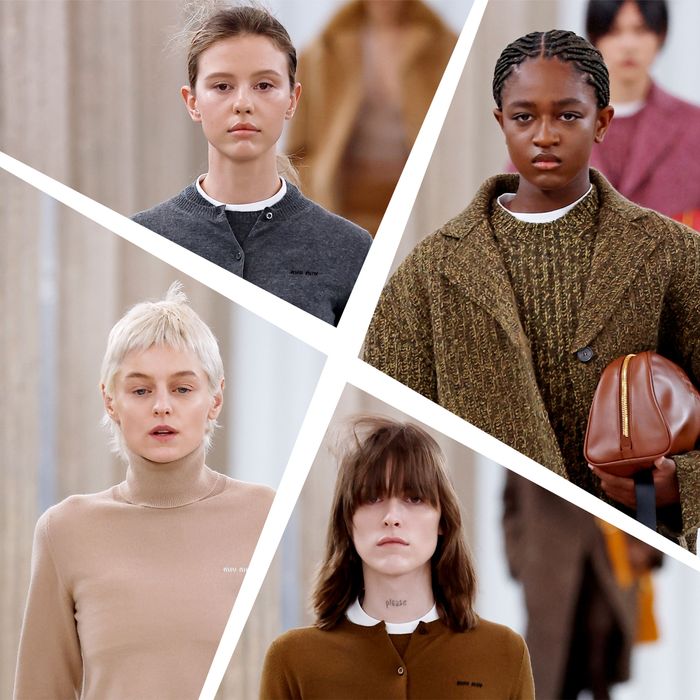 Photo-Illustration: by The Cut; Photos: Getty Images
On what feels like the 10 millionth day of Paris Fashion Week, the fashion gods (in this case, Miuccia Prada, the Miu Miu team and their casting director, Ashley Brokaw) offered us salvation in the form of very good casting at Miu Miu.
Mia Goth opened the show with ruffled hair and a cardigan tucked into tights; Zaya Wade, in a brown knit dress and oversize blazer; Ethel Cain, in a herringbone skirt and exposed tights; and Emma Corrin, in a bedazzled set of underpants, closed the show, in which very few pants were ever even in sight. But who needs pants anyway? Miu Miu, in recent years, has had a penchant for knowing what the people want before the public even knows (its micro-mini that dominated the trend cycle) and this year offered it in the form of understated, timeless sets; easily reproducible styling; and intentional choreography. All the models walked the runway with bags hanging from the nook of their elbows, their hands up and relaxed, and keys dangling from fingers, as if to say, Hey, I'm rushing here!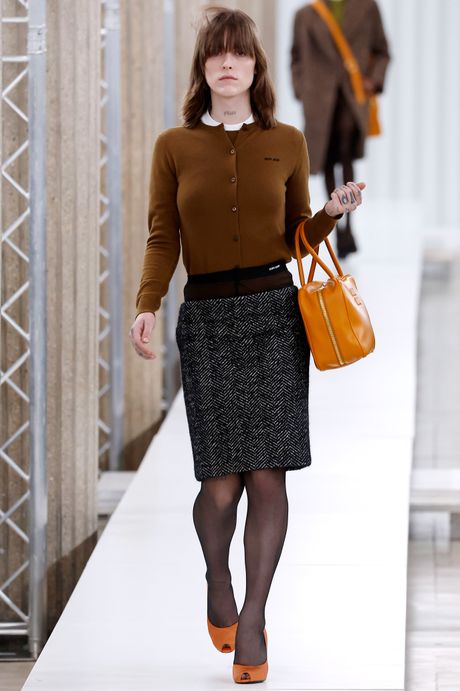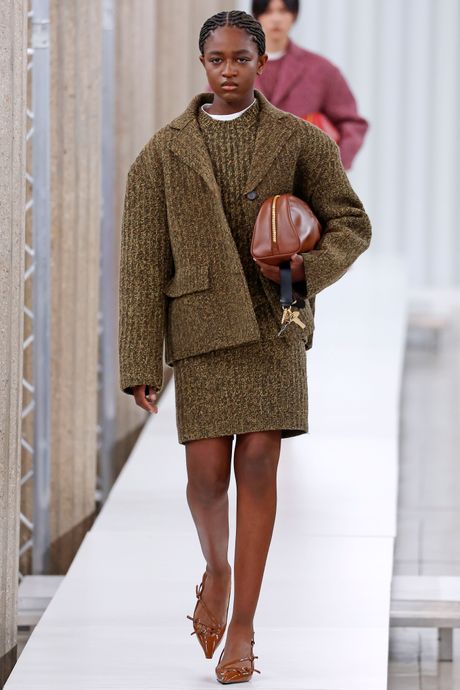 Miu Miu could have set this season's tone solely based on the people it chose to walk the runway, but it helps, though, that the clothes exhibited had a very "I am an extremely busy, extremely important, extremely booked, extremely chic, and extremely mysterious person" air about them. It's safe to say that Goth, Wade, Cain, and Corrin (what a satisfying powerhouse of last names) not only all fall into this category, but each has their own massive amount of star power with cultlike followings. If Mother Cain is wearing Miu Miu, I'm wearing Miu Miu. And to Brokaw, who cast this show, I have one thing to say to you: ILY.