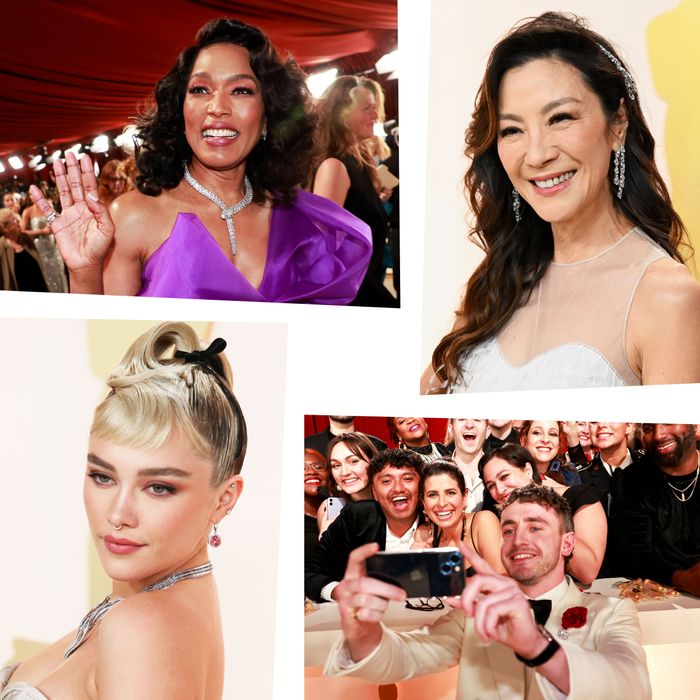 Photo-Illustration: by The Cut; Photos: Getty Images
For the 95th time, the Oscars are back, baby! Whether or not you're tuning in, we can all get behind an Academy Awards ceremony full of Florence Pugh in Valentino hot pants and big wins for the beloved Everything Everywhere All at Once.
Celebrities blended into the Champagne carpet before gathering at the Dolby Theatre in Los Angeles on Sunday to celebrate Hollywood's biggest night and politely endure Jimmy Kimmel. This year's Academy Awards are particularly momentous for Asian and Asian American creatives, with Ke Huy Quan taking home the statuette for Best Supporting Actor and director Daniel Kwan winning Best Original Screenplay and Best Director, and Stephanie Hsu and Hong Chau nominated for acting awards. Also nominated: costume designer Shirley Kurata, musicians Ian Chang and Rafiq Bhatia (two-thirds of the band Son Lux), Mitski, and Nobel laureate Kazuo Ishiguro, who contended for Best Adapted Screenplay for Living. The Grammy-winning bop "Naatu Naatu" from the Indian film RRR won Best Original Song, and I will be vibing to it endlessly. Yeoh won Best Actress for Everything Everywhere All at Once — one of the film's 7 wins—and became the first Asian actor to do so. Yeoh was up against Blonde's Ana de Armas, Michelle Williams, surprise nominee Andrea Risebourough, and Cate Blanchett in the category, who earned a nomination for her immersive performance as composer Lydia Tár, who, might I remind you, is not a real person.
The 2023 Oscars are also a big night for musicians: Lady Gaga and Rihanna both performed their Best Original Song nominations—"Hold My Hand" from Top Gun: Maverick and "Lift Me Up" from Black Panther: Wakanda Forever, respectively—and if tonight's sheer brown Alaïa outfit and crystal bra ensemble is any indication, Rihanna's second pregnancy fashion will be giving just as much, if not more, as her first. Ten out of ten Champagne carpets for her, and more of our rankings of the best and worst moments from the show below.
That's One Dirty (Champagne) Carpet
This year's red carpet was, inexplicably, Champagne-colored. Oscars organizers justified their bizarre choice by saying they wanted this year's rug to be mellow (okay, but did they also want it to be filthy?) and because the unveiling of the new shade took place days before the show, celebs were left with little notice that they would essentially be blending into the carpet — a sordid fate for Florence Pugh's Valentino gown, Zoë Saldana's cream-colored Fendi ensemble, and countless other Champagne-carpet casualties. Three out of ten Champagne carpets.
Paul Mescal Took Us All to Prom
Resident internet boyfriend and Man Who Blushes in Zendaya's Presence (understandable) arrived on the red carpet in a little mullet, a white tux, and a rose corsage, and the answer is yes, we will go to prom with him. Mescal was nominated for Best Actor for his performance in Aftersun, in which he plays a sad dad on a Turkish holiday with his young daughter. Eight out of ten Champagne carpets.
Jonathan Majors Had His Little Cup!
Did you expect the Creed III star to arrive empty-handed? This man loves his little cup: "We have the mug because we always have the mug," the actor explained on the Champagne carpet. A beautiful, unshakeable bond. Ten out of ten Champagne carpets.
Is Austin Butler Phasing Out His Elvis Voice?
Butler, who was nominated for Best Actor for his performance as Elvis in the 2022 biopic, took method acting a little too seriously when he refused to stop using the singer's southern drawl even months after the film was released. But he may finally be phasing it out: While talking about how people getting Oscars "really really moves" him on the carpet, Butler's voice sounded just a touch less low. Is this a soft launch of his normal voice? Or is it, like the Elvis outfit he kept from set, here to stay? Who is to say. Three out of ten Champagne carpets.
Jimmy Kimmel Is Hosting … Again
Days before the show, Kimmel told The Hollywood Reporter he didn't "necessarily think" he'd be asked to host the Oscars again, but lo and behold, the Academy, creatures of habit that they are, invited him back to emcee the event for a third time. Kimmel's monologue was, as expected, a snoozefest — he gave us little jokes about the rampant Ozempic use in the room, the lack of women directors nominated for Best Director, and Austin Butler's ongoing Elvis schtick. Though Kimmel warned us in advance that some of his monologue would revolve around The Slap That Apparently Must Not Be Named, the bits were still particularly cringe. A donkey (who was not the same donkey from Banshees of Inisherin) arrived on stage and did not seem enthused to host with Kimmel—rightfully so—and I'm also docking him for bothering Malala Yousafzai with questions about spitgate. ("I only want to talk about peace," Malala countered). One out of ten Champagne carpets.
Jamie Lee Curtis Got Her Statuette
After Jamie Lee Curtis won her very first (!) Oscar for Best Supporting Actress for her role as IRS inspector Deirdre Beaubeirdra in Everything Everywhere All at Once, she dedicated the award to the cast, crew, family, and "all of the people who have supported the genre movies" she's made over the years. "We just won an Oscar, together!" Curtis said. While we're sad to be robbed of another "Angela Bassett did the thing" moment, we're still happy for one of our favorite nepo babies. Seven out of ten Champagne carpets.
#OscarsSoMale.
Despite the fact that Sarah Polley, Gina Prince-Bythewood, Charlotte Wells and Maria Schrader all made some pretty major films last year — Women Talking, The Woman King, Aftersun, and She Said, respectively — Academy snubbed all of them for Best Director nominations; the 573 members of its directors' branch didn't nominate any women directors at all. Days before the award show, Prince-Bythewood told People the shutout was "egregious" and "speaks to a bigger issue in our industry," while Women in Film, Los Angeles openly condemned the Academy and its failure to "value women's voices," adding, "An Academy Award is more than a gold statute, it's a career accelerator that can lead to continued work and increased compensation." At least Polley won for Best Adapted Screenplay. Still, one out of ten Champagne carpets.
A Happy Birthday
Acceptance speeches usually involve a litany of thank-yous and tears, but after taking home the award for Best Live Action Short Film, the creators of An Irish Goodbye spent the second half of their time onstage singing happy birthday to star James Martin. Ten out of ten Champagne carpets for the gesture. 
"Naatu Naatu" Was Pure Euphoria
We all want suspenders after Rahul Sipligunj and Kaala Bhairava's spirited performance of "Naatu Naatu" from RRR. The dance brought the Dolby Theatre to its feet; Bollywood actress and presenter Deepika Padukone was on point when she called the anti-colonialist Telegu track "a total banger." BRB, still feeling euphoric after that Best Original Song win. Ten out of ten Champagne carpets.
Lady Gaga Had An Eventful Night
After rescuing a fallen photographer while wearing a Versace gown, Lady Gaga wiped her bold red lip clean, donned a T-shirt, and performed a stripped down "Hold My Hand," calling the track "deeply personal for me." I am unsure how Top Gun can be deeply anything, but I digress. Five out of ten Champagne carpets.
Cocaine Bear Made An Appearance
While presenting the nominees for Best Visual Effects, Elizabeth Banks subjected us all to a skit between her and someone in a giant cocaine bear costume to demonstrate—several times over—the importance of visual effects. We got it the first time. Three out of ten Champagne carpets. 
Rihanna Blessed Us with Another Live Performance
After years of side-eyeing questions about the next album, Rihanna gave us a Superbowl halftime show. Tonight, she blessed us with another return to music, performing "Lift Me Up" while being lifted up on a rising platform. The Right Excellent Robyn Rihanna Fenty loves herself some ascension. Nine out of ten Champagne carpets. 
There Was Apparently A Crisis Team?
After slapgate, the CEO of the Academy announced a "whole crisis team" would be put in place for Sunday's show, telling Time magazine they had "run many scenarios" to be "prepared for anything." It sounds a whole lot like doomsday prepping to me, and the team appeared to do nothing about the crisis of Kimmel's jokes. Zero out of ten Champagne carpets.
Michelle Yeoh Made History
After over 20 years since a woman of color had won Best Actress, Michelle Yeoh made history when she won this year's award for her role as superheroic mom Evelyn Quan Wang in Everything Everywhere All At Once. "For all the little boys and girls who look like me watching tonight, this is a beacon of hope and possibilities," Yeoh said upon accepting her award. "…And ladies, don't let anybody ever tell you that you are past your prime." Prior to the awards show, Yeoh appeared to nod to the traditional lack of representation in the category, sharing screenshots of a Vogue article about it, which she later deleted. Ten out of ten Champagne carpets.
Everything Everywhere All At Once Swept The Night
In addition to Yeoh making history, the A24 film swept this year's Academy Awards, going into the night with 11 nominations and coming out with 7 wins, including Best Director, Best Actress, Best Original Screenplay, and Best Picture. On the carpet, Florence Pugh said of watching the film: "I left feeling like I had just witnessed life right in front of me." Sounds about right. Twenty out of ten Champagne carpets.
This story has been updated.