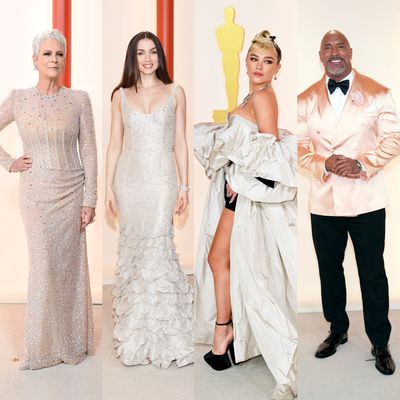 Photo-Illustration: by The Cut; Photos: Getty Images
Notice something different about the Oscars red carpet this year? Yeah, it's not red.
On Wednesday, when setup for the event began outside the Dolby Theatre, it became clear that celebrities would be arriving on a "champagne" carpet instead of a red one. According to the Associated Press, the Oscars' creative consultants wanted to revamp the carpet to reflect the elegance of Oscars fashion. (One consultant called the new hue "sand," which is one way to suck the glamour out of it.) Bonus: Since the carpet would be covered, the Champagne shade would ensure the now sunless area wouldn't get too dark. At the carpet unfurling, Oscars host Jimmy Kimmel claimed that the color choice proved "how confident we are that no blood will be shed."
Maybe a little too confident. While no blood has yet to be shed, something else was: dirt. As surfaces tend to do when dozens of people are walking on them, the carpet is full of detritus. It feels safe to assume that red used to cover this stuff up, but it was unfortunately in full view tonight. (It's also safe to assume that the Academy decided against sending a Roomba down the great off-white expanse after every arrival. A missed opportunity!)
Meanwhile, many of the actual people on the carpet were rendered nearly invisible by its shade. The night's guests, who didn't find out about the color change until the carpet was unfurled last week, showed up in outfits that matched the floor, turning the carpet into a big, bizarre sea of camouflage.
Actually, it is sort of impressive just how many colors this carpet managed to wash out. Throughout the night's arrivals, it managed to subsume white, cream, gray, light pink, and a wide spectrum of other pale colors in its all-encompassing beige-ness. No wonder celebrities have started skipping the red carpet! How are you supposed to pick your sustainable couture outfit when you don't even know what color to wear?