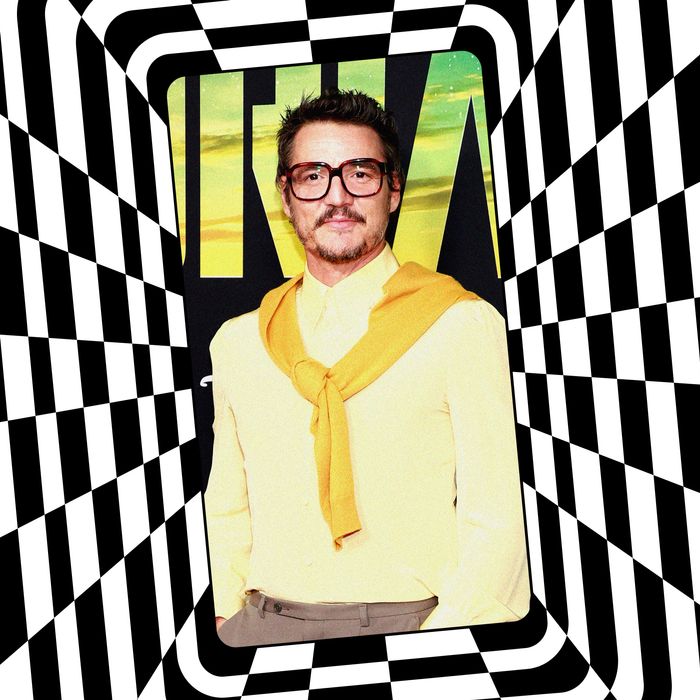 Photo-Illustration: by The Cut; Photo: Getty Images
I Can't Shut Up About: Deep dives into my online obsession of the week.
The biggest problem with Pedro Pascal is that there isn't one. As his fellow The Last of Us castmate Melanie Lynskey once said, "There's just nothing wrong with him." And who am I to disagree with Melanie Lynskey?
If you aren't familiar with Pascal, that is entirely by choice. He's currently starring in two of the biggest streaming shows on two of the biggest streaming platforms: HBO's The Last of Us and The Mandalorian on Disney+. In both series, his character is brooding (in a hot way), paternal (also in a hot way), and looks like someone that could throw you over his shoulder if there was a fire (hot in two different ways). Pascal is among the only men that could make me want to watch a Star Wars spinoff. I still won't, but the fact that I have even considered it speaks to his allure. However, in the age of parasocial relationships and internet boyfriends, it is not Pascal's acting ability but his off-set persona that has deemed him, in his own words, our "cool, slutty daddy."
Pascal is a master of red-carpet charm. His outfits alone feel like they're flirting with you. (We have stylist Julie Ragolia to thank for that.) At one Mandalorian red-carpet event, Pascal wore big red pants and a little brown knit sweater, a combination that is so bold it might as well have asked me to dinner. Please, Pedro, I am married!
On another red carpet, he wore a yellow-on-yellow number that included a cardigan draped over his shoulders and giant, square-rimmed glasses. He simultaneously looked like the old man and the little boy from Up, and alluding to the saddest Pixar movie on the red carpet is among the most flirtatious allusions one can make.
If you still doubt this man's ability to make anyone fall in love with him, simply watch any interview Pedro Pascal has ever done. During Vanity Fair's lie-detector test, an interview designed to make its subject uncomfortable, Pascal giggled and goofed the entire time. He laughed while admitting to looking at Instagram stan accounts when he's feeling sad. (He specifically mentioned this account if you're curious. (You are.)) He also said he has searched his own name on Twitter, recalling one tweet that said Pedro Pascal looks like "Orlando Bloom if he was hit in the face with a shovel." When asked if he agreed with the sentiment, he laughed before shrugging and saying, "Sometimes."
Like attracts like, so you will be unsurprised (though undeniably pleased) to learn that Pascal is good friends with fellow internet daddy Oscar Isaac. It's a friendship of fanfiction dreams, fueled by interaction like this joint Wired auto-complete interview where the two of them just flirt with each other for eight minutes. Pascal has called Isaac "the younger brother I never wanted" and joked that he (Pascal) is a "bigger daddy" of the two, despite Isaac being an actual father. However, to once again quote Pascal himself, "Daddy is a state of mind." Pascal is also longtime friends with Sarah Paulson, a daddy in her own right. She even made a cameo in his Saturday Night Live episode, her character admitting, "Fine, it's true. He's daddy. I'm mommy." Goo-goo ga-ga!
Pascal is the platonic ideal of a leading man in a post–Brad Pitt world. He is consistently likable without being smarmy, comfortable without being too cavalier. He will share bits of himself that don't feel like a stilted media-trained anecdote. (Did you know used to be a go-go dancer?) He will play along with whatever an interviewer throws at him while seemingly remaining sincere. When he learned that Sarah Michelle Gellar posted a screenshot from his brief role on Buffy, he appeared genuinely delighted, sharing that he remembers "every moment of shooting that episode." In his video for GQ's "10 Things I Can't Live Without," a series where celebrities typically show off their vintage cameras or eclectic music taste, Pascal took the assignment literally. His essentials included toiletries, glasses, shoes, and underwear. He also spent a portion of the interview showing the camera his favorite iPad game. This almost makes up for the fact that he was in Gal Gadot's "Imagine" video.
Perhaps the only person who doesn't understand the hype is Pascal himself. "What's wrong with people who like an old man like me?" he recently asked, offering this sage piece of advice: "Focus on Harry Styles."