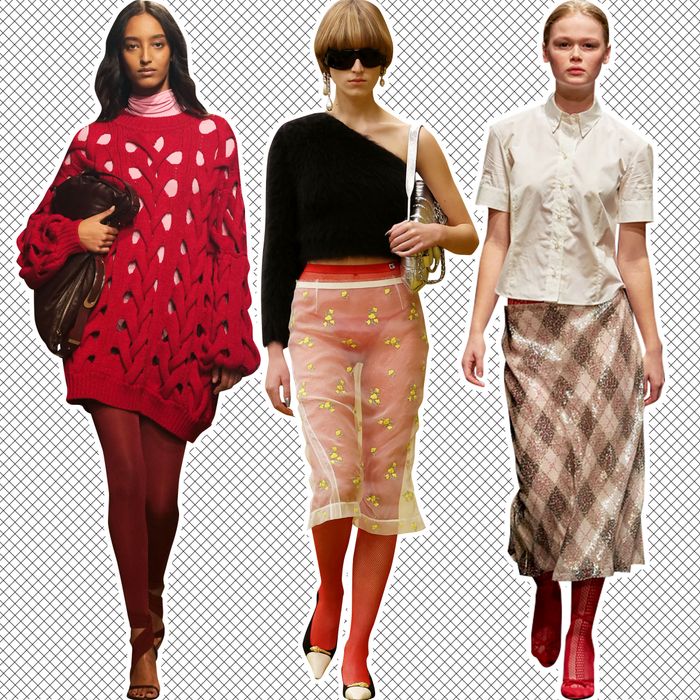 Photo-Illustration: by The Cut; Photos: Courtesy of Isabel Marant, Gucci, Saks Potts
For more of the Cut's favorite fashion, beauty, and home finds, sign up for the weekly Cut Shop Newsletter.
As fashion month has come to an end, we couldn't help but notice one thing on various runways: red tights. They were at Hermès, Theory, and Burberry, where models wore them with head-to-toe red looks. Because we love an under-$50 styling tip that can help you make your wardrobe look instantly on trend, we asked the Cut's market editor, Roberto Johnson, as well as the Cut Shop team, to help us figure out how to wear them.
Although red tights were a staple of the indie-sleaze era, for their comeback, it's all about how you style them. And what has made red tights so distinct on these runways is the fact that they complement the outfit rather than function as a statement piece, as we saw in Gucci, Saks Potts, and Miu Miu's collections.
Johnson acknowledges the color red can be a tough one to pull off. However, instead of shying away from it, it's easiest to approach styling it is via a monochromatic look, à la Isabel Marant or Hermès. Contrary to what you might believe, you won't stick out as a sore thumb. Instead, it's safe and tasteful and can be worn year-round.
If you still just want to dip your toes into these tights (literally and without ripping them), you don't have to wait until next fall to put together a look. Simply take a page out of the spring/summer '23 runways looks from Ferragamo, Valentino, and Prabal Gurung. Or start small with red accessories, like a pair of red socks. Johnson swears by the Uniqlo, Wolford, and Tabio selections.
Below, he also shares his favorite styling combinations for this crimson trend:
Best Red Tights
For a night out
Don't rack your brain for styling inspiration when it comes to red tights. Simply switch your go-to sheer black pair for a red one, and your outfits will be instantly transformed.
For a monochromatic look
Nothing says you have your life put together better than a matching pajama set, a matching bra and underwear, or a monochromatic look.
For a color blocking moment
Add depth and playfulness to any outfit by opting for a color-block moment. Purple and red are side by side in the color wheel so it's no surprise that they look great in an ensemble.
For a dinner date
Tired? A little black dress with knee high boots.
Wired? A little black dress with matching red tights and pumps.
For running around the city
The skirt is an object of our affection, but paired with red tights, we would wear it to make the simplest of errand runs more interesting.
For a spring picnic
Give your white crew socks a break and try a chile-red pair instead. You'll get a new result from the trusty linen-shorts-and-loafers spring-outfit formula.