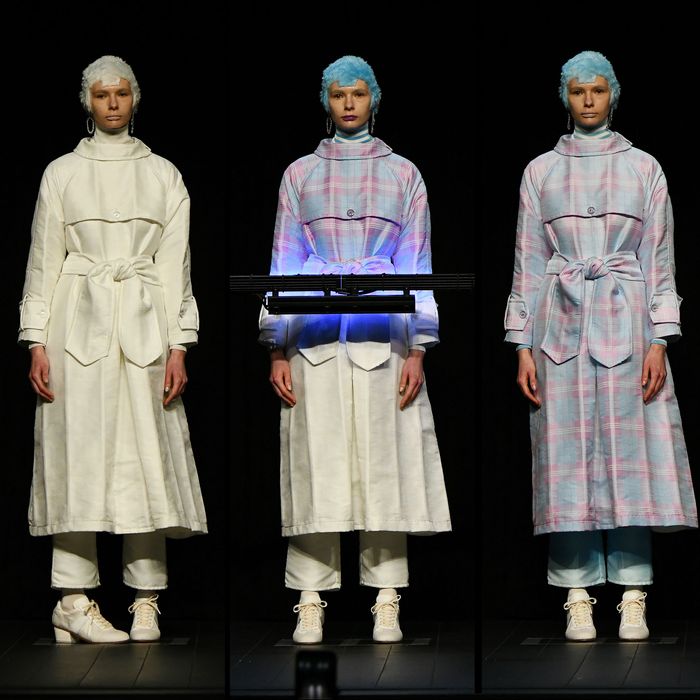 Photo-Illustration: by The Cut; Photos: Courtesy of Anrealage
How does that one cliché magicians' line go? "Now you see me, now you don't"? Whatever it is, Anrealage did the opposite of that at its recent show in Paris.
During a presentation during Paris Fashion Week, models walked onstage, in pairs reminiscent of my favorite childhood cartoon, Madeline, in white outfits. As each duo stood on a stage before an audience, a beam blasting UV light scanned up and down their bodies. Before our eyes, these white garments, made of faux fur, velvet, lace, knit, jacquard, and satin, suddenly become colored with bright pinks and blues and greens in a multitude of patterns thanks to "experimental, photochromic materials" that the brand made itself. The crowd clapped and cheered.
You might remember the spray-on dress that Coperni did last season with Bella Hadid, which was made of Fabrican — a liquid fiber bound together with polymers, biopolymers, and greener solvents that evaporates when the spray makes contact with a surface. (It was a moment that some said was similar to Alexander McQueen's iconic spray-painted-dress bit with Shalom Harlow, which I actually disagree with, but I digress.) In the case of Coperni and Anrealage, both brands allowed the audience to witness the role science plays in fashion and the treat of watching an outfit come to life. Some might call it a publicity stunt or a gimmick, but Anrealage, which was founded by designer Kunihiko Morinaga in 2003, has been incorporating technology into his designs since the founding of the brand. In 2015, he made a collection where the colors of the garments were only seen through flash photography, invisible to the naked eye.
Anrealage's collection was inspired by the German concept of "umwelt," or how living beings perceive their world. "We are all one race," Morinaga said. "Even if how I see my world is not equal to how you see your world." The looks are meant to "evolve" as they're hit with sunlight, a nod to the biological diversity on this planet, and fade and return to their original form within three minutes. Talk about seeing things in a whole new light.