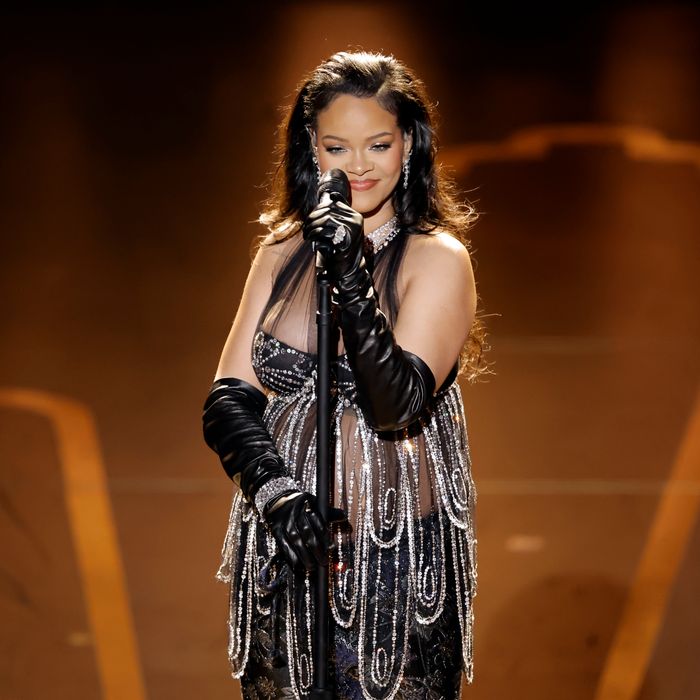 Photo: Kevin Winter/Getty Images
After six years of cackling at the mere suggestion of releasing new music, Rihanna is singing publicly again. Generally speaking, it has been great for our collective well-being. In the first quarter of 2023 alone, we have been blessed with not one but two major Rihanna performances, one of which was also a very casual pregnancy reveal. (The woman knows how to multitask.) On Sunday night, she hit the stage again, this time at the Oscars, to sing her award-nominated single for Black Panther, "Lift Me Up."
Of course, Rihanna's appearance was another opportunity to put her unparalleled maternity style on display. She arrived, characteristically, just before the event began (which, mind you, is early in Rihanna hours) wearing a sheer and leather Alaïa gown, grinning on the red carpet.
A few hours later, she appeared onstage in another sheer look by Maison Margiela with chandelierlike tiers of diamonds. She performed a violin-heavy rendition of the ballad, which was dedicated to the late Chadwick Boseman.
The singer was photographed backstage with A$AP Rocky in yet another perfect outfit. This time, she was draped in a silky mint-green Bottega Veneta skirt with a matching cropped blouse, cape gloves, and Sergio Rossi x Area strappy sandals.
And as if she hadn't done enough in one night, she blessed us with one final look: A sequin bandeau top with matching sparkly pants, a diamond necklace, and a diamond belt. She topped it off with an oversize pink coat.
This means that Rihanna's second child has now attended both the Super Bowl and the Oscars dressed in the best clothes before even leaving the womb. That is one cultured baby.