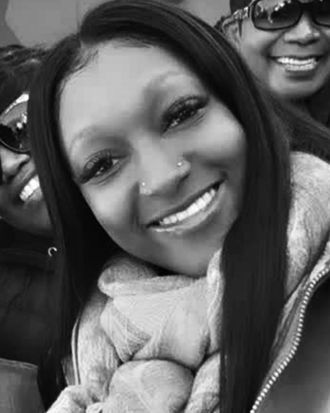 Photo: WCNC Charlotte via NBC News
In October, Shanquella Robinson, a 25-year-old woman from Charlotte, North Carolina, arrived in the town of San José del Cabo, a resort city on the southern tip of Mexico's Baja California peninsula, with six friends. A day later, she was found dead in the rental property where they were staying. Although Robinson's friends told her mother that she'd died of alcohol poisoning, her death certificate recorded that the cause was a spinal cord and neck injury. Calls for authorities to investigate Robinson's death grew after a video showing one of her friends physically assaulting her went viral.
More than four months after Robinson's death, her family and their attorney, Ben Crump, claim that Mexican authorities concluded their investigation and went through proper channels for extradition, but that U.S. authorities have made no arrests. The family says they have been left in the dark and feel like efforts to bring their daughter's killer to justice have stalled.
Here is everything we know about the case so far.
Robinson last spoke with her mother a day before her death.
Robinson's mother told CNN that she'd talked to her daughter on the morning of October 28. "When I spoke with her, she seemed to be pretty happy. She was laughing," she said. "She seemed very happy on that trip … I said, 'Okay, enjoy yourself. Love you. I will talk to you tomorrow.' And I never spoke with her again."
Robinson graduated from West Charlotte High School and attended Winston-Salem State University, where she met some of the friends who were on the trip with her. Her father told the New York Times that she ran a business braiding children's hair.
After Robinson was found dead in the living room of the vacation rental where she and her friends were staying, her friends returned home. Her father told the Times that he did not understand why they were allowed to leave Mexico.
A video shows Robinson being beaten by one of her friends.
A video that made the rounds online following her death shows someone physically beating Robinson. The person can be seen throwing her to the ground and kicking and punching her all over her body and head. A man standing nearby can be heard saying, "Quella, can you at least fight back?" Robinson's father confirmed to the Times that it was his daughter being beaten in the video, saying, "She's not a fighter. She didn't believe in drama." It is not known when the video was taken.
Robinson's death certificate raised more suspicion about the circumstances of her death.
Robinson's friends told her mother that she had died of alcohol poisoning, but her death certificate suggested otherwise. Per the Times, it shows that Robinson was found unconscious in the living room in San José del Cabo and that she'd died about 15 minutes after she was injured. The certificate had no mention of alcohol poisoning.
According to a police report, Robinson's friends called a doctor but didn't want her to be taken to a hospital for treatment.
According to the Charlotte Observer, a police report shows that a doctor saw Robinson after someone called for medical help at the vacation home on the afternoon of October 29. The doctor found Robinson with stable vital signs, but she was dehydrated and unable to communicate. The doctor was told that Robinson had "drunk a lot of alcohol."
According to the police report, while the doctor wanted to take Robinson to the hospital, her friends insisted that she be treated at the vacation home. The doctor tried to give her an intravenous line before she began to have a seizure. At that point, one of Robinson's friends called for an ambulance, per the Observer.
At 4:49 p.m., when the doctor detected no pulse, she and one of Robinson's friends began giving her CPR. Paramedics administered more rounds of CPR and adrenaline and discharges from a defibrillator. Robinson was pronounced dead at 5:57 p.m.
An arrest warrant has been issued for one of Robinson's friends.
Daniel de la Rosa, the attorney general for Baja California Sur, told reporters that Robinson's death resulted from "direct aggression" and that an arrest warrant for the crime of femicide — the killing of a woman because of her gender — has been issued. De la Rosa believes that a friend of Robinson's is responsible for her death.
Neither Mexican nor U.S. authorities have identified the suspect, but they have confirmed that she is a U.S. citizen. Although no one has been charged in the case and authorities have not released the names of Robinson's friends, according to CNN, the FBI Charlotte Field Office has opened an investigation into Robinson's death. Mexican prosecutors said that they are consulting with federal government officials in both countries about an extradition request. "We are already carrying out all the relevant procedures, both the Interpol file and the extradition request," de la Rosa said.
It is unclear where things stand in the extradition process.
Robinson's family says U.S. authorities have failed them.
In early March, Robinson's family traveled to Washington, D.C., along with civil-rights attorney Ben Crump and a group of activists. "No one has been arrested," Sallamondra Robinson, Shanquella's mother, said in a news conference held in D.C. "The people who knew what happened to my daughter are living their lives. They have returned to work and my family is left to wait and wait to beg for answers."
Quilla Long, Robinson's sister, said that the process of trying to get justice for her sister has been frustrating and disheartening. "I feel like our government has failed us," she said.
Sue-Ann Robinson, an attorney who works with Crump's firm (and is not related to the Robinson family), said the Mexican government concluded its investigation and sent all the information it had to the U.S. government, but the U.S. government has not done anything. "The ball is clearly in the United States' court," Sue-Ann Robinson said.
Sue-Ann Robinson and Crump urged the Biden administration, the State Department, and the Department of Justice to prioritize bringing Shanquella Robinson's alleged killers to justice and provide the family with updates about the investigation. "I plan on talking to the highest levels of our government to say Shanquella Robinson is not irrelevant and you all need to give her the same dignity and respect as any citizen in the United States with merit," Crump said.
This post has been updated.