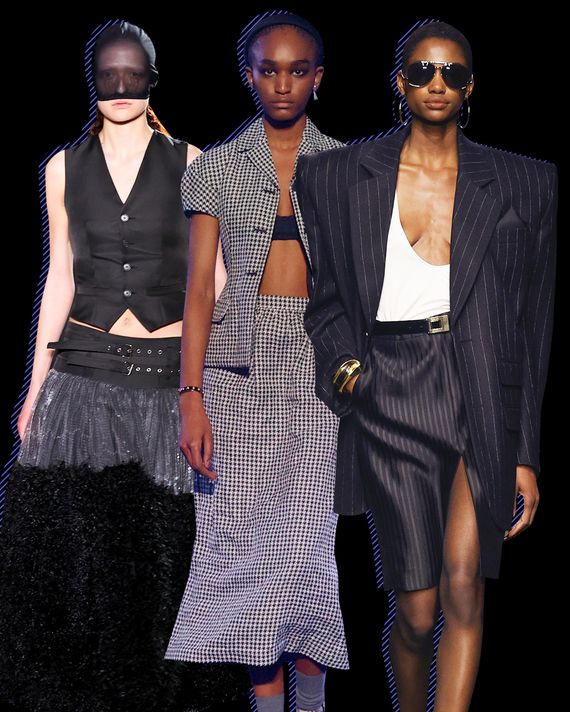 Photo-Illustration: by The Cut; Photos: Getty Images, Courtesy of Dior, Courtesy of Saint Laurent
For many years, Yves Saint Laurent showed his couture collections in the Grand Ballroom of the Intercontinental Hotel. It was a tradition: the rather short runway (it wasn't such a large room) and a mass of flowers on the backdrop framing the models as they emerged from the dressing area and began their haute walk. And in his later years, when he had less to say perhaps, Saint Laurent opened with the sharp-shouldered suit that was recognizable across the world. He showed one after the after, often with pussy-bow blouses — another signature — even though everyone had seen them all before.
On Tuesday night, Anthony Vaccarello reprised the scene. It was an odd sensation to walk up the steps to the Saint Laurent company's monolithic tent, a black structure four or five stories high near the Trocadero, and enter a time from more than 20 years ago. Of course, Vaccarello's runway was much longer; that's just a contemporary necessity. And the shoulders of his jackets were wider, the pussy bows almost feral. But he copied the crystal chandeliers from the ballroom, the carpet pattern for the runway from the original couture house on Avenue Marceau, and the legend's unhurried sense of repetition.
If Saint Laurent invented a modern wardrobe for women, Vaccarello has boiled it down to a few essential pieces. He enforces that point in a show by harping on one or two key styles at the risk of losing your attention. That was a problem last season with his parade of long and lean hooded dresses in spice-colored jerseys with maxi coats. It was a restrictive, one-note style to begin with, but in multiple variations, it felt like a hammer to a nail. This time, however, the clothes got under your skin. Maybe it's the generous cut of the jackets, the spare white silk tops underneath, or the newer proportion of a slim skirt (instead of pants), but the look stoked desire. It also made a statement.
Vaccarello alternated between the suits — in dark pinstripes and solids — and a classic, oversize leather bomber sometimes paired with a slim, halter-neck black dress with a belt or an exaggerated pussy-bow blouse with a skirt. A number of outfits with a tartan blanket piled on one shoulder and dragging behind didn't make sense. Bur an evening top in black velvet draped over one shoulder and down the torso, with a swag to the floor and worn with skinny charcoal pants, looked fabulous. It was Saint Laurent with a decidedly modern edge.
The Paris fall 2023 collections are barely underway, and already black dominates. The American designers of Vaquera, Patric DiCaprio and Bryn Taubensee, showed lots of distressed black leather, wide-leg jeans that were either extremely shredded or densely studded, and funny, sheer caps with fuzzy mohawks. Their leather bits looked great, but, oddly — or unexpectedly — their best new work was a pair of evening outfits in a shimmery, silver-gray material with furry black trimming.
Maria Grazia Chiuri admitted before the Dior show that until she started on her latest ready-to-wear collection she wasn't all that familiar with Paris in the 1950s. As she said, "Our sense of the '50s comes from America." That's probably because America was thriving during the postwar period, whereas France and the rest of Europe were still recovering. French women had won the right to vote only in 1944, more than four decades after their American sisters. Nonetheless, Chiuri decided to base her collection on the period — between the exuberance of Dior's New Look in the late '40s and the youth rebellion Saint Laurent would help usher in during the brief moment that he was the couturier at Dior. Chiuri chose the lives of three women to help with her story: Christian Dior's sister, Catherine, and the singers Juliette Gréco and Édith Piaf.
One interesting thing about her spare black skirts (in crinkled silk) and white cotton shirts, as well as her straight-line wool coats in muddy plaids and checked suits, is that they remind us of how plain clothes once were — and how overly designed and embellished they are today, often to the point of ridiculousness. Was Chiuri commenting on that?
But despite, or perhaps because of, these icons (and Piaf's soaring voice on the sound system in Dior's vast tent), there was an immense gulf between Chiuri's intentions and the actual results. She wanted to capture some of the female grit and toughness of that time, but because of the repetitive shapes and preponderance of black — and I love black — the collection unfortunately came off as dull.