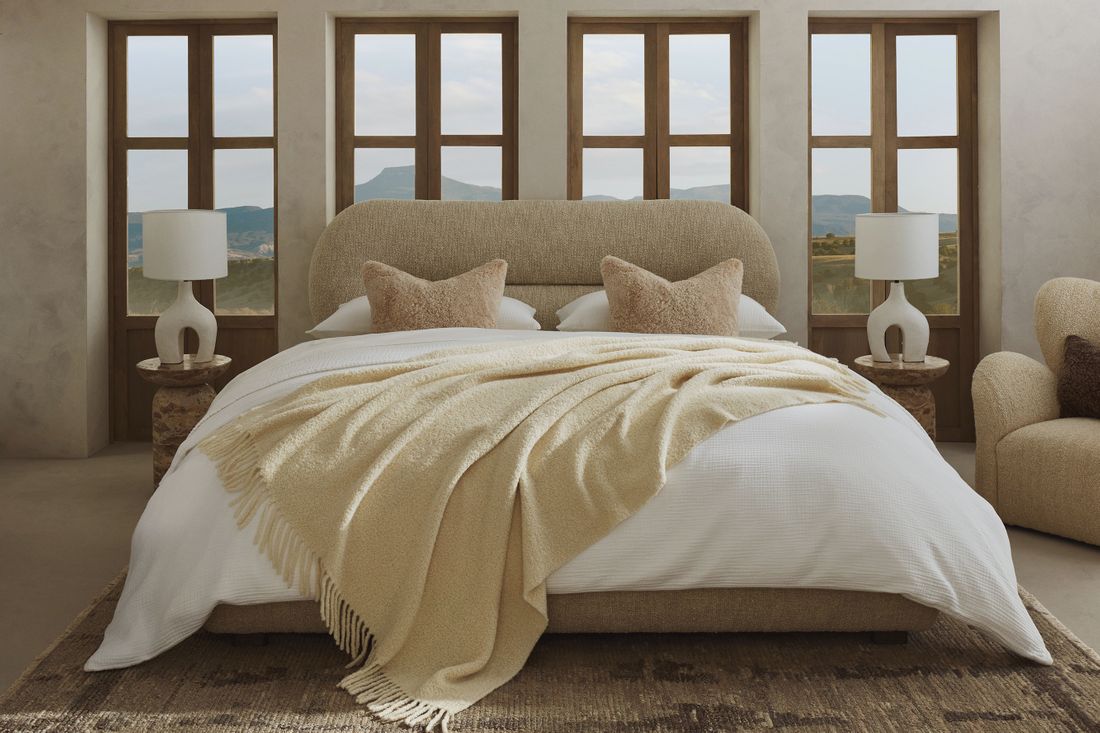 It can come on quickly — the feeling that everything in your home is suddenly awfully unstylish and cheap-looking. Sometimes it happens after you sift through a celebrity home tour and ogle at how their mid-century armoire juxtaposes the soft edges of a boucle couch. Or maybe you've visited a friend's place and finally realized that certain locker-inspired console that's followed you to every apartment over the last decade has finally become an eyesore too big to ignore. Either way, it doesn't need to take a major overhaul to make your space feel more like a luxurious sanctuary — even if you don't have the penthouse loft yet.
Opt for small-format changes like an elegant new bathroom fixture, an accent piece like a fringe pillow or throw from Banana Republic's new home collection, or swing for the fences with a chic soft pendant light for a premium feel that track lighting lacks.
Merino Throw Blanket
Winter's on the way out, but that doesn't mean it's time to ditch everything that gives your home a cozy, nested feel. This hand-spun wool blanket is perfect for Love Is Blind reruns.
Pendant Light
Overhead lighting is notoriously bad. This brushed gray pendant from Louis Poulsen disperses light softly — and makes any space look finished.
Footed Bowl
Grab one to hold your produce on your kitchen counter and another to serve as a makeshift serving bowl when strawberry season kicks around.
Percale Sheet Set
Crisp white sheets are great and all, but this season, opt for something a little less expected. This baby blue sheet set is made from luxe cotton percale, so it'll keep you cool as the weather heats up.
Bouclé Bench
There's nothing wrong with one of those tufted storage ottomans for all your throw blankets, but this bench looks just as great on its own as it does with one strewn across just so.
Shoe Rack
Every entryway is prone to coat and shoe clutter, but this simple rack will wrangle odds and ends in style.
Fringe Throw Pillow
Swap out your run-of-the-mill shams for something transformative, like these indulgent linen fringe styles designed by multimedia artist Dawn Sweitzer.
Checkered Hand Towels
This red checkered hand towel is the antidote to neutral fatigue. Grab one to fold over the kitchen sink and another for your bathroom.
Arched Floor Mirror
Everyone knows a mirror is the quickest way to make your space look bigger — but if you position it next to a window, it'll also reflect more light and make even a dim room look bright.
Silk Quilt
Sleep like a true king all year round with this dreamy silk quilt.
Curved Sink Faucet
No matter if you rent or own, kitchen and bathroom fixtures are the easiest (and often cheapest) investments you can make. Swap out your dingy silver faucet for this — dare we say sexy — option.
Lacquered Stool
Swap out a dining chair or ottoman for a lacquered polymer stool for an unexpected and delightful game of mix-and-match.
Geometric Rug
Not only is this geometric rug a maximalist's dream, but it also camouflages crumbs better than you could even imagine.
Teak Garment Rack
Give "the chair" a rest and instead, make your daily rejects look more organized with a teak wood garment rack like this one.
This advertising content was produced in collaboration between Vox Creative and our sponsor, without involvement from Vox Media editorial staff.