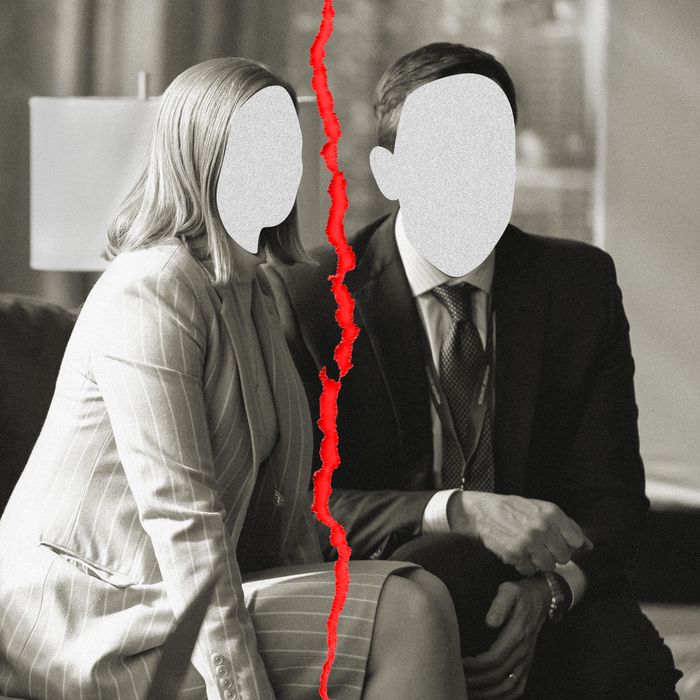 Guess who's getting divorced!
Photo-Illustration: by The Cut; Photos: Macall B. Polay/HBO, Sergey Ryumin/Getty Images
The fourth and final season of Succession kicked off on Sunday, and by all appearances, things are unraveling faster than ever — especially in the romance department. (Spoilers ahead for the season premiere, obviously.) Naomi and Kendall? Broken up. Connor and Willa? On wildly different pages about their wedding. Gerri and Roman? Not even in a scene together. Logan and Kerry? Maybe the only "happy" "couple," save for the fact that Logan is trying to replace his kids by fertilizing his assistant. But the most severely imploding union this season seems to be that of Tom and Shiv. Prior to the season premiere, I probably would have voted them Most Likely to Divorce, and it turns out that's an appropriate superlative: In the season premiere, it became clear that both parties (yes, even poor, beaten-down Tom) want out of this marriage.
It's clear from the jump that Shiv and Tom are no longer pretending to be a happy couple. A tense phone call in the first scene suggests they're on a trial separation and seeing other people, later confirmed by the fact that, to Tom's chagrin, Greg has taken to calling himself and Tom the Disgusting Brothers. Shiv wants to divorce Tom, as is usually the inclination when your husband tells your dad that you're planning a hostile takeover of his company. Tom is also ready to call it quits, having come around to the fact that his wife would rather use him as a business tool than grant him a shred of dignity or care.
Of course, both of them arrive at this decision in characteristically dysfunctional fashion. First, Tom takes a break from Logan's birthday party to sputter through a request to his father-in-law that translates approximately to, "Please, sir, can I divorce your daughter?" Shiv, true to form, suddenly decides her divorce is imminent while trying to close a deal with the Pierces, the "liberal" media family who are much more amenable to being bought out by the Roy kids when they hear Shiv is severing ties with her father and his associates. Sounds like both of them have reached this juncture after a totally healthy and communicative period of deliberation, yes?
As is often the case on Succession, it's all funny in a "How fucked up is this?!" way until Shiv and Tom's race to the mediation room culminates in a heartbreaking scene at the couple's home. Shiv stops by to grab some new clothes for her hotel room, only to find Tom wandering out of the bedroom in his little pajama V-neck. In one of the most painful exchanges on this show (and that's saying something), Tom tries to hash out their marital strife with a spontaneous therapy session — it appears they haven't even talked about the fact that he sold her out to Logan — only for Shiv to shut him down. "I don't want to rake up a whole lot of bullshit for no profit, Tom," she tells him, a line that could have come straight from her father's mouth. She composes her face into a dismissive sneer until she's sitting on the bed facing away from him, finally letting a little pain sneak into her composure. (If this scene doesn't earn Sarah Snook an Emmy nom, I'll eat my corporate baseball hat.) Eventually, they both lie down with an anti-climactic shrug that Tom repeats after Shiv: "We gave it a go."
While it's nice that Tom now has a shot at moving on from this sad, terrible marriage, I'm worried for him. He's pretty much just swapped out one horrible Roy for another, and his self-esteem is not bound to improve while he's pinned to Logan's side. I wish he would take advantage of his chance to leave this family forever. I just hope he gets custody of the dog.
For more, join us for Succession Club, our subscriber-exclusive newsletter dissecting and obsessing over all the minutiae of the final season. Existing subscribers can visit this page to sign up. If you're not a subscriber yet, click here to get started.