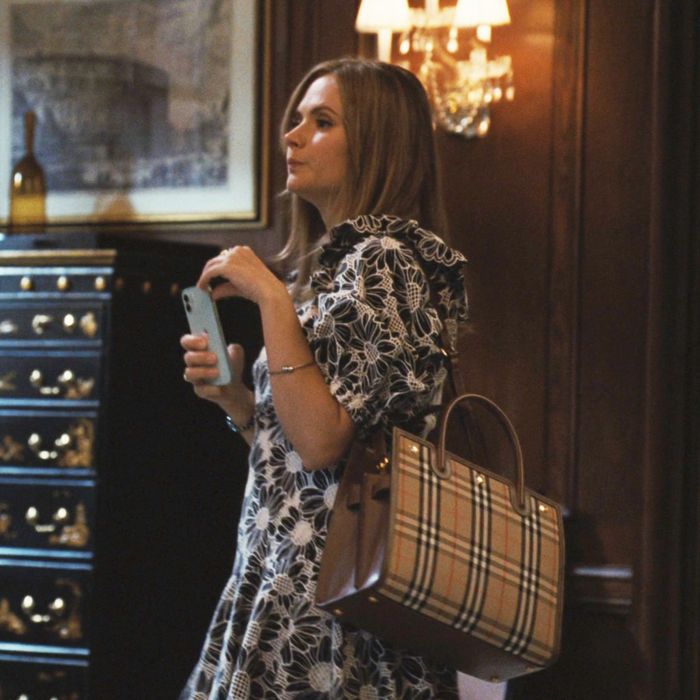 Potential spoilers ahead!
Succession returned last night for its fourth and final season, and while our usual stars, like Shiv and Kendall, made their appearances and lulled us back into the show's manufactured capitalist nightmare (because living in one is not enough), there was one headliner who outshone everyone: a Burberry bag.
The bag in question, a $2,890, two-handled tote splashed in the classic Burberry pattern, was dangling from the shoulder of Cousin Greg's date to Logan's birthday party, not-so-fondly referred to by a member of the firm as "Bridget Randomfuck." <3. Upon her arrival, a single up-and-down glance is enough to send Logan's assistant into a one-percent tizzy, and she pulls Greg aside to let him know that this party, thrown in honor of one of the richest men in the world, was, in fact, not a "fucking Shake Shack." Noted.
Bridget clearly brought this bag, a nearly $3,000 investment, presuming she got it at full price, as a signal that she too could run with the silver-spoon-fed wolves. That she knew, and decided to ignore, the value of the dollar. That she was one of them — one of the elite.
But poor Bridget and her out-there-for-all-to-see Burberry check pattern were doomed from the beginning. The clear signage, a telltale logoless logo, made her but a doe-eyed seal in a pool of passive-aggressive trust-fund orcas. To the Roys, the most covetable piece of clothing is one that comes at a hefty price with very little markage, or, as we've come to call it, stealth wealth. Kendall, for example, wears a $625 Loro Piana cashmere-blend baseball cap this episode and a $6,490 Tom Ford suede bomber jacket, both logoless and utterly unrecognizable to anyone who has to file their taxes through TurboTax. Bridget's bag, on the other hand, is immediately identifiable, which in turn makes it gauche, tacky, and completely undesirable to the one percent.
It's all made even more … unsavory given the real-life attempt to re-establish Burberry as a luxury brand. In the past few years, the house has reduced discounting, and former creative director Riccardo Tisci tapped young stars and athletes, like Marcus Rashford, to represent the brand and appeal to shoppers with money to blow. True luxury, though, to people like the Roys who can afford so many homes they forget where they own property, is all about remaining completely unattainable and incognito. All the fun is blown as soon as anything is easily recognizable. And for that reason, this sizable, conspicuous bag was the perfect choice for Greg's date to tote — she, and maybe even by extension Greg, will never be one of them. The Roys' kind of wealth and status can't be feigned. Television writer Camilla Blackett described it perfectly when she weighed in on the Succession costume department's choice to give Bridget such an ostentatious accessory: "It told you that this person has no self awareness and no awareness of the world she's inhabiting."
The final nail in the tawdry coffin was Tom's brief, ruinous monologue to Greg about his date and her choice of purse. "I hear you've made an enormous faux pas," Tom says to Greg. "Everyone's laughing up their sleeves about your date."
"What? Why?" Greg, a former normie like us, asks.
Well, it turns out Tom felt that Bridget's "ludicrously capacious bag" (big bags are for us peasants; the rich don't need to carry anything around, that's what assistants are for) that she presumably filled with "flat shoes for the subway" (both orthopedic footwear and public, eco-friendly transportation are for us peasants) or "a lunch pail" (a mid-day meal, especially one brought from home, is also for us peasants) was so "monstrous … gargantuan you could take it camping" (enjoying time in nature anywhere that isn't a four-story yacht? Peasantry!) or even "slide it across the floor after a bank job" (IRL bank robberies are only committed by us peasants; bank fraud is for the elite).
As cruel as that sounds, we have to imagine Uncle Logan's response to Bridget's request for a selfie would have been even more harsh. Let's hope she didn't film it for TikTok.
For more, join us for Succession Club, our subscriber-exclusive newsletter dissecting and obsessing over all the minutiae of the final season. Existing subscribers can visit this page to sign up. If you're not a subscriber yet, click here to get started.