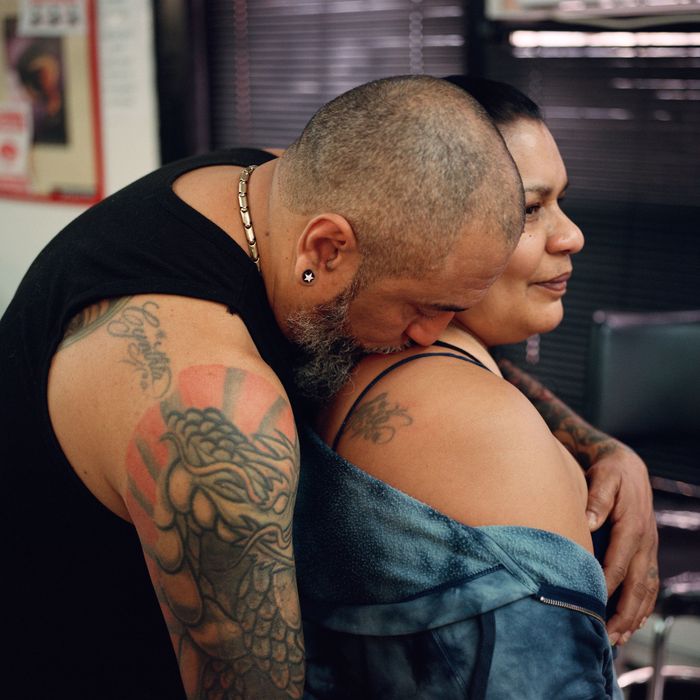 Jose and Cynthia (Cindy) at their tattoo shop, Blazin Skinz, in Bushwick, Brooklyn, 2023.
Photo: Scott Rossi
Scott Rossi was in Southern California, taking photographs along the Colorado River, when he met a man swimming. He noticed there was a tattoo peeking out of the top of the man's bathing suit ("Right above his groin," Rossi remembers). When he asked the man about it, he revealed a large tattoo that read "WENDY" and pointed to a woman a few feet away. "It got me thinking, What drives somebody to do that?" Rossi tells the Cut. "And then, What does the partner think?"
Historically, tattoos of lovers' names call to mind whirlwind public romances: Johnny Depp's "WINONA FOREVER" (which he has since changed to "WINO FOREVER"), Angelina Jolie's "Billy Bob" bicep tattoo during her tryst with Billy Bob Thornton in the early aughts (also since covered and replaced with a tattoo of the coordinates of her family's birthplaces), Bennifer permanently inking their love on each other's bodies two decades after their initial engagement, Brooklyn Peltz Beckham almost losing count of how many tattoos he has dedicated to his wife, Nicola (he estimates it's about 70 out of 100), and who could forget Pete Davidson's multiple tattoos honoring his A-list lovers (the many Ariana Grande–themed tattoos and "MY GIRL IS A LAWYER" for Kim Kardashian). There's a certain air of tackiness associated with these public displays of affection that belies an authentic sweetness and faith required to undertake them.
When interviewing the subjects photographed for this project, the one through-line I found was that nobody regretted their tattoo. One woman who had her ex-husband's name on her rib told me that she liked to remember there was a version of herself that was able to feel so optimistic. Even if the relationship had failed or hurt, or even if their partner didn't approve, the tattoo remains meaningful to them. "The project talks a lot about who we are as people and how we handle relationships," Rossi adds. "And if people are willing to actually believe or fall in love, or if they're hesitant or reserved, that speaks a lot to who we are as a people."