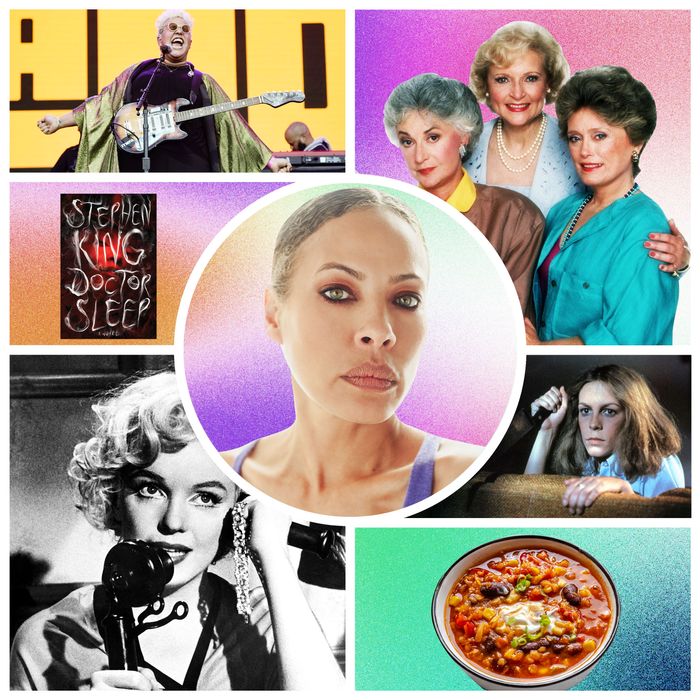 Photo-Illustration: by The Cut; Photo: Leleita McKill, Everett Collection, Getty Images, Amazon
At her core, Tawny Cypress is a Jersey girl, both on- and off-screen. The actor, who stars as adult Taissa on Showtime's Yellowjackets, wants to know what's going on with the newly minted New Jersey state senator and her multiple sleep-fugue personalities just as much as we do. We'll have to wait for season two to unravel to find out more, but in the meantime — for when you're not perusing endless Yellowjackets Reddit theories — why not a little taste test? The Yellowjackets ladies do love their edibles, after all.
Cypress let us in on all her top culture takes, from horror films to Golden Girl rewatches, and the best advice she's received from her co-star and "bestie" Christina Ricci.
I'm wildly intrigued by Taissa's story line right now, and desperately want to know what is going on with her.
Don't we all want to know!
We're all hoping Steve will be okay. 
I think you'll have to worry more about her wife than Steve this season. But we love Steve. We're rooting for him.
I want to follow his IMDb page. Onto the taste test — where do you get your best culture recommendations from? For instance, a newsletter, an Instagram account, a friend with good taste. 
I'd have to say my son Dexter. He shows me more new culture than any other person in my life. He's constantly trying to get me to listen to bands and new artists, and he knows fashion. He's where I get most of my new culture taste from. He recently introduced me to Brittany Howard, from Alabama Shakes, who is now doing solo albums. Her stuff is amazing.
You're hopping into an UberXL and can bring five celebrities, dead or alive, with you. Who's coming? 
Let's go with Christina Ricci, because she's my bestie. Prince, definitely Prince. Idris Elba, because he's just nice to look at. Clea DuVall, who I've worked with and met and would love to get to know more, because she's such an interesting person. And then Marilyn Monroe, not because she's an icon and blah blah blah, but because I want to talk to her about Some Like It Hot, which is one of my favorite movies of all time.
As this is a taste test — what's the last meal you cooked for dinner? 
My husband loves my chili, so I made him some chili. It's cold in Colorado.
Do you have a pre-Yellowjackets filming ritual? 
Before I start any character, I come up with a playlist for them, so I do have a Taissa playlist and a Taissa and Van playlist. That plays sometimes, but I'm not a Method actor, so I'm pretty easy on myself. When I'm acting, I'm acting. When I'm not, I'm a wife and mother — I'm not doing anything with acting.
There's a lot of Janet Jackson on the Taissa playlist, as well as India Arie. "Video" is the first song on there. There's definitely some Prince, as well as Brandi Carlile, Patsy Cline, Indigo Girls.
It should be a public Spotify playlist. 
Maybe I'll make it one.
The show is so good, but it can also be so frightening — sometimes I have a comfort show open in another tab. What's your comfort rewatch? 
My husband's so sick of it, but hands down, Golden Girls. I know every episode intimately; I have absolute favorite moments from that show, and I can definitely recite episodes word for word. It's my go-to every single night before bed.
Speaking of fear: What's the horror film you'd recommend for a friend who's a big baby about being scared? 
A big baby! Nothing! The horror movies I like are going to freak you out. I love The Strangers. It's absolutely terrifying and it's sort of a real-life situation; I go camping a lot and that one really hits home for me. I don't really suggest anyone who's afraid of scary movies to watch it, though. It's a home-invasion movie — this is something that could actually happen! My favorite horror movie of all time, though, is the original Halloween with Jamie Lee Curtis. I think that one's a good one to watch. There's enough fantastical things about it that you can think it's not going to happen to you.
What's something you'll never, ever watch, no matter what? 
I tend to not watch dramas, only because I do drama for a living and can sort of see the work. I'd much rather watch a comedy, like Pee-wee's Big Adventure, something that's just so funny that I don't get hired for. For some reason people don't think I'm fucking funny. I think I'm fucking hysterical, but whatever. I'll still watch a drama every once in a while, though. There's not really anything off the table.
What's the best piece of gossip you've ever heard? 
Bad behavior by an actor that we discussed in between setups, me and the girls, on Yellowjackets. We talk about everything under the sun. The best piece of gossip I heard is some really terrible thing about an actor. I'm not going to say who!
What music do you listen to when you're alone in your car? 
I have very eclectic music tastes, so a lot of different stuff. But right now spring is coming out, so I listen to a lot more Grateful Dead in the warm weather. That's coming back into high rotation now that the sun's coming out a lot more.
Tell me about a book you couldn't put down. 
Anything Stephen King, I can't put down. But I will say, Doctor Sleep, the follow-up to The Shining, is an incredible book. It might be my favorite one. Either that, or The Dark Tower series. It's eight super-thick books long, but once I started, I had to read all eight until I stopped. It's the best ending of any book I've ever read, so I'm glad I read all eight.
What's your favorite game to play? 
I'm a huge gamer. I could give you my favorite of all the genres: My favorite card game is Cover Your Assets. My favorite board game is Trivial Pursuit. My favorite computer game is the New York Times crossword puzzle. My favorite video game is the Fallout series. And I'm probably forgetting a game. I'm always playing games.
What show is your husband not allowed to watch without you? 
What We Do in the Shadows. I'll watch anything Taika Waititi does, and the show is just so funny. I love every single one of those characters so much, and he better not watch it without me.
Are there consequences?
There's definitely a night on the couch for that one.
What's your favorite art that you own? 
My brother, Toby Cypress, is a comic-book artist, and I have some of his art hanging up around my house. It's my favorite — he's amazing.
What's the best and worst advice you've ever received?
I'll tell you the worst advice: Early on, someone who was scaring young actors told me, Have a plan B! Have something to fall back on! I never had a plan B, and thank God I didn't, because I probably would have given up sooner if I did. I tell young students, the length of your career is directly related to your threshold for rejection. Having an out only gives you a shorter threshold, so I think it's good I never had an out.
As for the best piece of advice, I can't think of the perfect thing, but the latest best piece of advice I got was from Christina Ricci, who said, "Tawny, get a stylist." And I did! It's made my life infinitely easier.
Christina is just so cool. 
She's my Jersey girl, she's a scrapper, I love her.
Fellow Jersey girl here!
I'm Jersey all the way.
I love us.
I love us, too!
Another thing to love about Yellowjackets: It gives New Jersey its due. 
New Jersey references never cease to amaze me. I'm like, Oh my God, they mention that town! Oh my God, they mention Route 9!
It's always intrigued me that as adults, after everything, the women stayed in Jersey. 
It's so funny. Some people never get out of Jersey.
What would your last meal be? 
There's an old family recipe for Hungarian meatballs. It's my absolute favorite food. My great-great-grandmother from Hungary brought it over with her on the boat, and we've been making it for generations. My mom made it for me for every special occasion, and I make it for my son for every special occasion. I think it's all of our favorite meals.
Speaking of edibles — I'm not making a pun about episode two, but I also am — what's the worst thing one can do at a dinner party? 
I love my sister, she's my very best friend, but she uses way too much salt. Leave the salt off, let me salt my own food! That's all I want. She is going to kill me.
A faux pas is a faux pas. 
Agreed, so gauche.