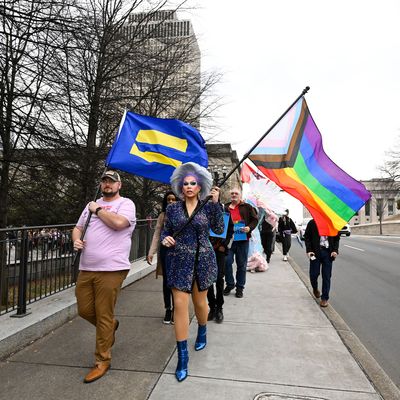 Photo: John Amis/AP/Shutterstock
On Thursday, Tennessee governor Bill Lee signed a bill banning drag performances on public property and in places where they could be watched by minors, the New York Times reports.
The new law limits any "adult cabaret performance" that includes "topless dancers, go-go dancers, exotic dancers, strippers, male or female impersonators," and it will go into effect later this year. In the same sitting, Lee also signed a bill banning gender-affirming care for trans youth.
Both bills are part of a broader effort by Republicans across the country to limit the rights of LGBTQ people. The Washington Post reported in February that this year alone the GOP has introduced 26 bills targeting drag shows in 14 states. And the party has filed at least 150 bills targeting transgender people, per the Human Rights Campaign. According to PBS, many of these potential laws would restrict medical providers from offering transition-related health care for minors.
The ACLU of Tennessee said that although it is disappointed that Lee signed the drag-show bill, it does not believe that the law will lead to the banning of all drag shows in the state.
"I want to be abundantly clear: The law that was just signed does not make it illegal to perform in drag in Tennessee," Stella Yarbrough, ACLU of Tennessee's legal director, said in a statement. "The law bans obscene performances and drag performances are not inherently obscene." She added that the organization is worried that government officials "could easily abuse this law to censor people based on their own subjective viewpoints of what they deem appropriate." Doing so, she said, would affect protected free speech and "send a message to LGBTQ Tennesseans that they are not welcome in our state."