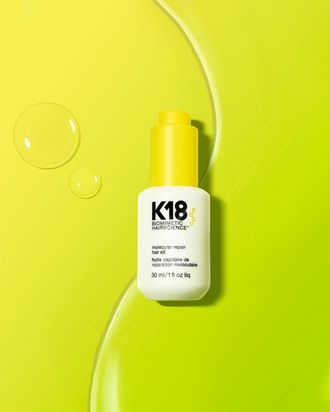 For more of the Cut's favorite fashion, beauty, and home finds, sign up for the weekly Cut Shop newsletter.
You might be familiar with K18 thanks to its very viral leave-in mask (which we already tried on seven types of hair! We unanimously loved it). Beloved by the likes of Rihanna and Selena Gomez, the cult-favorite mask has gained a star-studded reputation for a reason. K18 is known for being a new-wave hair-care company that creates products rooted in repairing hair on a molecular level.
What is it?
Today, the brand launched a new molecular repair hair oil for all hair types, which is meant to be used before and after styling (I go weak in the knees for a good two-in-one product) and is made with nourishing ingredients like its signature K18 peptide, sunflower oil, avocado oil and squalene. The product also triples (triples!) as a heat protectant and promises to protect strands against temperatures up to 450 degrees.
Do I need this?
If you're in the market for a new hair oil, this is the one. This product is nearly weightless yet somehow packs a punch. I have naturally curly 3B hair and tried this oil on my natural hair as well as on heat-styled hair and loved both results. I found that my blown-out tresses lasted longer with this oil than they normally would — even in the Miami heat and humidity — and that my second-day curls and all their chaos seemed calmer after application. The oil soothed much of the frizz I woke up with and kept fly aways at bay for most of the day. The 30-milliliter bottle comes in at $65, and the 10 milliliter costs $27, which might be a higher price point than other oils, but a little goes a looooong way with this one. Celebrity hair stylist Cassondra Kaeding taught me firsthand how to apply this oil: by massaging the product into your hands and applying first to the ends of strands, then working your way up, using minimal to no product on the root. One to three drops is all you need to get maximum results.
The results.
I'm sold. After testing this over the past few weeks, this has become one of my most-used hair oils. It works great on my dry hair when I'm looking to revive and moisturize my curls, and I especially love it for pre-styling any time I apply heat to my hair and find that my strands come out looking much healthier and shinier whenever I use it. After blow-drying my hair, whether I'm diffusing or going full Farrah Fawcett, I like to use a smidge on the ends to prevent frizz. My hair has a tendency to feel coarse after blowing it out straight, but this oil helped combat that and made it feel incredibly soft instead. I had to stop myself from running my fingers through my hair constantly. I had also been nervous about my hair coming out greasy, as I often am when using an oil, but K18's is so lightweight that my hair looked anything but. The tresses were healthy, bouncy, and weightless!
What are people saying?
When I posted a photo of myself post-styling session using the K18 oil, my comments section was filled with positive affirmations (the sustenance of life) varying from "SLAY" to "Mommy." So, yeah, I'd say the oil did what needed to be done.