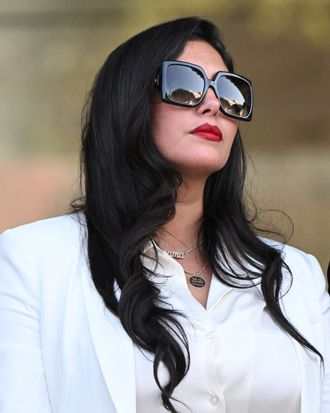 Photo: Patrick T. Fallon/AFP via Getty Images
Los Angeles County has agreed to pay Kobe Bryant's widow, Vanessa Bryant, and three of their daughters nearly $30 million to settle a lawsuit Bryant filed in 2020 accusing the county of negligence and invasion of privacy.
After Kobe Bryant and their daughter Gianna died in January 2020, Vanessa Bryant found out that some L.A. County fire and sheriff's department employees shared images of human remains from the crash. In September 2020, she sued for negligence and invasion of privacy, and she won at trial in August 2022, per the New York Times.
Bryant previously said she was suing because she wanted people to be held accountable. "No one should ever have to endure this type of pain and fear of their family members," she said. "Not only do I have to grieve the loss of my husband and child, but for the rest of my life, I'm going to have to fear that those photographs of my husband and child will be leaked."
On Tuesday, Bryant's attorney, Luis Li, said in a statement that the settlement marked the "successful culmination of Mrs. Bryant's courageous battle to hold accountable those who engaged in this grotesque conduct." Li added that Bryant "fought for her husband, her daughter, and all those in the community whose deceased family were treated with similar disrespect."
The L.A. County Board of Supervisors agreed to pay Bryant $28.85 million to settle her suit and any possible future claims by her and her daughters. The settlement includes the $15 million a jury awarded Bryant in August.
Mira Hashmall, the lead trial counsel for the county in the case, said that the settlement was "fair and reasonable" and that all county-related litigation from the crash had been resolved, according to the New York Times.
"We hope Ms. Bryant and her children continue to heal from their loss," Hashmall said.