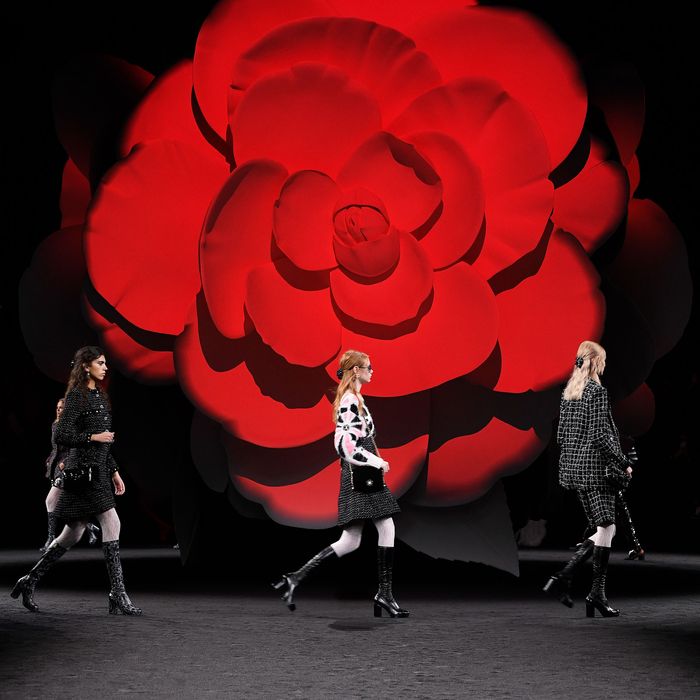 Photo: Giovanni Giannoni/WWD via Getty Images
Even though over the past decade there has been an increase in the visibility of plus-size models like Ashley Graham, Paloma Elsesser, Alva Claire, and others alongside the thin models on runways, suggesting that the industry was becoming more inclusive, it turns out that the fashion industry still needs to do a much better job regarding size inclusivity on the runway.
This past fashion season, there was chatter about the return of ultrathin models to the runway. Watching show after show, it seemed that the fashion industry was doing worse in terms of body-size representation. If you found yourself wondering if there were fewer plus-size models on the runways, you weren't wrong. Data collected by Vogue Business and published this week proves that to be true.
In an analysis of 9,137 looks across 219 shows in New York, London, Milan, and Paris during the recent fashion weeks, only 17 brands included at least one plus-size (U.S. size 14-plus) look. That means that 95.6 percent of looks were worn by models in U.S. sizes zero to four. And just 3.8 percent were worn by midsize models (sizes six to 12).
"Plus-size representation has gone backward," Felicity Hayward, a plus-size model tracking plus-size representation since 2019 through her project #IncludingTheCurve, told Vogue Business.
Vogue Business writes that "data was determined by number of looks" (to account for one model potentially wearing multiple looks on the runway.). The publication also noted that most of the top-ranking shows had a greater number of midsize models, with very little plus-size representation. For some of the bigger brands, "midsize looks on their runways were on the cusp of the straight-size range." Notably, the brands with the most plus-size models on the runway are mostly emerging designers. Karoline Vitto and Sinéad O'Dwyer presented 100 percent and 90.5 percent of looks on midsize and plus-size models, respectively. Sinéad O'Dwyer, Ester Manas, Karoline Vitto, Di Petsa, and Bach Mai had the highest percentage of midsize and plus-size models. (Most of these brands showed at London Fashion Week, which was the most inclusive of the four cities.)
Vogue Business's report noted that even brands that have expanded their offerings to include plus-size clothing, like Gucci and Chanel, didn't have plus-size models on the runway. Gucci had ten midsize models and Chanel had four, but neither brand had models over a size 12.
Designers told Vogue Business that they had to plan ahead of time to use plus-size models because runway casting is typically done a few days before a show and doesn't leave much time for alterations to adapt clothes to fit different bodies.
Hillary Taymour, the founder of Collina Strada, which included one plus-size look and ten midsize looks at its February show, said it varies on the season and the models. "We sometimes make looks ahead of time and alter them to fit individuals, but generally, it just takes a small effort and thought process beforehand to accommodate sizing on the runway."
The report concluded that the industry has "a long way to go."