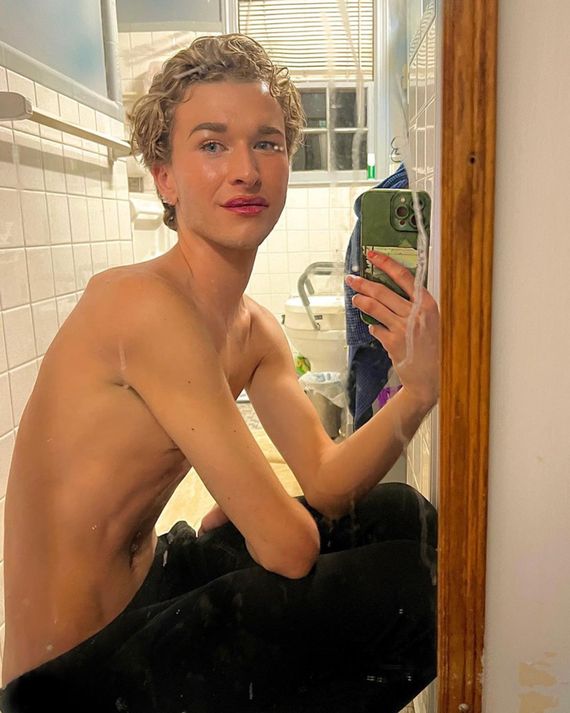 Franklyn McClure.
Photo: Brock Colyar
I love being naked," says Franklyn McClure, 20, Zooming from the porch of his home in Charlotte, North Carolina, and wearing nothing but a pink pair of briefs and a whole lot of jewelry and lip gloss. "So that's why I didn't want to wear a shirt for this interview. Because that shit is who I am. One day when I'm on the red carpet, I'm going to be naked, girl."
McClure is in the midst of having gone viral, and he is trying to make the most of it. "God gave us one life, so make it iconic," he says. If somehow you missed this: Randy McNally, the 79-year-old Republican lieutenant governor of Tennessee, was revealed to have been commenting, using his public, verified Instagram account, on McClure's thirst-traps (handle: @franklynsuperstar). McClure grew up in Tennessee but moved to North Carolina two years ago, after McNally had already started messaging him online.
This is all newsworthy given the lengths to which the Tennessee GOP has gone of late to score points in the culture wars. The state introduced 26 anti-LGBTQ+ bills this year, the most in the country, according to the Human Rights Campaign. Two bills have already been passed into law: one criminalizing drag performances and another targeting gender-affirming medical care for trans youth. The drag bill, in particular, has attracted much attention in the past few weeks. While 14 states are considering such legislation, Tennessee is the first to make it the law. McNally supported the anti-drag bill, has opposed gay marriage, and voted to limit sports participation on the basis of sex assigned at birth. (In another hypocrisy sideshow, yearbook photos of Governor Bill Lee, in which he appears to be dressed as a cheerleader, have surfaced.)
I grew up in Tennessee myself, and though I didn't identify as queer at the time, lately I've felt as if all of us are frogs in a pot of boiling water—debating queer life on Twitter and in the media and in our offices and friend groups like it's a hypothetical issue. That drag bill, after all, seems intentionally vague, criminalizing "male or female impersonators" in any setting in which minors are present. I worry that I might not be able to go home again. It's unclear how the law will be enforced, but it seems evident it isn't really about drag.
McClure and I were raised in the same environment and aren't all that far apart in age, but it has made a difference in my life that I now live in New York. (Admittedly the anti-drag activists have arrived here as well, breaking into City Councilmember Erik Bottcher's building after he attended a drag story hour in December.) McClure tells me that he has no queer community and is just thankful someone is paying him any attention: "I'm so grateful to Randy. It's like a stamp of approval, you know? Just to feel seen. Who doesn't want to feel seen?"
On a selfie of McClure's butt (in underwear), McNally's Instagram account once commented, "Finn, you can turn a rainy day into rainbows and sunshine!," plus quite a few heart and fire emoji (Finn was McClure's nickname). On another photograph of McClure (this time without any clothes on), he wrote, "Great picture, Finn! Best wishes for continued health and happiness." Since these comments were unearthed March 8 by the Tennessee Holler, a liberal news site, it has come to light that McClure is merely one of several queer people who have enjoyed the attention of the lieutenant governor's account, including at least one trans woman.
McNally's office didn't deny that it was him commenting but maintains it was merely innocent emoji-ing. As his spokesperson put it, "Trying to imply something sinister or inappropriate about a great-grandfather's use of social media says more about the mind of the left-wing operative making the implication than it does about Randy McNally." (He did not respond to New York for further comment.)
In an interview on Nashville's NewsChannel 5 the night of March 9, McNally attempted to explain himself: "Initially, I was not very kind to that community. As I learned some things and met some people in that community, I realized that they're still individuals and they still have value." When asked why McNally liked McClure's post that has the caption "I Am not a Whore, I am a hoe! There is a difference! One is a slut and the other is a prostitute! I'm the one that gets free weed for giving head," McNally responded, "You know, a lot of times on people's posts, you see the name and see what they've written and just press the button … I don't recall reading the part about the weed."
"But what about the prostitute?" the interviewer responded.
"I might've read that."
McClure clarifies that he was kidding about that whole weed-for-blowjobs bit.
"I've been blessed with a really fast metabolism," McClure says on Zoom. "Call it a mental disorder, but I've always loved posting myself," he says, citing an Ariana Grande song: "I've been drinking my coffee, I've been eating healthy—34, 35, people!"
He told me that McNally has been commenting on his page for almost three years in addition to sending him private messages "checking on my mental health, compliments, and random things about his life and what he's going through." He's not quite sure how the politician discovered his account but thinks it might have something to do with formerly participating in musicals at a playhouse in Oak Ridge, which is in McNally's district. They first connected over Facebook, he says, and claims they've never met in person.
McClure is a very funny twink who grew up on the internet, and you sense he's been ready for his close-up for a while. "I'm not a stranger to compliments," he told another local news station the night of March 9.
He was raised in Knoxville in a church-going Republican household that he says didn't always support his sexuality. He came out in 2017 but then forced himself back into the closet. Last year, "God really revealed himself to me that he doesn't give a damn, girl, if I'm gay or I'm not. People were taking advantage of me and really pushing the religion on me, and I finally broke out of that," he says. "I'm so grateful to not be a Christian anymore. Because the stress of reading your Bible every day and that whole vibe? Now I can just memorize my Ariana Grande and my Doja Cat songs with the cuss words. I'm so happy. And I can post my butthole!"
Referring to when the comments from McNally first started coming in, when he was 17, McClure says, "I didn't even know what a damn lieutenant governor was … I was thinking, It's kind of random, but I'm grateful that someone's being nice to me. You could look at a heart-eye emoji and think someone is telling you that they have a crush on you, I guess. But it's also valid for someone to just be saying you're pretty or you look good." He continued, "Randy never asked me for nudes. He never asked me to date. I really don't have anything to be angry about." From both of their perspectives, it seems, the comments were just a politician connecting personally with one of his constituents.
McClure told me what he'd say to McNally if they got the chance to speak: "'Girl, who woulda known this would happen?' Also, 'Are you doing okay?' I'd probably ask him that. 'Cause he's 79, so, you know, life expectancy!" He says he'd also probably bring up the drag bill—"Taking away someone's way of expressing themselves," he tells me, is "evil"—but he's trying to take the high road: "I have compassion for everyone because I know how it feels to be hated on." (Later that evening, McNally DM'd him again: "Thank you Finn. I appreciate your truthfulness if you ever need anything let me know.")
For now, McClure, who tells me he is dropping the e on his name to spell it "McClur" going forward, is using the uptick in views on his Instagram to try to raise some money to fulfill his dream: moving to Hollywood and becoming the "male Doja Cat."
"Last thing from me?" he asks. "I'd just say, you know, follow me on Instagram. Maybe send me a little Venmo."