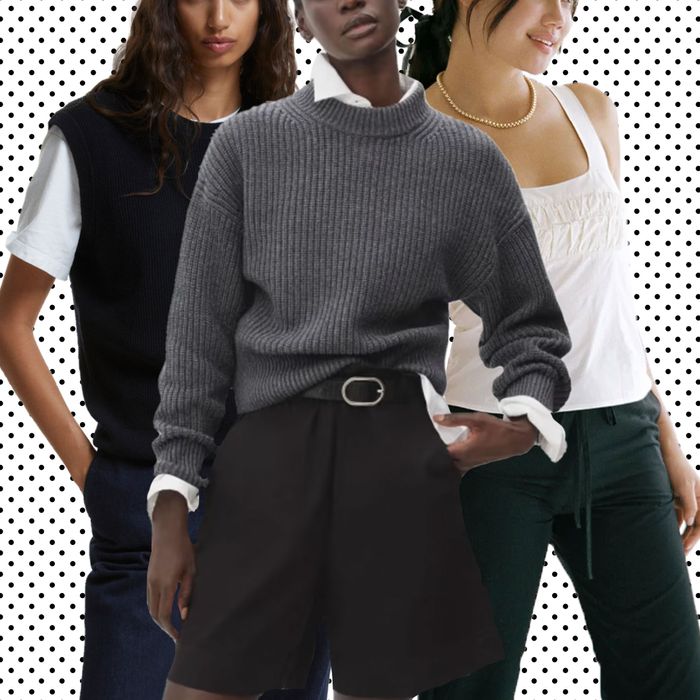 Photo-Illustration: The Cut; Photos: Retailers
For more of the Cut's favorite fashion, beauty, and home finds, sign up for the weekly Cut Shop Newsletter.
If you ever feel like you want to burn your whole closet and start fresh, you're not the only one. It happens. Even the Cut team is feeling the seasonal-dressing saddies. What to wear when nothing speaks to your newfound personal style? Well, my hot tip as a shopping editor is to approach shopping as if you were going on a two-week vacation with only a carry-on. What do you truly need?
This week's sales roundup includes some personal seasonal favorites, both in the realm of fashion and beauty, so you can start building your wardrobe without becoming overwhelmed. Behold ten discounted items that you will use to the last drop and wear to your heart's content.
First, your skin needs to be moisturized. Through April 15, Ulta Beauty is having a spring sale that will offer up to 40 percent off must-have brands like Morphe and La Roche-Posay. What do we think is worth your money? This cream is from French brand Avène. Dubbed the "holy grail" of eczema creams (by me — a human with eczema), it really hydrates and soothes your skin, especially when it's adjusting itself to hotter temperatures.
If you want a more affordable option that does the job just as well, CeraVe's moisturizing cream is currently on sale on Amazon. Stay moisturized, folks!
As much as I love light-wash vintage denim, I've been stocking up on dark-wash denim for spring. While Uniqlo carries my all-time favorite pair, Closed has some great options too. Plus these are currently 50 percent off.
Every wardrobe should have a trusty sweater you can style over your shoulders when the weather goes from chilly in the morning to hot in the afternoon, then chilly again. Everlane has plenty of options for less than $100 during its seasonal sale.
Spring is tote-bag season. While we love our free-with-purchase cotton totes, it's time to upgrade the repertoire. I've been on the hunt for the perfect brown-suede tote that can double as a work bag, and I think I just found it. Even at 68 percent off, I still need to justify the price, but maybe you don't, and you should buy it instead.
Ole Henriksen has granted New York Magazine readers early access to its Friends & Family Sale. Now is the ideal time to restock on this Cut Shop–approved eye creme at 30 percent off (as is everything else on the site) with code NYMAG30.
You don't have to drop a ton of money do get your skin glowing. Glow Recipe knows this well. That's why the beauty brand offers 15 percent off on all its dewy and TikTok-viral products with code GLOWFORLESS.
If you don't want to spend the season in hard pants (a.k.a. jeans), buy a fun pair of soft pants (with an elastic waist). Adidas track pants are fun, because they add texture to any outfit. My favorite style is wearing them with a white top (more on that below) and some pointed-toe kitten heels.
I was a big "free the nipple" advocate until I tried Cuup's bras. Despite the underwire, they are truly the most comfortable bras I have ever worn. If your lingerie drawer needs an update, Cuup is offering 25 percent off on all bras until April 11.
Whether you pair it with your fun soft pants (the Adidas ones above) or your new dark-wash jeans, everybody needs a white top (that isn't a tank top or T-shirt) in their spring wardrobe, and Ciao Lucia has plenty of options made to be worn as if you're on an Italian getaway.