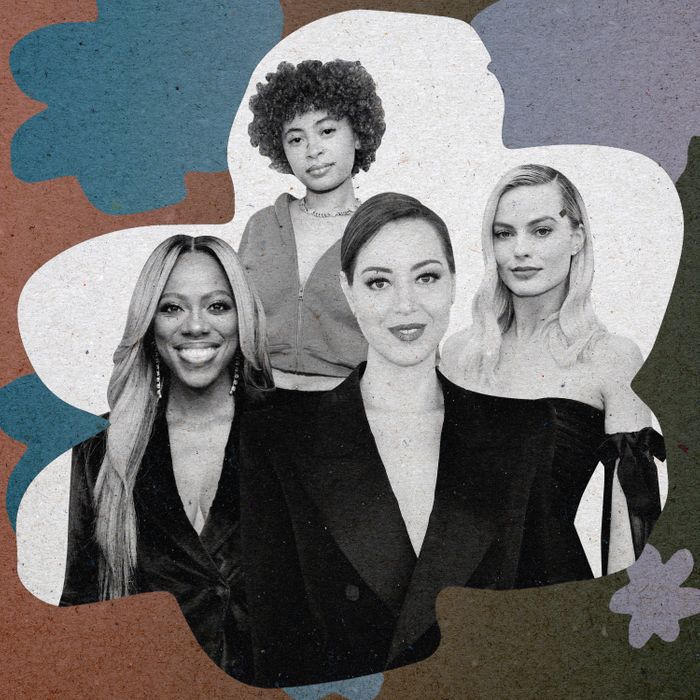 Photo-Illustration: by The Cut; Photos: Getty Images
"Swellness" is a monthlong series exploring the health-and-wellness stuff no one talks about.
However healthy your intentions are — maybe you've vowed not to doomscroll, have sworn off midnight candy, and are committed to daily exercise — wellness is never easy to maintain. Sometimes, even when you very well know that staying glued to your inbox or pouring that nightly glass (ahem, glasses) of wine are bad habits, you simply can't be bothered to kick them. And you're not alone: Celebrities also have their share of slipups, and they're not any less successful for them. Below, 25 famous women, including Margot Robbie, Ice Spice, and Meghann Fahy, share their bad health habits — because we can't all be on the wellness wagon 24/7.
Kylie Jenner
"I wake up every morning with the worst anxiety at, like, seven or eight because I think that there's a bad story about me, and I have to check. My worst fear is waking up and finding something bad about me on the internet." —Interview Magazine, 2015
Reneé Rapp
"When I get really stressed out, down to the wire, and I'm trying to find clothes or find something, literally anything, I throw everything everywhere, and I don't pick it up because I'm in that anxious space, still. And so, it takes me until I come down from that, to clean everything up. I have to stop that because I'm constantly living in a mess." —Nylon, 2021
Kim Kardashian
"If you told me that I literally had to eat poop every single day and I would look younger, I might. I just might." —New York Times, 2022 
Yvonne Orji
"I get home and don't wash my face when I have makeup on. I stopped doing it as much recently, but some days I have so many places to go. By the end of it, you're already knocked out in bed like a mummy. I'd take a nap and then at two o'clock in the morning, I'd finally wash my face because I don't want my pores to clog." —Nylon, 2022
Meghann Fahy
The White Lotus actor and her co-stars fell off the gym wagon while filming in Sicily: "Most of us just kind of slowly stopped going to the gym towards the end because we were just having too much fun doing other stuff. I was eating eggplant parm for breakfast." —Women's Health, 2023
Aubrey Plaza
While preparing for her role in Ingrid Goes West, the actor got a little too method: "When the camera was rolling, when it wasn't, I was on Instagram, letting myself go down those holes. It's really depressing to be sitting in one position, not interacting with the world, looking at other people's photos and wanting what they have." —Time, 2017
Haley Lu Richardson
"I always have been a big Bachelor fan, but now there are so many awful but amazing dating shows, and I'm watching them all. I'm watching Too Hot to Handle, Love Is Blind, Love Island, Fuckboy Island — literally all of them. I don't know what that's doing to my brain cells, but I know that it is fun." —Byrdie, 2022
Dakota Johnson
Before filming sex scenes with Jamie Dornan for Fifty Shades Darker, Johnson said that while her co-star did push-ups: "I just lay there and drink whiskey." —ET Online, 2017
Brooke Shields
On the habit that gets in the way of her happiness: "Drinking beer." —Gretchen Rubin, 2014 
Chrissy Teigen
"I start every day attempting to be healthy, but then dinner is when I always mess up. By then I'm feeling deprived, so when I finally get home around 11 o'clock I end up eating a heavy dinner. If I have a salad or something lighter for dinner, I wake up around 2 a.m. and go candy crazy. So I need to find that balance — still working on it!" —Delish, 2017
Claire Holt
"I doomscroll on Instagram and don't unfollow people who make me feel shitty." —Nylon, 2021
Bethenny Frankel
On her worst eating habit: "Always eating standing." —Bravo, 2018
Martha Stewart
The admitted insomniac turns to technology when she can't sleep: "I have two iPads next to my bed, fully charged, just in case," where she does games and puzzles and reads the New York Times instead of catching z's. —the Today show, 2022
Ice Spice
"I gotta stop calling everyone 'bitch.'" —Nylon, 2022
Mindy Kaling
"I have so many bad habits. I really do love a drink after work. I grind my teeth. I'm a little elitist." —Hello Giggles, 2016
Cardi B
The rapper recalls getting butt injections at a questionable Queens practice — and then trying to go back: "They don't numb your ass with anything. It was the craziest pain ever. I felt like I was gonna pass out. I felt a little dizzy. And it leaks for like, five days." Later, she wanted a touch-up, "but by the time I was gonna go get it, the lady got locked up 'cause she's supposedly killed somebody. Well, somebody died on her table." —GQ, 2018
Princess Nokia
"I've been studying holistic medicine and holistic eating for a few years now, so I've kind of got, like, my routines, because I am a heavy smoker. I love to smoke a lot of weed and I need my lungs and my respiratory system to be as healthy as it can be. I've been blowing it down." —Harper's Bazaar, 2020
Stacy London
"I'm not one of those people who wakes up and thinks, Bring on the day! I have to have about seven pints of coffee before I'm even remotely awake." —Woman's Day, 2010 
Margot Robbie
"I like to have a beer shower — a nice beer in the shower." —Harper's Bazaar, 2016
Robin Arzon
"My bad habit is that I incessantly check my email. Honestly, I refresh my emails before they can even populate my inbox. I'm a good multitasker, but imagine how effective I could be if I broke the habit of checking my email literally every 60 seconds?" —Medium, 2019
Ashley Park
"I don't think it's a bad habit necessarily, but there's definitely a pattern of me falling asleep in the middle of parties, dinners, and fun nights out. I think I just feel so comfortable and safe when everyone is having a good time around me and I'll just take a power nap. It's not so great when I'm mid-conversation, so trying to fix that." —Nylon, 2021
Ina Garten
After Reese Witherspoon took to Instagram to share some healthy habits she was trying to form, including starting her days with water, reading without distraction, and getting into bed early and without any TV binges, Ina Garten shared her own habit-forming plan: "My formula is easier to follow: 1. Drink more large Cosmos. 2. Stay up late watching addictive streaming series. 3. Stay in bed in the morning playing sudoku instead of reading a good book." —the Today show, 2022
Jessica Simpson
"I don't brush my teeth. No, really! I just use Listerine — and sometimes I'll use my sweater." —iHeartRadio, 2010
Kesha
"I was told drinking my own pee was good, I was trying to be healthy. Somebody tried to take my pee away from me, and I said, 'That is mine!' So I snatched it up and took a chug and it was really gross, so I don't do it anymore." —MTV's My Crazy Beautiful Life, 2013
La La Anthony
"I'm just a hustler. I enjoy working. I don't know anything else! Once it's in you, it's in you. And it keeps me happy. And I think in some ways, the more I'm learning about mental health, I realize in some ways, it's a form of therapy — but also it's become a crutch for me to not have to deal with a lot of things going on in my life. I saw something on Instagram that said staying busy is a trauma response. That hit me so hard. I worry if I slow down, the reality of a lot of other things in my life will hit. So I just work, work, work, work, work." —The Hollywood Reporter, 2022