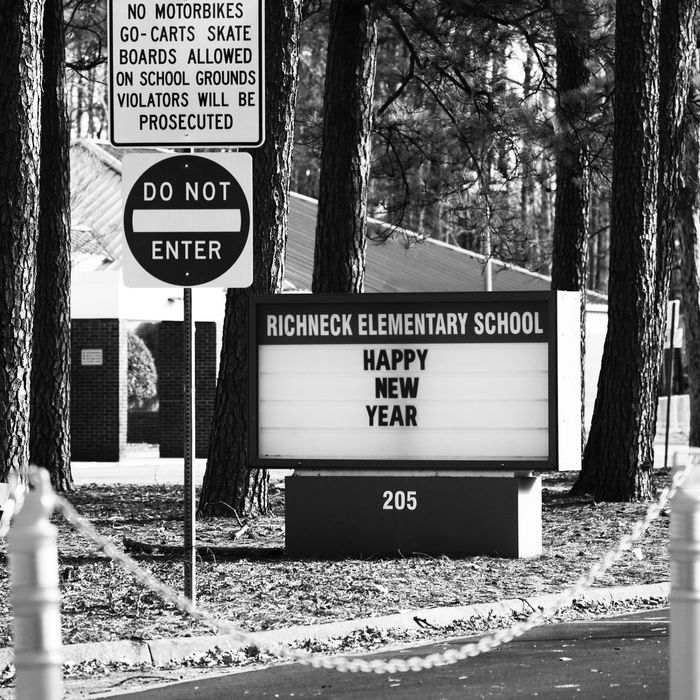 Richneck Elementary School, where a first-grader shot his teacher in early 2023.
Photo: Jay Paul/Getty Images
School shootings have become a consistent part of American life, yet few people could've been prepared for a 6-year-old bringing a gun to school and shooting his first-grade teacher. But that's what happened at Richneck Elementary School in Newport News, Virginia, in early January, when a student with an alleged history of poor conduct produced a handgun and shot 25-year-old Abby Zwerner in the chest and hand. She was immediately hospitalized with life-threatening injuries and has since recovered. Now she's suing school administrators and its board for $40 million, alleging they ignored multiple warnings not only about his increasingly aggressive behavior but also about his possible possession of a weapon. Meanwhile, a grand jury has indicted the boy's mother on charges of child neglect and endangerment.
Here, everything we know:
A 6-year-old boy brought a handgun to school and shot his first-grade teacher.
In a press conference a few days after the January 6 shooting, Police Chief Steve Drew said the boy — whose name has not been disclosed because he is a minor — fired one shot at Zwerner, allegedly collapsing her lung. Drew said this was "not an accidental shooting." Authorities recovered one shell casing from the scene, per ABC News, and it's believed that the boy was subdued by a school employee by the time police arrived. No other children were physically harmed. Richneck Elementary School closed in the weeks following the shooting, reopening on January 30 with a new administrator in place and an escalated police presence on campus.
The motive for the shooting remains unclear. Brittaney Gregory, who says her son was in the classroom at the time of the incident, told the Washington Post that the child took a handgun from his backpack and pointed it at the teacher as the class was preparing to go to art. "She was going to confiscate it, and that's when he shot," Gregory said. According to her account, the teacher then instructed her students to run, and they stayed in lockdown in another teacher's classroom. (Drew clarified during his press conference that the boy seemed to take the gun from "his person," not his backpack.)
In a post-recovery interview on the Today show, Zwerner recalled the moments just before the shooting. "There's some things that I'll never forget. And I just will never forget the look on his face that he gave me while he pointed the gun directly at me," she said. "That's something that I will never forget. It's changed me. It's changed my life." Zwerner explained that her first impulse was to get her kids out of the room. "I didn't know at the time that my lung had collapsed, but I started not being able to breathe — very raspy breaths — and my vision started going out," she said. "I remember I went to the office and I just passed out. I thought I had died."
Before the shooting, school administrators were reportedly warned three times that the boy had a gun.
Almost three weeks after the shooting, on January 25, Zwerner's attorney, Diane Toscano, gave a press conference. Zwerner would be filing a lawsuit against the Newport News school district, Toscano told reporters, claiming school administrators had failed to respond after being warned that the boy had a gun.
As reported by NBC News, Toscano told the press that Zwerner had first approached a school administrator about the boy's behavior earlier in the day after he threatened to beat up a classmate. At least two other teachers allegedly echoed Zwerner's concerns, Toscano said, while a fourth employee asked to search the boy's belongings. According to Toscano, the administrator said "no," telling the employee to "wait the situation out because the school day was almost over." Soon after, the boy pulled out the gun in class and shot his teacher.
In September, the 6-year-old was moved to a half-day schedule due to poor conduct and he was suspended for a day after breaking Zwerner's phone, according to the Washington Post. Per the Post, Zwerner texted a friend that administrators blamed her for the phone incident. School employees and records obtained by the Post reportedly show that the boy allegedly attempted to strangle his kindergarten teacher.
Zwerner has filed a lawsuit against the school's former superintendent, principal, and assistant principal.
On April 3, Zwerner filed her lawsuit, naming Richneck's then-principal, Briana Foster Newton; then–assistant principal, Ebony Parker; and then-superintendent, George Parker III, as defendants alongside the Newport News School Board. (It bears noting that Ebony Parker and George Parker are not related and that none of the three staffers currently hold these same jobs: The school board already removed Superintendent Parker, while the assistant principal resigned and Newton received a new assignment.)
According to the Washington Post, Zwerner's lawsuit alleges that she and other school employees warned the administrators about the boy three times on January 6 alone. Zwerner purportedly told Assistant Principal Parker that he had threatened a kindergartner and appeared to be in a "violent mood." The filing reportedly states that Parker didn't respond and refused "even to look up" at Zwerner "when she expressed her concerns," even though the child had a "history of random violence" that included strangling his kindergarten teacher. Zwerner also says she shared her suspicions with a colleague after seeing the student remove something she believed to be a weapon from his backpack: That colleague searched the student's bag but didn't find anything, according to the suit. When the colleague told Parker, she allegedly suggested his small pockets couldn't fit a gun. She allegedly waved away another teacher's report that the boy had showed the handgun to another student at recess and denied Richneck's guidance counselor's request to search his backpack for a weapon about 45 minutes before the shooting.
Zwerner claims the school exercised gross negligence and failed to report the gun to the police. She is asking for $40 million in damages.
Where does a 6-year-old get a gun?
A few days after the shooting, police confirmed that the handgun used in the shooting belonged to the boy's mother and was legally purchased. As noted by the New York Times, it is against Virginia law to leave a loaded gun somewhere accessible to children under 14. No charges had been filed, but at a press conference, Chief Drew did not rule out potential charges against the child's parents.
In their first public statement, the boy's parents said they didn't know how their son got ahold of the gun and claimed they were committed to "responsible gun ownership and keeping firearms out of the reach of children." The family's attorney, James Ellenson, told CNN that the gun, which had a trigger lock, was kept on the top shelf of his mother's bedroom closet.
In late February, the Newport News police finished their investigation into the shooting and passed the findings on to Newport News commonwealth attorney Howard E. Gwynn.
Where is the 6-year-old shooter now?
Immediately after the shooting, the boy was reportedly taken to the hospital and was later transferred to another medical facility for treatment. ABC News also reported that because of the shooter's young age — a rare case with no clear protocol — Drew had reached out to Child Protective Services, Human Services, the Commonwealth's Attorney's office, and the Community Service Board for advice on how to proceed. Newport News mayor Phillip D. Jones issued a statement on the day of the shooting, stating that authorities were "working to ensure the child receives the supports and services he needs as we continue to process what took place."
In their statement, the child's parents said he has an "acute disability," per the Times. The boy had previously been accompanied to school every day by either his mother or father, but that had ended the week of the shooting. "We will regret our absence on this day for the rest of our lives," the statement read. The family said the boy was currently "under hospital care and receiving the treatment he needs." Three months later, it's not clear where he is.
Can a 6-year-old be charged with a crime?
The minimum age to be sentenced to a juvenile prison in Virginia is 11, and according to the Times, a 6-year-old cannot be charged as an adult. And in this case, Gwynn's office has no plans to charge the child at all, even though police believe the shooting was deliberate. "We don't believe the law supports charging a 6-year-old with a criminal offense as serious as this one," he told 13News Now, a local ABC affiliate station, in March. "I think it's problematical to assume that a 6-year-old understands the criminal-justice system enough to be competent to stand trial."
That's the outcome experts expected. Speaking with the Post, Block said that children under the age of 7 generally do not have the ability to form intent to commit a crime nor do they have the mental capacity to understand court proceedings. "You have to understand the nature of legal proceedings against you and assist in your own defense. There's no way a 6-year-old would meet that criteria."
Who could be charged instead?
But the DA's reluctance to try a child never meant he had no plans to try anyone. On April 10, a Newport News grand jury indicted the mother — 26-year-old Deja Taylor, according to the New York Times — on one felony count of child neglect and one misdemeanor count of child endangerment involving a loaded weapon. Again, her attorney has claimed that she stored the gun, which she's purchased legally, securely and outside her child's reach. Following the announcement, he said Taylor planned to turn herself in later this week.
These might not be the final charges in the case: According to the Times, Gwynn is also working to convene a grand jury to consider the school's prospective safety failures.
Virginia Republicans blocked a firearms-storage bill just last year.
Following the news of the shooting, multiple members of the Virginia House Democratic Caucus tweeted about Schuyler T. VanValkenburg's 2022 bill HB 590, which attempted to make any gun owner living in a residence with a minor store their firearm "unloaded in a locked container, compartment, or cabinet." That measure didn't pass, and even after the shooting, similar legislation failed in the general assembly. In February, however, the state Senate and House approved a bill creating a tax credit of up to $300 for anyone who purchases a gun safe or similar storage device.
This post has been updated.