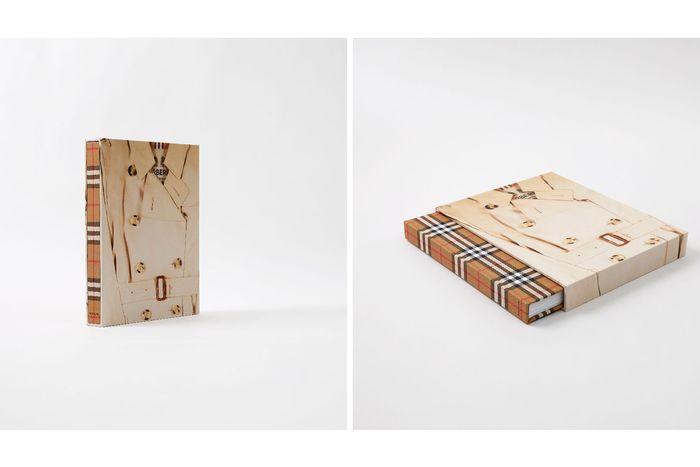 Photo: Courtesy of Burberry
The Burberry trench is one of the most identifiable pieces in fashion history. Dedicating a book to its form and evolution over its 165-year life span makes perfect sense, and it comes at the ideal time: Daniel Lee showed his debut Burberry collection earlier this year, and the brand had a bag cameo on Succession last month. (For what it's worth, we thought the bag was perfect, Bridget.) The book is a beautifully bound 252-page deep dive into Burberry's history and archives, featuring 200 images and early photos of the brand's iconic raincoat. Here's everything to know about the book — including the price and where you can get it.
Is the Book Worth iIt?
If you were a kid who grew up flipping through old issues of fashion magazines, pasting clippings from them on your wall, or are just interested in history, I'd say that this book is for you. Fashion journalist Alexander Fury researched every aspect of the brand, splitting his book into sections such as the birth of Burberry, the invention of the trench, and Britishness and the future of the brand. What I thought most interesting was how Burberry's heritage shapes so much of what we see on the runway today. In February, I was at Lee's first collection for Burberry and struck by the use of tartan and the modern interpretation of gabardine, which Burberry patented in 1888. In the book, it was fascinating to see how the form has shifted and adapted throughout the decades through striking images like this one, by Juergen Teller, of model Adwoa Aboah and her family in Ghana.
The Price
The book is available for $195.
Where to Get It
You can get it at Burberry.com and Assouline.com. (If you want to check out some Burberry goodies and customize your trench, the brand has a pop-up for the trench through May 2 at 693 Fifth Avenue in Manhattan.)