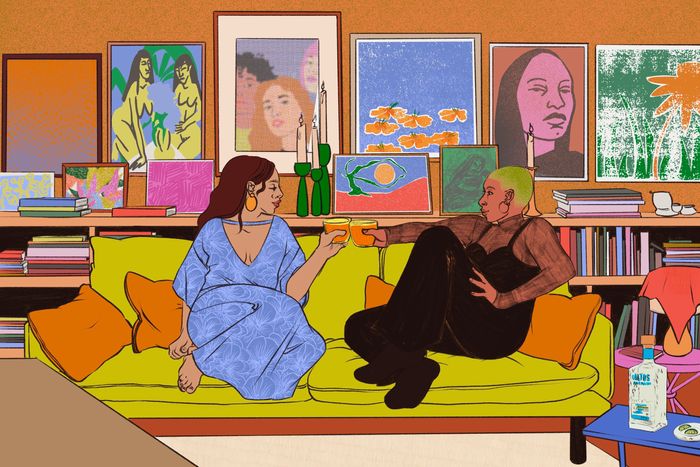 Illustration: Rachelle Baker
Date nights at home often follow the dinner-and-a-movie formula — just with takeout and streaming services instead of restaurant reservations and movie tickets. That's not all it can be, though — in fact, with a little creativity, a date night in can be even more fun than going out. Next time you're craving some quality time with your partner, try one of these actually fun ideas for date night at home. If nothing else, it'll give you a break from your usual binge-watch for the night.
Draw me like one of your French girls
Good news: This activity is even more hilarious if you have no artistic talent. Whip out a sketchpad and your implement of choice — markers, colored pencils, or plain old pencils will do — then take turns drawing each other. You can take it seriously and compete to see who can sketch the most realistic portrait, or make it more tongue-in-cheek with absurd poses, goofy props, and somewhat abstract art styles.
Serve an elevated cocktail
Sometimes, date night can mean grabbing two seats in a dimly lit bar — but every now and again, serving up a tasty cocktail at home is even better. For your next date night in, pour two Altos Margaritas over rocks for an easy-to-serve and easy-to-enjoy option. Made with premium-quality tequila, these bar-quality margaritas are ready within seconds — no shaker required. If you feel like getting a little fancy, rim your glass with rock salt and serve your Altos Margaritas with a dehydrated blood orange slice for an extra classy feel.
Pick your next travel destination
If you're constantly DMing each other TikToks of travel influencers, it's probably time to plan your next trip together. You can even make the planning process a bit more spontaneous by leaving the destination up to chance. Each of you should write three destinations — one within driving distance, one a short flight away, and one international — on pieces of paper, then fold them up and drop them in a jar. Then, take turns pulling them out of the jar to eliminate the contenders. The last piece of paper remaining is your next destination.
Introduce each other to your guilty pleasure playlists
The playlist is the 2023 version of the mixtape or burned CD: an ultra-personal expression of your music taste, and a surprisingly intimate gift for someone you're dating. Instead of listening to the safe choices you know your partner likes, go a step further and reveal some of your deep-cut favorites. Whether you go hard for one-hit-wonder boy bands from the early aughts, Broadway musical cast recordings, or experimental folk, playing your niche favorites for your date can be a great way to get to know each other on a different level — and a good excuse for a singalong.
Find out who's the better chef
Instead of binging a cooking competition show, start one of your own in the kitchen. Set out a variety of ingredients, then challenge each other to come up with the most creative riff on one particular dish. Maybe you both create your ideal taco, or two variations of pasta. As long as you have a range of ingredients at your disposal — including a few wildcards like edible glitter, truffle salt, or hot sauce, just for fun — you're sure to come up with a dinner that's much more memorable than takeout.
Play around with AI poetry
Poetry may be the food of love, but few of us can claim to be poets. That's where AI models like ChatGPT come in. With just a few words of direction, you can ask the free-to-use program to write you anything from a short haiku to a longer sonnet — and collaborating with the algorithm can be a surprisingly entertaining way to spend an hour. Ask ChatGPT to write a poem of your choice to your beloved, then do a dramatic reading of the result. If nothing else, you'll certainly get credit for coming up with a cutting edge date night idea.
This advertising content was produced in collaboration between Vox Creative and our sponsor, without involvement from Vox Media editorial staff.