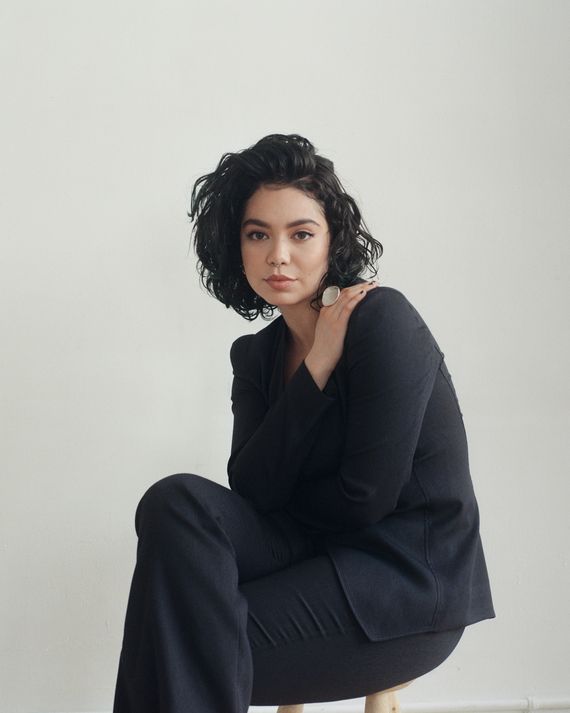 Auli'i Cravalho treks through the Lower East Side on a cold and rainy spring morning, bundled in a fitted black puffer coat and a thick gray scarf, and snapping a few quick photos of the empty skate park where we intended to meet before we navigate to Golden Diner, a Chinatown staple. She's worked up an appetite after a few days of press obligations for The Power, a Prime Video series based on Naomi Alderman's science-fiction novel of the same name, and would rather get cozy indoors. "Now this is more normal," says Cravalho as we make our roundabout way to the diner with her close childhood friend turned assistant, Cai, in tow. "This is what I would do with my friends."
At 22, the actress speaks with the warm self-assuredness of a seasoned professional sprinkled with the expected doubts of a typical 20-something. She's just as quick to put on her academic hat and go off about how The Power subverts the gender binary as she is to riff on a lighthearted argument about the pitfalls of ordering over-easy eggs. ("Too runny," she says, resolute to convince the table.) After some deliberation with Cai, she makes a quick decision — Korean fried chicken wings — before springing right back into the main topic at hand.
On The Power, Cravalho plays Jos Cleary-Lopez, a teen who crushes on her skater classmate Ryan (Nico Hiraga), cyberbullies her mom, the mayor of Seattle (Toni Collette) — and discovers she has the ability to produce electricity from her fingertips. When playing Jos, Cravalho amps up that special combination of insecurity and ferocity that belongs to rebellious teenage girls. "The power that we describe in our series allows us to imagine a world where women feel safe and strong in any room that they step into, and I desperately wanted to exist in that world," she says. "Although I was playing a character in high school, which I will be doing until I turn 30, Jos allowed a more nuanced performance. I've been really searching for a role that I could sink my teeth into."
Born and raised in Hawaii, Cravalho's mom kept her busy: piano, choir, horseback riding, aikido, swim team. An only child, she put on one-woman plays and talked to herself constantly. Everything changed when, at 14, she was cast in the lead role of Moana, the 2016 Disney film set in ancient Polynesia. "I did not expect to get into film because I didn't think that anyone would come searching in Hawaii," she says. "All of my family's there. My mom is, like, the seventh child of the seventh child, and basically everyone stayed. I saw my legacy staying in the Hawaiian Islands, which is beautiful, but I couldn't have expected that I would be here."
It's hard to overstate how much Moana changed Cravalho's life and how closely connected she still feels to the character. "I was basically her and she was basically me," she remembers. "I knew the stories of Maui and I was raised with Hawaiian and Polynesian values. I understood the importance that she would have, not only culturally, but also generationally." She was just 16 years old when she performed the film's Oscar-nominated song, "How Far I'll Go," at the 2017 Academy Awards, barely flinching when she was hit in the head by a rogue flag and finishing the performance flawlessly (she says the flag snafu happened during rehearsals, too, and that she blacked out during the performance and therefore doesn't remember much about her iconic recovery). A year later, she recorded the Hawaiian-language version of Moana, which she says is now widely used as Hawaiian-language educational material, including for her school-age cousins in Hawaii. "There will be very few projects that mean that much," she says firmly.
For as long as Cravalho has had a platform, she's tried to use it to highlight injustice — even though, on a few occasions, it's gotten her into trouble. When her first rom-com, Crush, debuted on Hulu last summer, she posted a since-deleted TikTok alluding to the rough time she had on set, despite loving the movie and being thrilled to play her first queer-written role (Cravalho identifies as bisexual). As she's matured, Cravalho has learned to remove some of the expectations she felt she had to abide by as a Mickey Mouse representative and to speak out more openly about issues that matter to her. And as much as she stresses that she wants to "get it right," what she really wants is to stay true to herself and her community. It's why she showed up at The Power's premiere with a red handprint painted over her mouth, a nod to the human-rights movement No More Stolen Sisters, which highlights murdered and missing Indigenous women. "That was very much listening to my intuition," she explains. "People were afraid of how it might hurt my image, or if it was the right event. I have too much of a platform to not at least attempt to educate people."
At times, though, she still feels alienated. In an industry full of nepo babies, it can be hard for Cravalho to relate to her peers. "I don't forget coming from a single-parent household, growing up in Hawaii on EBT — that's real. I am not, in real life, a Disney princess," she says. "Sometimes I do worry about what I'm doing with my time. Am I spending it helping my community and making an impact in real life? I'm trying to figure out how to do something of impact, while also appreciating that without working in film, I wouldn't have been able to let my mom retire. I have never encountered this kind of financial security before. And I would be stupid to give it up."
Currently, the actress is spending her days in New Jersey filming Mean Girls, a movie adaptation of the stage musical, which itself was an adaptation of the original 2004 film. She plays Janis, the rebellious and open-minded burnout originated by Lizzy Caplan. It will be Cravalho's first theatrically released musical since Moana, and her hair has been chopped short for the role, with green highlights decorating her lush black curls. Mean Girls is certainly for a much older target audience, but Moana and Janis have a lot more in common than one might initially think: They share a rebellious streak and a steadfast commitment to their values, as does Cravalho's Power character, Jos. Each of these characters could absolutely fight. They might not throw the first punch, but what Cravalho brings to every one of these roles is an unfuckwithable energy that casting directors can't seem to avoid.
Cravalho has already obtained professional achievements that, for many in her industry, are viewed as the peak. The typical pressures of her career and her age are exacerbated by the additional weight of her towering debut. And there are many potential paths she might want to go down: more roles in films and on television, moving back to Hawaii, going to college (she was accepted to Columbia University in 2021 to study environmental science, but deferred her enrollment enough times that she'll need to reapply). What other goals are left? She leans back in her seat and pauses for a long time: "I want to be great. I think it's one of my biggest fears that I won't be great."
Days after meeting, the news breaks: Disney will produce a live-action adaptation of Moana, with Cravalho and her co-star, Dwayne "The Rock" Johnson, returning, this time as executive producers. What better way to pursue greatness than to return to the thing that first let the world know she had it? It was an exciting update to read after our brunch conversation, if a little concerning. Realistically, taking a real break between filming seems less likely now, and her dream of becoming a student could be left behind once more. I'm reminded of something she said in our time together: "My biggest fear, and the reason I ended up deferring over and over and over again until I lost my spot, is that I was so afraid that if I took a break from work that the industry would forget about me," she'd said, a somber note weighing on every word. Then again, she's only just getting started: "You just can't really plan your life."