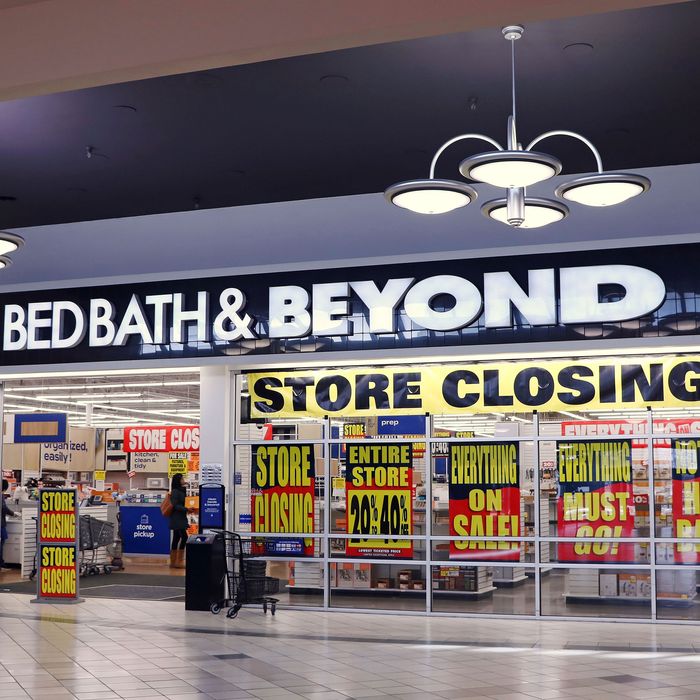 Photo: Don & Melinda Crawford/UCG/Universal Images Group via Getty Images
It's time to use those Bed Bath & Beyond coupons you've been holding on to for God knows how long. In an email to customers on Sunday, the company said it has filed for Chapter 11 bankruptcy and will be closing all its stores over the next two months. Apparently, Tuesday is the last day customers can use the retailer's infamous 20 percent-off Big Blue (or any other) coupons.
The company will "no longer accept coupons or Welcome Rewards+ discounts beginning April 26," it said to Axios. Per Bloomberg, Bed Bath & Beyond expects its in-store shelves to be empty by the end of June. The New York Times reports that around the country, shoppers are rushing to use the coupons, which have been a staple for college students, newly married couples, and bargain-loving shoppers for decades.
The bankruptcy and liquidation have been expected for months. Earlier this year, the company said it would close 87 stores; last year it closed 150. Despite a bump in sales at the start of the pandemic when people were decorating their homes, Bed Bath & Beyond was hit by supply-chain issues and higher operational costs. "This company has been in late-stage decline for a while," Ted Gavin, managing partner and founder of corporate restructuring firm Gavin/Solmonese, told the Washington Post. "The fact that it lasted as long as it did is the big surprise."
On TikTok, customers posted videos from stores showing nearly empty shelves, heavily discounted items, and, of course, long lines of bargain hunters with coupons in hand. It looks like we have to accept that it really is the end of an era.