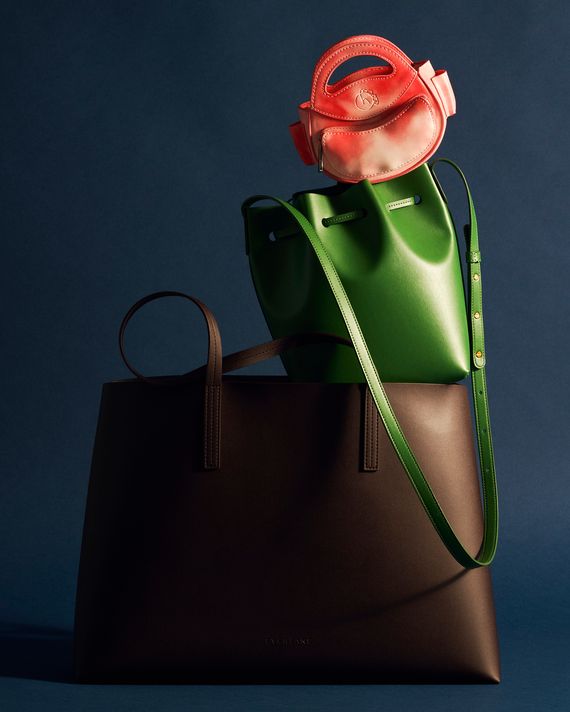 For more of the Cut's favorite fashion, beauty, and home finds, sign up for the weekly Cut Shop Newsletter.
The fashion industry is still figuring out this whole sustainability thing. For every haul video in your feed, there's a pile of micro-trends sitting on a bed, or in a dump, or on the racks at thrift stores. Lately, retailers have increasingly been turning to circular fashion, recycling, and reselling their wares to loyal customers by teaming up with rental services — an effort that, while a good first step, still doesn't address the actual production process for its latest offerings.
To produce at the scale at which it takes to get a product online and in stores takes plenty of resources and produces a ton of carbon emissions. Take "vegan leather," for example — it's often code for plastic. Plus while leather often stands the test of time as evidenced by any visit to a vintage or thrift store, the alternatives often show far more wear and tear. Even brands with a mostly made-to-order and small-batch model, like Telfar, have come under criticism for the longevity and pricing of their faux leather. Then again, the process of creating and tanning leather tends to produce waste en masse. So, anyway, yeah, it's complicated!
Is there really an alternative, then? (Well, for starters: Buying less is always the best bet.) Luckily, "vegan" or "alternative" leather is a growing and constantly innovating category. Founders like Mónica Santos Gil of Santos by Mónica are turning away from plastics and traditional leather altogether to embrace greener options like plant oils and bio-materials. The brand's material of choice? Cactus leather. "It's essentially the cactus fibers mixed with a nontoxic liquid polymer compound made from plant-based oils," Santos explains over email. And she's not the only one exploring more sustainable practices. Recycled materials are just as coveted as new ones. Coach recently launched Coachtopia, a circular initiative repurposing leather scraps into new bags, with plenty of other brands following suit.
While there are still plenty of pros and cons to weigh when it comes to sustainable fashion accessories, we looked into some of the most interesting and beautiful alternative fabrics out there to help you shop.
The plant-based options
If your diet is mostly greens, your bags can now be, too. These brands have replaced animal by-products with materials you'd find at Whole Foods: apples, cacti, mushrooms, eucalyptus, and more. Brands are making significant investments and innovations in plant-based materials, and if it's good enough for Hermès, it's good enough for us.
Material: Bio-tex, a plant-based leather alternative
You know Everlane for their breezy basics dedicated to lowering your environmental impact — now they're doing the same with accessories. The brand is fairly transparent about the creation process: The material is made from plant-based proteins and oils in a process that uses less water and produces less emissions. If you need a work tote, it's nearly indistinguishable from the brand's Luxe Italian Leather Tote. However, we should note it's also the same price …
Material: BioFabbrica Bio-Tex
To keep this from sounding incredibly technical, BioFabbrica Bio-Tex is basically a predominately plant-based material that doesn't use animal or petroleum byproducts in the development process. If the name looks familiar, Burch turned to the same supplier as Everlane to develop this new tote. So if you like the look and feel of Everlane's tote but want a brighter shade, or you're just a fan of Tory Burch, consider the Ella Bio tote, which comes in shades like this mint green, vibrant blue, and bright pink.
Material: Cactus leather
The offbeat totes from New York–based Santos by Mónica, like this triangle one, come in a number of fun colors and shapes so you don't just have work bag options, you also have going-out bag options. The surprisingly soft leather is made of a mix of cactus leather and Tencel (made of eucalyptus), and the brand is fully transparent about the process. It uses less water, and no cacti are harmed in the process. If you're curious about the life cycle of your bag, half the materials are biodegradable and the other half are recyclable.
Material: Cactus Leather
Similar to the Santos bag, this leather is harvested from cactus plants in a way that doesn't harm the plant and keeps it usable for the future. And despite what the material name might suggest, it's still soft and durable.
Material: Apple leather
Known for its fine leather goods, Mansur Gavriel has carved out an entire space on its site dedicated to its leather alternatives. Offering three of the same signature silhouettes you already know and love, they are just as durable and waterproof. The bucket tote is a pretty standard everyday bag — it doesn't fit your laptop, but you can fit most of everything else. The apple leather is made from recycled apples, which is a fancier way to say "food waste." However, though apple skin does make up 28 percent of the composition, it should be noted that there's also a percentage of polyurethane.
Material: Apple leather
Like Mansur Gavriel, the materials from this are sourced from apples, more specifically peels and cores from the food industry used to make apple products like juice. The tote comes with a hefty price tag, but it's a small price to pay for a bag that in one fell swoop aims to solve the issue of food waste and carbon emissions. According to the brand, an estimated 30,000 tons of apple waste is discarded, and repurposing the waste instead has virtually no carbon footprint.
Material: Grape Leather
You won't find any animal byproducts in Stella McCartney's products. The designer has been vehemently against leathers, feathers, and furs since starting her brand in 2001. Since they've been in the game so long the brand has experimented with leather alternatives like grape leather sourced from wineries; Mylo, a newer mushroom leather; and oil- and solvent-free recycled polyurethane. The brand has recently invested in the plastic-free leather alternative MIRUM, which uses plant-based byproducts instead. While this particular bag is made from recycled grape waste, you'll find a mix of these materials while browsing her faux-leather accessories.
The recycled-materials options
These brands are making the old brand new again and turning trash and plastic bottles into treasure. Literally.
Material: Recycled polyurethane and polyester
Like Stella McCartney, Nanushka is an early adapter of alternative leathers, but for years, they've done it the best. They've developed a big following for their pretty undetectable faux leather. The brand's ethos is low impact, and you can find a breakdown of their process pretty easily: their faux leather is made of OKOBOR, an alternative comprised of recycled plastics like polyurethane and polyester. While it's still plastic, a bucket bag is probably the best thing to come out of discarded plastic bottles.
Material: Plant-based materials, recycled plastics
The Copenhagen-based brand's M.O. is basically responsibility, lower-impact materials, and encouraging #GanniGirls to ride their bikes to Copenhagen Fashion Week. Their latest innovation is luxe leather alternatives. The newest silhouette, the Ganni Bou bag, has the makings of an "It" bag with a few new and old materials. It's made of Ohoskin, a recently developed textile comprised of plant-based byproducts like orange and again, cactus, as well as recycled plastics.
Material: Recycled Leather
With all the buzz around Coach's repurposed leather bags, we're not surprised it's sold out already. You might as well add yourself to the wait list! The fun '90s-inspired shapes and colors are made of at least 50 percent recycled leather scraps, a move the brand says cuts down on carbon emissions and waste.
The plastic-adjacent options
Despite the materials, the quality is pretty good. Could you tell it's faux? We couldn't.
Material: Vegan leather
Homage Year is one of those buzzy brand's that's been on everyone's radar, including ours. In terms of shape and style, you really won't find a bag like this anywhere else, even in leather. The unique color gradients are inspired by emotions and feelings. While the materials are kind of vague, it is a smaller, more intentional brand geared toward sustainable practices.
Material: Polyurethane and polyester
If you want vegan leather that's affordable and still looks like the real thing, here you go. A.P.C.'s won't set you back a ton and still look good. You'll use this chic neutral everyday bag, for instance, for years and years. And the brand does have a recycling program that you can use — bags aren't included, but your old A.P.C. clothes can traded in for credits.