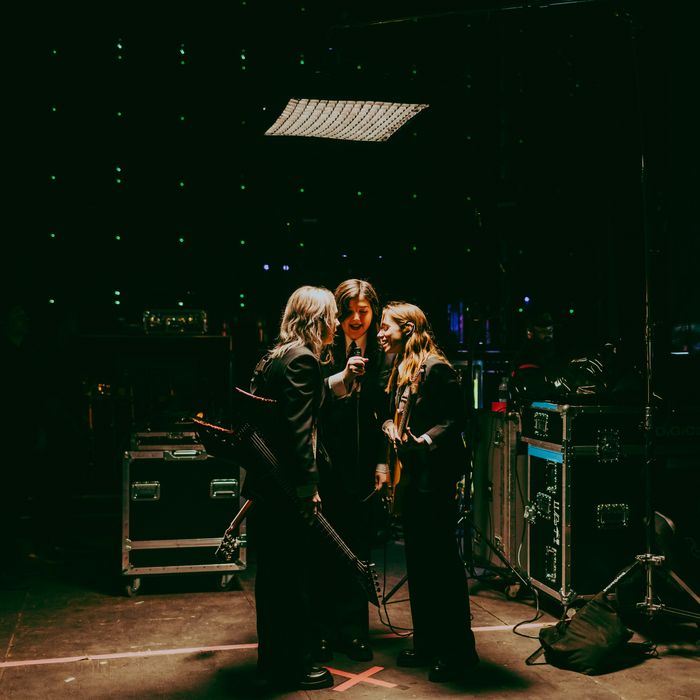 The Boys — from left, Bridgers, Dacus, and Baker — beginning their set from backstage at Coachella.
Photo: Ashley Gellman
Boygenius's ubiquity has been so long established — the band's "Me and My Dog" was my, and very possibly your, most-played song of 2018 — that it's easy to forget their first full-length album came out only last month. That album, the record (they generally don't capitalize the band name, either), rocks harder than their 2018 self-titled EP, but it's nevertheless a gorgeous and richly harmonized effort, ready to share shelf space with the great supergroup albums like case/lang/veirs and the Dolly Parton–Linda Ronstadt–Emmylou Harris Trio albums. The boys, as they call themselves, are Phoebe Bridgers, Lucy Dacus, and Julien Baker, each of whom has also put out an excellent solo album in the past five years. But together, the boys really sing, their deep connection evident in both the music and their conversations about it. "We're celebrating it with everybody," Dacus says of their feelings about the album's release after a year and a half of work. "Like, we are also fans of this band. So it's exciting for us in probably a similar way that it's exciting to anybody else."
For the first performances of the new album, the boys were at Coachella these past two weekends. This also marked the band's first time playing the festival together. Bridgers, who played solo last year, grew up in Southern California and spent years coming to Coachella with her mom. "I used to stand there and, like, violently manifest being able to play one day," she remembers. Now they all have — in matching Gucci suits and ties. ("It's fun to kind of play around with gender expression together," Dacus says. "Be like, We're a bunch of hot guys right now.")
With the new record and a press tour around it, the band is squarely in the spotlight. (Besides Coachella, they started the year on the cover of Rolling Stone, reimagining Nirvana's 1994 cover.) Submitting yourself to that particular glare is an invitation to all sorts of criticism, both musical and otherwise (the press has closely followed Bridgers's dating history, especially her recent breakup with Paul Mescal). "When I get criticism for my own music, I'm kind of like, Oh, whatever," Bridgers says. "But when music critics don't like our band, I'm like, You fucking incel motherfucker, leave my friends alone." Not that there has been much of that so far. The response has been fairly rapturous from critics and from fans, as the band discovered firsthand at the festival. "People can be like, 'This is a great record,' or whatever, or say however they feel about it online, but you can't fake having heard the music and the lyrics enough to know when the drum fill is coming," Bridgers says, "and to know when what lines are coming, and like hearing them shout so loud that I can hear it through Phoebe's microphone."
Talking to the band gives one the sense that they are just as happy being alone together as with a quarter of a million fans (Coachella estimates 125,000 people come to each of its weekends). I asked them how they celebrate milestones like the first album's release (the first for any of them on a major label) or the festival. They mentioned the little things — going dancing, cooking for one another, listening to a record that was formative for all of them, like Neutral Milk Hotel's In the Aeroplane Over the Sea. "We listened to it on the way to Coachella and on the way home," Dacus said. "Well, I definitely listened to it on the way home," Bridgers replied. "Y'all, it just narrated your dreams."
The Cut asked boygenius to put together a little photo diary from their first weekend at Coachella. Those pictures, with the boys' commentary, are exclusively below.
Lucy Dacus: That was our 8:30 a.m. sound check. The crew had to load in at, like, midnight. We showed up thinking, Oh, this is early, we're tired, and everyone was like a zombie. But yeah, we all sounded good.
Phoebe Bridgers: The shirt tuck is necessary so it doesn't bunch up. And that's my assistant helping me put my in-ear monitor cord basically through my butt. Because I was doing the shirt tuck, there was no other way.
Julien Baker: People have no idea of the logistics and sacrifice that go into looking this hot onstage. Phoebe is doing the work.
PB: We're all talking, like, "It'd be cute if we had lapel pins," and we're having this idea like three days before we're supposed to leave for the desert when it's, like, impossible to put together. And my manager made a call to Catbird, and they fucking did it. In a couple of days, they made these.
LD: You can't see it, but each of our names is engraved on the back of them.
JB: We all have a tooth tattoo on our wrist. It's our first group tattoo that we got. And on the album cover, it's like all of our hands, and you can see the teeth tattoos on us.
JB: My vibe with Phoebe is "brother I can't tell that I love in a genuine way."
PB: When I kissed you the first time — when I kissed you on the video shoot, for fun — you looked at me like I was holding a knife. Like, you didn't break eye contact, but you looked —
JB: Terrified. Horrified!
LD: I'm on the other side of them, as close to them as they are. And I'm, like, cackling.
JB: I need un-prudish Sherpas.
LD: We're working on Julien. We're working on it.
PB: That's my mother, who's coming both weekends and just parties. It's awesome. She took me to Coachella for five years.
LD: Phoebe's mom is kind of our resident mom here. We do a lot of stuff in L.A., and she's the parent that shows up and is like, "You're doing great, sweetie." So I'll call her Mom occasionally. And I think she gets a kick out of that.
LD: That Gucci suit …
JB: Cost more than my car.
LD: And the Aldi socks, like the grocery store.
JB: I got white tube socks from Aldi because they were on sale.
LD: We were making jokes that Gucci and Aldi are, like, Italian excellence.
JB: "Who are you wearing tonight?"
LD: "Aldi!"
JB: This is so good, the excitement. They're all incredible players. But they're not just, like, hired guns that could rip scales in their sleep. Like, everybody's so stoked. This level of stoked.
Pictured: boygenius bassist Tiana Ohara
JB: That tie had to be retied by a professional man.
LD: Yeah, Julian's honing her craft.
JB: At being a boy. I need to practice. It was backwards. My tie went on fine, but I need to watch a couple more YouTube videos.
LD: It's kind of slutty to ask for someone else to tie your tie. In a good way! So I don't want to do it myself.
LD: That's after the show.
JB: Damn, we're so cute.
PB: I think it's before?
JB: It might be before. We don't look fucked-up enough.
LD: I see fear in my eyes.
JB: I have a controversial relationship with this guitar, the Fender Acoustasonic Jazzmaster.
LD: This guitar is all over our record, but it's kind of silly looking.
JB: It sounds wack. But it's have-to-use-it fun.
LD: Yeah, it does something that other guitars don't.
JB: It's funny that I'm doing this pose, though. It's not, like, an SG [a classic 1960s Gibson still in production]. It's a very 2023 guitar.