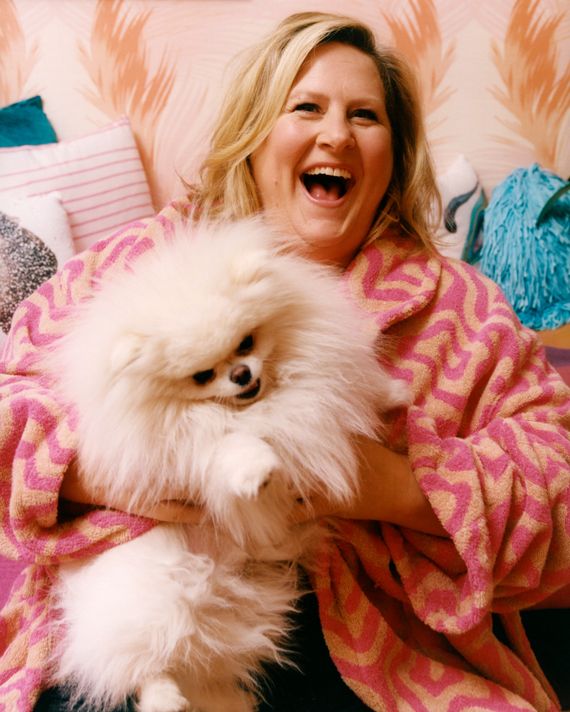 Bridget Everett meets me on her turf. Just upstairs from Joe's Pub — the intimate venue where the alt-cabaret star took off a number of years ago, and where she's liable to pop up and reverse-motorboat someone in the audience or shred a Janis Joplin cover with Patti LuPone — she's waiting cozily at the Library Bar. Instantly disarming and conversational, she deadpans, when the subject of dating someone from her native Kansas is broached, "Asking me for any advice about anything that's gonna take you anywhere is a really bad idea. If you wanna know how to fuck your life up, call me."
If the Public fashions itself an artiste's home away from home, Everett has more than taken it up on that offer. One of the general managers watches her dogs whenever she's out of town, and virtually every single waiter stops by our table to greet her like we're in a production of Hello, Dolly! She orders a vodka martini and leans in to tell me that, like her, the woman who brought over our drinks is from Kansas. In her day, she says, Kansans didn't move to New York, "the more logical progression" being Chicago or Dallas. Now, the ones that do flag her down on the street to shout out their hometown pride.
Everett rides hard for her state, which populates her pseudo-autobiographical HBO series, Somebody Somewhere, with Jayhawks jerseys, homey diners, and lots of farmland. Set in her native "Little Apple" of Manhattan, Kansas, the show's stakes are whisper-quiet, with a bittersweet trumpet score lending a Midwest mumblecore vibe (it's a Duplass brothers production) to the story of her avatar, Sam, as she tries to mend her frayed relationships following the death of her sister. There are no explosive arguments or melodramatic character beats, and despite being wickedly funny, the series is fundamentally a slice-of-life story about just trying to do your best. Like spending an hour in Everett's company, it feels very nice, but with a little bite — the warm hug an old friend gives you before calling your ass out in the way only your chosen family can.
It's one thing for a performer to play a beloved part separate from themselves; that's just someone doing their job. But Everett's screen presence is like that of a corn-fed Chloë Sevigny: natural and unfussy, beckoning you to watch closely with her subtle earnestnesses, which radiates out onto those around her. In the bar, across from me, the person behind the performance has her white puffer coat tucked messily next to a giant Yayoi Kusama LV bag, orders a shrimp cocktail, and matches my confession of loving Fireball whiskey with her own story of using Everclear to make homemade hand sanitizer during the pandemic: "If grain alcohol did me right during the '80s, it's going to do me right now."
Untrained as an actor, Everett relishes the chance to bring a character like Sam back for another season, especially because Somebody Somewhere can sometimes push her to her limits. She sees it as a form of therapy. Sam, like Everett, has a complicated relationship with her conservative religious upbringing, and tension arises when her gay friend, endearingly played by Jeff Hiller, flirts with rejoining the church in season two. As our food (and next round of drinks) arrives at our table, the actress leans in to tell me she initially didn't feel comfortable with that development. She didn't change her mind until a producer suggested that nothing on the series — other than her capacity for love — should be easy for Sam. "We keep talking, and once we land on something that puts a lump in my throat, we explore it," Everett explains. "With my history in cabaret, I work best with material that feels true to me. Our show isn't like others. Season one, we tried to do some plot stuff, but the show doesn't always work best when it's plot-driven."
Everett appreciates that the series places a premium on prioritizing character; with the undeniable charisma that she has, why shouldn't she? It's especially important to her because, as she half-jokes, "You see a lot more women my age on TV now, but No. 1 on the call sheet is not always a plus-size fading flower." And while it is her show, it's the most collaborative work she's ever done, a fact she makes gleefully evident throughout our conversation. Nearly every story Everett tells — whether about her upbringing, performing style, her HBO series, or even the Public — emphasizes the characters that have become essential in her life.
She mentions Murray Hill, her Somebody Somewhere co-star and another downtown cabaret icon, when regaling me with rowdy tales of their exploits touring in Texas around the time of the 2016 election. She credits a Georgia-based friend named Mike with convincing her to continue playing in red states because, as he told her, "You can't abandon us when we still need you." And it was executive producer Carolyn Strauss who found a way to move forward when tragedy struck and Mike Hagerty, who played Sam's farmer father, unexpectedly passed away as the team was heading into production on the show's second season. Everett didn't want to kick off a new season with another untimely death, so Strauss suggested retooling to highlight her relationship with her other sister, the teeth-gritting wine mom named Tricia, played by Mary Catherine Garrison.
"We still had the grief of the sister that's passed, that doesn't go away; it still informs their relationship, especially when she's taken out of the equation," Everett states plainly. "When my sister died, her role shifted the whole ecosystem of the family. It's interesting having to exist with people that you always had a little buffer with."
Garrison, in true Everett-world fashion, was her roommate for almost ten years when she first moved to the city, the two of them sharing a too-small apartment on the Upper West Side after meeting through mutual showbiz friends. At first, Everett was hesitant to act opposite a close friend, thinking it might take her out of the zone, but she was wrong: Their onscreen chemistry is as delicious as their performances are individually stellar.
Everyone shines in Somebody Somewhere; just as you're left glowing in Everett's company, she, in turn, photosynthesizes from that. She admits, rather delicately, that the series' title comes from Sam's desire to be somebody. "Not in a star kind of way," the actress clarifies, "but she wants to matter." Adoration comes with its own strange price, though. As I thank her for suggesting we share fries, she tells me about a fan who once lied to the Public's box office about being overweight in order to sneak into an ADA seat, then loudly complained about the fries served during the show. Another time, "one bitch," she chuckles, stood up mid-set in Chicago (likely after Everett performed her classic bit "What I Gotta Do to Get That Dick in My Mouth?") to call Everett a "disgusting pig" during the show. "Why are you even at the show if you don't know who the fuck I am and you're not going to enjoy yourself?" she poses. "At least read the caption that says, 'Large woman, big tits, songs about her pussy.' You think you're going to like that? Add to cart. You don't? Stay at home."