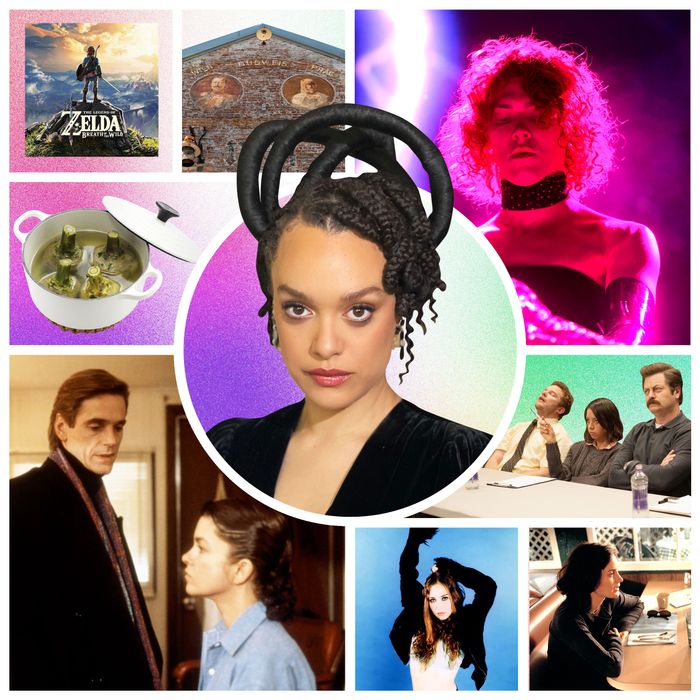 Photo-Illustration: by The Cut; Photos: Heather Dapaah, Getty Images, Everett Collection, Nintendo
While she doesn't have an appetite for disturbing horror films, actress Britne Oldford is very familiar with David Cronenberg's unsettling cult classics. She grew up in Toronto, which is also Cronenberg's hometown, and as a young teen, she would point out spots around the city that appear in Dead Ringers, a film about twin gynecologists played by Jeremy Irons. Things have recently come full circle for Oldford, who stars in the six-episode Prime Video adaptation of the film as Genevieve (an ode to the original character played by Geneviève Bujold), an actress who becomes romantically entangled in an uncomfortable love triangle with the twin doctors, this time played by Rachel Weisz.
Oldford is now a New Yorker, after being pulled to the city in 2010 to be part of the short-lived American Skins remake that had fans of the British original pulling their hair out on Tumblr ("I just thought it was a heck of a lot of fun!" she says). She filmed Dead Ringers there, too, which allowed her to stay up to date on all of the music — from hyperpop to screamo — she used to get into character. "Living in New York, whether you want it or not, you get an infusion of the latest culture," she says. "But there's a lot of allowance to ignore it all and be your own weirdo."
As a fellow Canadian, what's your history with David Cronenberg's films? 
I'm always quite fond of Canadian greats. I was probably too young when I got onboard the Cronenberg train, but I remember watching the Dead Ringers film for the first time. I think I knew I was a bit strange when I watched The Fly, but that solidified it for me because I loved it.
I have to ask about your time on the ill-fated American Skins adaptation on MTV. Did you receive any vitriol from Tumblr superfans at that time? 
There's an amazing full-circle moment about Skins, and that's Susan Shopmaker, who cast the American Skins and Dead Ringers. I think now that we have the Euphoria of it all, it's interesting that there was such an uproar about Skins. I do understand there were a few characters that were underage, but it really all came down to this one promo video that we shot, a backward party. It was really cool. However, what happened in that video seemed significantly more salacious than anything that happened in the show. The show was pretty tame, I think. I've always been able to navigate backlash well. The whole kerfuffle was very silly.
Now to get into the taste test — where do you get your best culture recommendations from?
I have a couple of collaboration playlists. Making a playlist with someone, almost like a '90s-style mixtape, really informs the way that I move in the world.
What music do you listen to when you're alone?  
I listen to everything, from hip hop to bluegrass to Celtic music and classical to metal. When I'm alone, it depends on what I want to be feeling, how I want to relate to the world. If I know I need a boost, I'll listen to pop, disco, or SOPHIE, forever and ever. I have this playlist called "Robyn Vibes," which contains mostly Robyn and SOPHIE, and it just makes me feel like a fairy princess who's going to take over the world.
What is your pre-filming ritual?
I always make a playlist of the character or the project. I have one for Genevieve on Dead Ringers. That playlist has a lot of Rosalía, Hozier — haunting, beautiful, romantic, complicated music. It goes back to sonic frequency and how that can translate energetically and get me in my body. I have a dance background, and I was in choir growing up. I used to be very shy, so I'd express myself through movement and sound. I always end up going back to that as my safe comfort place.
You're hopping in an Uber XL and can bring five celebrities, dead or alive, with you. Who's coming? 
Judi Dench, Angela Bassett, Matthew McConaughey, Sir Ian McKellen, and Eartha Kitt. And I want to be completely silent and just listen. I hope we're road tripping to somewhere hours away. I just want to bask in their excellence and graciousness.
What's the last meal you cooked for dinner?   
Last night with my spouse, we made a very spring salad with asparagus, peas, baby corn, sugar snap peas, with an olive oil infused with thyme and garlic I just got from Nice while doing press for Dead Ringers, plus goat cheese. We boiled some artichokes with a dressing of olive oil, dijon mustard, chive, salt and pepper, and a little bit of sour malt vinegar. All of that with some leftover rice — it was delicious. We were craving greens.
What's your comfort rewatch?  
Parks and Recreation. Over and over again. I've watched every season upward of 15 times. I used to have insomnia; it was my go-to show to fall asleep with.
What is something you'll never, ever watch no matter what?  
Oh, dear. Some may be surprised by this given the jobs I book, but horror is super–not my jam. The more disturbing ones in particular. The first one that comes to mind is Smile. I'm so happy for everyone involved, but I'll never watch it. Human Centipede too; I've known so many people who have watched it and they keep describing it to me, and I'm like, Thank you so much, but please stop. If all horror was just the first Saw movie, I'd be okay.
Since you're starring in a psychological thriller, do you have one that you would recommend for someone who needs a little convincing to get into that genre?  
One would be Memento, which was intense but not terribly disturbing. The Game would hook people because it's such a puzzle and a slow burn but there are strange, disturbing parts to it. Also Seven, a slow burn.
What's the best piece of gossip you've ever heard?  
I was on a bit of an incestuous set once, early on in my career. It was funny to listen to the whispers of who liked who and being privy to the back stories. Fortunately, everything was positive, there wasn't drama within that. But there was some pretty hot goss on that set.
Favorite game to play?  
I'm torn between Horizon Zero Dawn, Bloodborne, and The Legend of Zelda: Breath of the Wild. They're very different, but each expansive, mystical, and amazing. I wish I could play them all again for the first time.
What's a book you couldn't put down?  
The Graveyard Book, by Neil Gaiman; he's my favorite author. Also, Wintering: The Power of Rest and Retreat in Difficult Times, by Katherine May. I read it at the beginning of this year and I recommend it to everyone. It really informed a lot of shifts I made in my life.
What's the best advice you've ever received?  
Conor Leslie made a comment in passing to me that I now say to everyone I meet: You could be the most brilliant shade of orange, but they want blue, and there's nothing you can do about it, so release it. Another one, from an interview with Bryan Cranston: Auditioning is your job until you book a job, and when that job is done, auditioning is your job again. Mentally, it can release you from a lot.
What about bad advice?
I've gotten a lot of bad advice! The worst was essentially to not be myself publicly at the beginning of my career. Coming off Skins, I was this 5'11", gangly, short-haired creature, out of my weave from the show — which now, is great, but at the time you had to sort of button up a little bit in the industry. Now authenticity is currency, life, everything. It took me probably all of my 20s to get back to myself.
What do you listen to in the car?   
We still have a CD player in my car, so when my spouse and I are driving we'll listen to Fiona Apple, Cat Power, and Deftones. I'll also put on 2000s emo screamo music and scream to it and laugh. Or we'll just put on the radio. The radio upstate in New York is amazing and sometimes has some gems playing. We always have the radio on at home, too.
What show is your partner not allowed to watch without you?  
It's a Youtube moment, Great Chefs of America. We both love to cook. I originally thought I was going to cook and be in a band, but I ended up being an actor, so here we are. I would be devastated if they watched an episode without me. But that's it, they can watch what they want.
What is your favorite piece of art that you own?  
The first piece I bought by myself is by Soey Milk, a painting of two women cuddling. It's the epitome of female intimacy to me. You don't know if they're lovers, friends, or sisters. I find that translates often in my friendships. Very Dead Ringers.
What's the worst thing one can do at a dinner party? 
Insult the host's cooking, even if it's terrible, and drink too much.
What would your last meal be? 
Carbs, of course. Lasagna, homemade macaroni and cheese, or a pint of Weihenstephaner Vitus and schnitzel from Radegast in Williamsburg. That place has a lot of memories for me from when I first moved to New York.