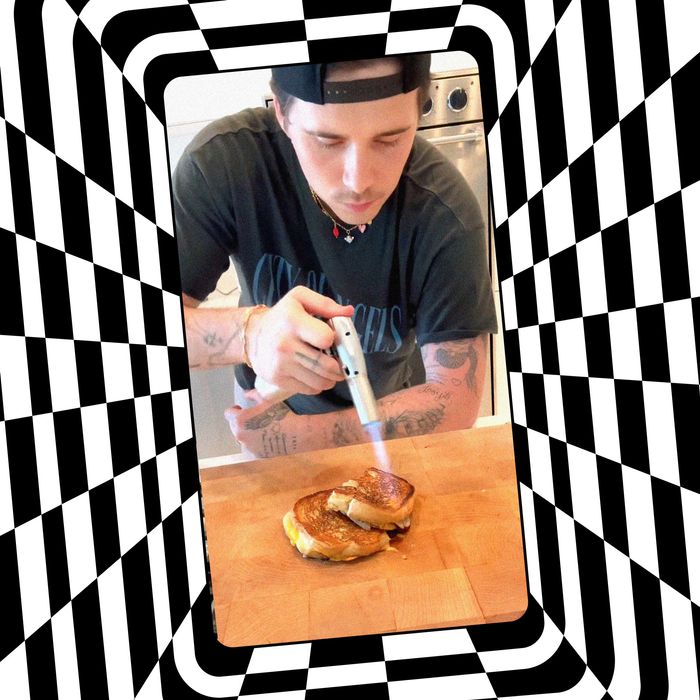 I Can't Shut Up About: Deep dives into my online obsession of the week.
Say what you will about nepo babies. Go ahead, say it. Celebrity spawn don't have a phenomenal reputation for reasons that are pretty self-evident. However, if nepo babies have made a name for themselves in any market, it is delightfully askew online content. Case in point: Brooklyn Beckham, the 24-year-old son of soccer star David Beckham and Spice Girl Victoria Beckham, a.k.a. Posh Spice.
This week, Brooklyn posted a video of himself making a grilled-cheese sandwich as part of a brand partnership with Chosen Foods. Seems innocuous enough, right? Hah! A nepo baby never lets you know their next move. For reasons I hope will remain unexplained, Brooklyn has a quarter-size hole in the crotch of his pants throughout the entirety of this #sponsored Instagram Reel. He's greasing the pan and the hole is there, staring you straight in the face. He's sautéing onions and mushrooms for his sandwich — a point of contention among grilled-cheese purists in his comment section — and there's the hole, supervising the operation. Then, after cooking the grilled cheese to a golden-brown perfection, he finishes it off with a blowtorch. Why? Unclear. This would be the most confounding part of the video if not for the aforementioned giant hole in the crotch of his pants.
You may wonder how this branded video was approved, how the marketing team could have possibly viewed the video and thought, No notes! But of course it was approved. What were brand reps or his PR team going to say? Hey, Brooklyn. Could you do a quick reshoot on account of the gaping hole in the front of your pants? No! His mom was in Spice World!! Regardless, the grilled cheese probably tasted good.
The unspoken destiny of any nepo baby is to carve out a niche for themselves and make it their whole thing. Sofia Coppola's daughter Romy Mars has her TikTok. Hailey Bieber's thing is not fighting with Selena Gomez. Brooklyn's is cooking. Well, it's modeling and photography and being married to actress and fellow nepo baby Nicola Peltz, who is the daughter of a billionaire businessman. But most notably, it's cooking. Brooklyn is a self-described "nutter in the kitchen," and the cooking content he shares has certainly lived up to that title.
There was the now-infamous breakfast sandwich he made on the Today show back in 2021. (Some argued it was the culinary equivalent of assembling a peanut butter and jelly on national television.) There's his sole TikTok in which he makes a "spicy tomato pasta" using jarred pasta sauce. (The top comment reads: "When your mums a spice girl but you don't season your pasta.") There's another recent Instagram video posted as part of a brand partnership with Silk plant-based milk where Brooklyn makes fettuccine Alfredo. However, as the comments were quick to call out, he uses spaghetti instead of fettuccine, makes a sauce that's closer to a béchamel, and pairs the finished dish with a glass of milk. Is any of this remotely as outrageous as the 70-plus tattoos Brooklyn has dedicated to Nicola? I mean, yes, the glass of milk raises a few eyebrows. But like much of Brooklyn's cooking content, everything else is more confusing than controversial.
I, for one, look forward to any and all of Brooklyn's future culinary creations. They are harmless and he's enjoying himself. What more can you ask from a guy whose parents' collective worth is one billion dollars? Give him a Michelin-starred kitchen and some Lunchables! Or at least some new pants.