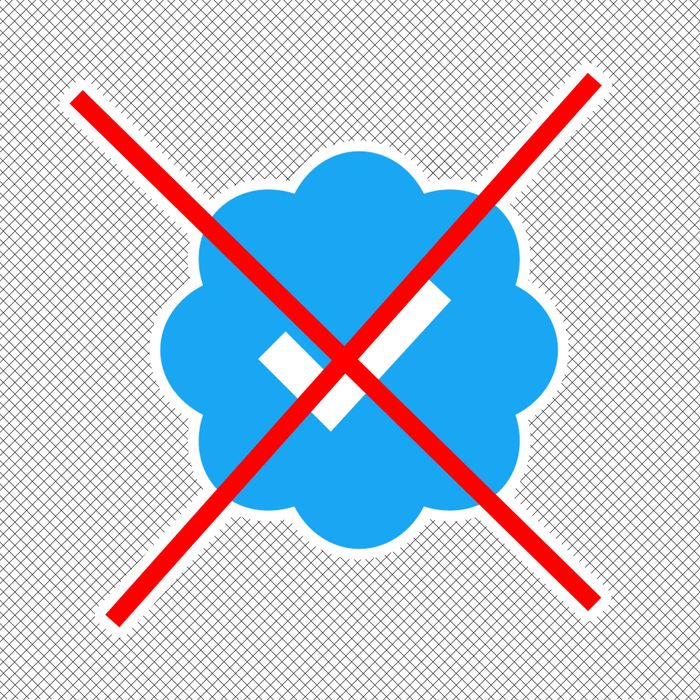 Photo-Illustration: by The Cut; Photo: Twitter
Rumors have been swirling about Twitter's imminent death in the months since Elon Musk took over the company, but today the bird app is very much alive. On April 20, Musk's new Twitter Blue system officially kicked in, taking the blue check marks that once indicated whether an account truly belonged to the human claiming to own it away from those accounts that aren't willing to pay $8 a month to keep that verification. Checkless Twitter has since reached an unprecedented level of chaos, akin to the final chapters of Lord the Flies.
Long before Musk took the checks away, we as a society decided that keeping a blue check as part of a subscription plan is extremely lame. In a surprising twist, a lot of the rich and famous seem to be on the same page. Though Musk claims to be paying for some people's blue checks himself, Beyoncé, Lady Gaga, Blackpink, Bad Bunny, Jessica Chastain, and Oprah Winfrey are all checkless as of Friday afternoon. Though you might expect these tabloid deities to be enraged at their lack of recognition, the general attitude seems to be one of liberation.
Of course, not everyone is taking it so well. Alyssa Milano and Bette Midler both appear to be outraged by the loss of their blue check marks, with Milano accusing Musk of "defamation or identity theft or fraud."
But a large bulk of the rich and famous, even ones who unwittingly maintained their blue-check status, seem to be on the same page as the rest of us peons. Pat Kiernan is currently doing battle to rid himself of this badge of shame, having subscribed to Twitter Blue for a "specific video feature" but canceled it when the new check system started to kick in:
Personally, I take great joy in the fact that so many literal billionaires decided not to give Elon Musk $8 a month for his silly little blue checks. Now that they are no longer bound by the confines of verification, anything can happen. This is a mesmerizing, gorgeous state of internet chaos. This is a rowdy kindergarten class with a substitute teacher. This is Nicole Kidman after signing her divorce papers. Viva la revolución!