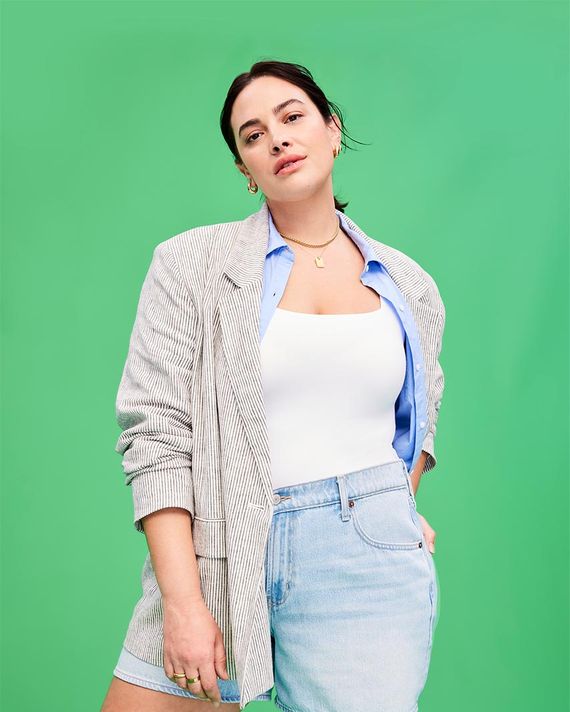 We're all familiar with the coastal grandmother aesthetic; she's neutral, she's natural, and she's preppy with a nautical twist and a laidback, relaxed feel. But have you met her younger, fresher next of kin? The coastal granddaughter aesthetic is everything we love about her effortlessly stylish (and always comfy) grandmother but with a slight edge. Linens, stripes, button-downs, and flowy pants are all very much part of the vibe, but so are raw hems, strategic cut-outs, and mini skirts.
A balance between modern and traditional, coastal-granddaughter-inspired pieces will be taking over this summer. Even without a body of water in sight, taking advantage of this trend is as simple as throwing a linen button-down over a crisp white tee and slipping into a pair of wide-leg jeans. And don't forget a bucket hat for good measure.
Old Navy Wide-Leg Linen-Blend Trousers
Linen is a staple for both coastal grandmother and granddaughter aesthetics. There's something so elevated yet chill about a linen-blend wide-leg pant that embodies everything these vibes stand for.
Le Mel Pearl Choker
Update your grandma's string of pearls with this choker version. A modern take on a classic heirloom, this necklace is made of tiny, dainty pearls that can easily be layered with other pieces to create a timeless, beachy look.
Hayden LA Collared Puff Sleeve Knit Jacket
A knit layering piece is another must-have for any coastal aesthetic. The zipper makes this option so easy to throw on over everything from a breezy sundress to a tee-and-shorts combo. It's the perfect choice to have on hand for chilly summer nights.
Old Navy Wide-Leg Jeans
Whether you pair these jeans with a tee, a blazer, or a striped knit sweater, you're doing coastal granddaughter right. The wide leg makes them especially on-trend.
R.G. Kane Playa Dress
While a coastal grandmother shirtdress is on the longer, breezier side, the coastal granddaughter version is a bit more experimental. This dress in particular is a standout choice for its original and polished design. The waist definition and shorter hemline give it a refreshing, youthful twist.
Old Navy Jean Boyfriend Shirt
Looking put-together without trying too hard is easy with an oversized button-down. The styling possibilities are endless, but for an extra-relaxed vibe, wear it unbuttoned.
Rylee + Cru Plaid Bucket Hat
An icon of the coastal grandmother look, a bucket hat serves as the cherry on top for any coastline-inspired outfit. The playful plaid print is what drives this one to granddaughter status.
RAHI Lucine Beaded Midi Dress
Sure, a white cotton midi dress is very coastal grandmother, but adding a sizable slit, scalloped edges, and alluring cutouts take it to the next level. This dress has coastal granddaughter written all over it, and we can't get enough of the gorgeous beading on its bodice.
Old Navy Linen-Blend Blazer
Some blazers are too city-chic, some blazers are too office-appropriate, but a linen-blend is just right for nailing that coastal grandmother/granddaughter aesthetic. Pair it with a t-shirt, long shorts, and flatforms to finish off the vibe.
Jordan Road Drop Earrings
Large stud earrings are having a major moment. We love their ability to give any outfit an instant style boost, and this pair has a vintage look and feel that's especially coastal.
Trovata Lucca Shift Dress
This linen shift dress easily doubles as a swim cover-up or a going-out piece. Dress it down with loafers and a bucket hat or dress it up with strappy heels and shoulder-grazing earrings.
Old Navy Sleeveless Cropped Sweater
Basic but versatile, this sleeveless sweater will give you tons of summer mileage. Think of it as an elevated alternative to a t-shirt.
Ivy Cove Cape Cod Tote
As its name suggests, this bag feels right at home on the Cape, meaning it's a perfect choice for complementing any coastal look. From picnics to travel to toting around your everyday essentials, the bag is an new take on a classic design thanks in part to the canvas and leather combo.
Kaanas Catalinas Blush Sandals
A practical footwear choice is essential for pulling off a coastal aesthetic. These raffia sandals were made with comfort in mind and will pair beautifully with everything in your closet.
This advertising content was produced in collaboration between Vox Creative and our sponsor, without involvement from Vox Media editorial staff.