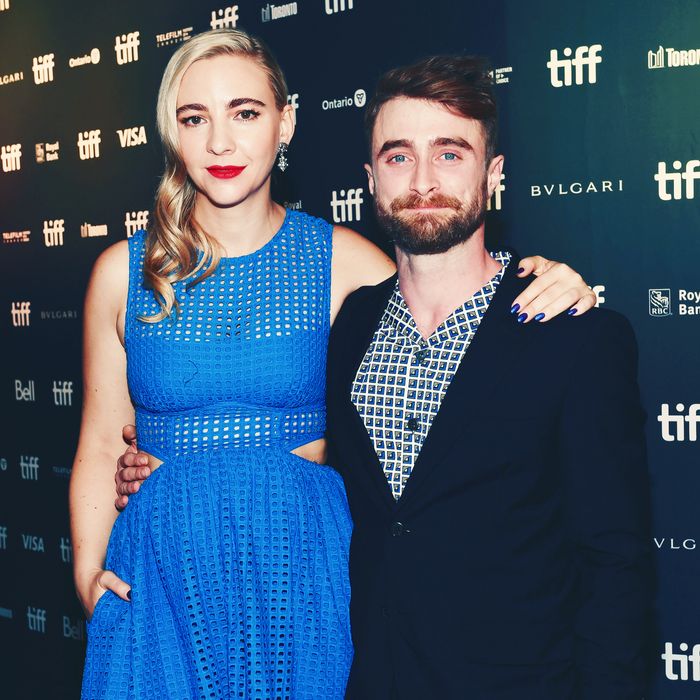 Erin Darke and Daniel Radcliffe, allegedly new parents.
Photo: Sam Santos/Shutterstock
Accio, baby: Harry Potter is a dad now. According to the Daily Mail, Erin Darke, who has been dating Daniel Radcliffe since 2012, recently gave birth to the couple's first child. That news comes not from the Potters themselves, but from the paparazzi who spotted Radcliffe pushing a stroller around New York City on Monday. "Page Six" has since confirmed the Mail's report, without speaking to either party's rep. Already the intrusions begin — congrats to the new parents.
Radcliffe and Darke first met on the set of Kill Your Darlings, a movie that obligated the actors to do a sex scene. "It'll be a hell of a story to tell our kids one day because of what our characters do with each other," Radcliffe told People in 2019. "Our characters are meeting and flirting with each other, so there is this kind of sweet record of us just meeting for the first time and flirting." The couple have kept their relationship fairly private since then, though after The Sun got photos of Darke's baby bump in March, someone supposedly close to Radcliffe told the tabloid: "Daniel is so excited to be a dad. His relationship with Erin is really special and everyone thinks they will be amazing parents."
Darke's acting credits include Still Alice, for which Julianne Moore won an Oscar, as well as the TV series Dietland, Good Girls Revolt, and The Marvelous Mrs. Maisel. Radcliffe, meanwhile, is easily recognizable as the eponymous main character from the Harry Potter franchise, though you may also know him from his turn as a farting corpse in Swiss Army Man; as a naked horse boy in the play Equus; or most recently, as "Weird Al" Yankovic from the musical biopic Weird, which my colleague Danielle Cohen called "the most unironically fun movie" she had seen "in a long time." You might also remember him from the meme in which he walked 12 to 51 dogs while smoking a cigarette — now it's a baby carriage. Ten points to Gryffindor.