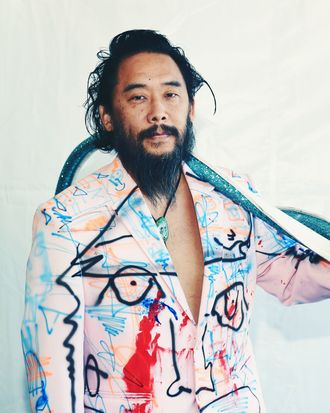 David Choe
Photo: Amanda Edwards/Getty Images
Since its April 6 release, Beef — a new series from Netflix and A24, starring Ali Wong and Steven Yeun — has been getting a lot of attention. In the beginning, that attention was overwhelmingly positive: 98 percent on Rotten Tomatoes, reviews that praise its "rich psychological shadings" (the New Yorker) and the "vibrating, hostile chemistry" (Vulture) between its main characters that "makes for engaging feel-bad TV that critiques the very notion of inner peace." But now, some viewers are calling for accountability from its creators after troubling comments by one of its actors resurfaced on Twitter.
On his podcast in 2014, David Choe reportedly recalled an encounter with a masseuse that, the way he describes it, sounds like sexual assault: Choe told his co-host that he pushed this woman to perform oral sex on him, knowing she was not interested in that type of contact. At the time, Choe admitted this was "rapey behavior," but maintained: "I am not a rapist." Now, he has reportedly filed a Digital Millennium Copyright Act (DMCA) takedown request to get video of the episode removed from Twitter.
The Cut has emailed Choe for comment, and we will update if we hear back. In the meantime, here's what has been reported so far.
Who is David Choe?
On Beef, Choe plays Yeun's ex-con cousin, Isaac. According to the Hollywood Reporter, in 2014 he was "best known" as a graffiti artist whom Facebook once commissioned for a mural on its headquarters. His website offers a slightly more illustrious spin on his CV: "Long famous for his fine-art work which has garnered the respect, admiration and adulation of institutions, museums, high-profile collections and fans around the world, David Choe is just as competent in front of a camera as he is on a canvas," it reads. "Working in multiple forms of media with a deeply engaged audience in the hundreds of thousands, Choe is one of the few fine artists to ever successfully make the jump from the museum world to the media world." Choe appeared once on Anthony Bourdain: Parts Unknown, served as a host and interviewer on a few episodes of Vice's HBO show, and had his own four-episode Hulu series. He also co-hosted the podcast DVDASA with adult-film actor Asa Akira, which is how we got here.
What did he say about this masseuse?
Both the March 10, 2014, episode in which Choe reportedly made the comments, and Twitter footage of the conversation itself, have been taken down. (More on that below.) Some versions of the video are still circulating on TikTok, and a partial text of Choe's comments is available online via BuzzFeed and other outlets that covered the controversy at the time. According to BuzzFeed, here's what he said about his encounter with a masseuse he called "Rose," who — per his account — had given him no signs that she was "into him" or "that this is appropriate behavior":
I just start jerking off. So then her hands gets off my leg and she just stops … I go, 'Look, I'm sorry, I can't help myself — can you just pretend like I'm not doing this and you continue with the massage?' And she's like 'All right' and she does … I'm like 'Can I touch your butt?' and I reach out and touch her butt and she pulls away. She doesn't want me to touch her butt.
According to Buzzfeed, her response was the same when he asked her to touch his penis, then to spit on it, then to put her mouth on it. "She's definitely not into it, but she's not stopping it either," he reportedly went on. When she declined to "kiss" his penis, he said, "I take the back of her head and I push it down on my dick and she doesn't do it. And I say, 'Open your mouth, open your mouth,' and she does it and I start facefucking her." He said he continued until he ejaculated in her mouth. When Akira called Choe's actions rape, Choe qualified them as "rapey," adding: "I am not a rapist." If she had told him to "fucking stop" and threatened to call security, he said, "that would have been a much different story. But the thrill of possibly going to jail, that's what achieved the erection quest."
Just over a week after the episode aired, Choe reportedly posted the following to the DVDASA website: "I am not a rapist. I hate rapists, I think rapists should be raped and murdered," he wrote. "If I am guilty of anything, it's bad storytelling in the style of douche." Choe indicated that he intended his podcast to be provocative and to "fuck with" listeners: "It's not a news show. It's not a representation of my reality. It's not the place to come for reliable information about me or my life," he said. "I'm sorry if anyone believed that the stories were fact. They were not!"
Choe has addressed the episode a few other times since then. In 2017, after a mural he painted in Manhattan was defaced with the word "rapist," he wrote on Instagram: "I relayed a story simply for shock value that made it seem as if I had sexually violated a woman. Though I said those words, I did not commit those actions. It did not happen. I have ZERO history of sexual assault. I am deeply sorry for any hurt I've brought to anyone through my past words. Non-consensual sex is rape and it is never funny or appropriate to joke about. I was a sick person at the height of my mental illness." Choe also said that he spent years in treatment for said illness. "I do not believe in the things I have said," he added, "although I take full ownership of saying them." In a 2021 New York Times profile, he also called himself a "recovering liar," and explained: "At that time in my life, I was done with life and chasing a bottom. I wanted out. I never raped anyone."
And now he is scrubbing the footage from the internet?
It looks that way. According to NBC and Twitter users who posted the video — namely, reporter Aura Bogado and writer Meecham Whitson Meriweather — Choe filed a DMCA takedown request, naming himself as the copyright holder and complaining that the content had been shared "without our consent." Twitter apparently complied.
What do his co-stars have to say about all this?
Wong and Yeun both seem to be friends of Choe's, who said in interviews that the two actors approached him about starring in the show. Wong, Yeun, and the show's creator, Lee Sung Jin, were silent on the backlash (though Wong did make her Twitter account private after it began) until Friday, when they released a joint statement to Vanity Fair:
The story David Choe fabricated nine years ago is undeniably hurtful and extremely disturbing. We do not condone this story in any way, and we understand why this has been so upsetting and triggering. We're aware David has apologized in the past for making up this horrific story, and we've seen him put in the work to get the mental health support he needed over the last decade to better himself and learn from his mistakes.
We have also contacted A24 and Netflix and will update if we hear anything back.