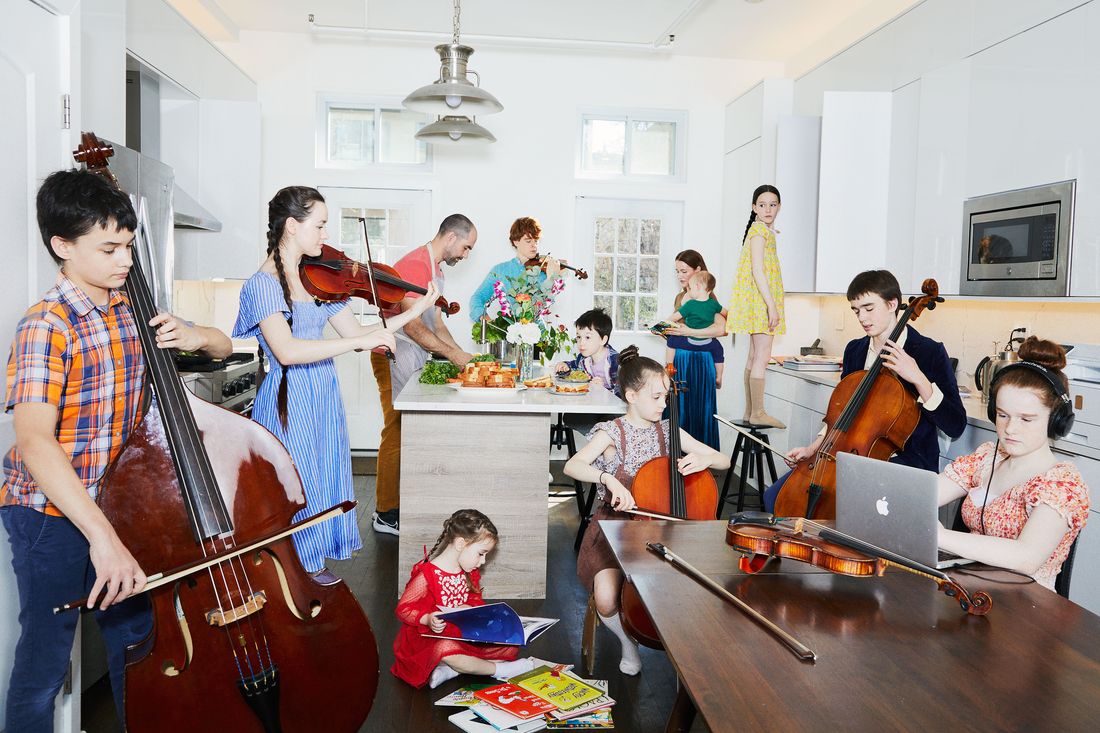 This article originally appeared in Brooding, a newsletter delivering deep thoughts on modern family life. Sign up here.
It takes a lot to turn heads on the streets of New York. The de la Mottes, a family band of nine kids who all play string instruments, stand out not for their flashy look but for their modesty. They're a family out of a Norman Rockwell painting, rosy-cheeked and tidily dressed, a vision of white Americana circa 1920. Realizing that the children are siblings rather than, say, members of a youth group, a New Yorker is bound to scratch their head and wonder: How do you live here with that many kids? (There are in fact ten de la Motte children; the youngest, Moses, is 1 and a half, and hasn't begun instrument lessons yet — but has been introduced to the cello.)
If your daily travels take you past Port Authority, Times Square, or Rockefeller Center in the late afternoons, you might have seen them yourself. You may have wondered how it is that they're so good at their instruments, or what sect of Christianity they are affiliated with. Or if you're another kind of passerby, you might have found them on TikTok, where commenters appear tempted to call child services on their mom for exploitation and/or neglect.
The de la Mottes arrived in New York City last summer in an Airstream. (If imagining a road trip with ten kids in an Airstream makes your eyes water, well, consider this foreshadowing.) Their quixotic odyssey, which has taken shape as parents Amber and Marc have sought out ever more advanced training in classical music for their older kids, has exposed them to some of the less charitable sides of contemporary American life, but they've persisted this far, thanks to their abiding Christian faith and the provisional benediction of TikTok's algorithm.
Amber and Marc met almost 24 years ago through an evangelical church in San Diego. Amber's family had always loved music, and she was taking violin lessons when she had their first child, Josiah. "I used to practice when he was in bed, but he started to hear me practicing and oh man, he couldn't handle it," says Amber. "He just wanted a violin in the worst way." They bought his first one off eBay, "super-cheap, totally the wrong size. He was in love with it."
Another family at their church, the Bunnells, had all their kids playing string quartet music together. "They were mesmerizing," recalls Amber. Inspired, Amber enrolled Josiah and then their second-born, Pearl, in Suzuki-method classes. Before long the family was growing in size and musical ability. (All the kids have perfect pitch, according to Amber.) By 2018, they were commuting every weekend so the older kids could attend the San Francisco Conservatory. In 2019, they sold their three-bedroom in San Diego's Lemon Grove neighborhood for around $500,000. They bought the Airstream and moved to San Francisco just in time for the pandemic to shut down in-person lessons, and for the wildfires to turn the city's fog orange.
San Francisco is not an easy place for a family to find housing, let alone an extremely large one. When landlords learned how many kids they had, many refused to rent to them. The family ended up paying $1,700 a month to park their Airstream in a trailer park. Their fellow residents didn't appreciate the kids' habit of practicing their instruments three hours a day, not to mention their everyday kid habits and kid noises, and finally the de la Mottes were asked to leave.
Amber reflects that being so close to California's monumental housing crisis made her appreciate how easy it would be to become unhoused. "Remember that one guy, who threw a beer can at the other guy's head?" asks Elijah, looking up from his homework. This has become a piece of family lore: The time they were busking and a man who was behaving erratically was getting uncomfortably close to the kids while they were playing. Another man was watching, and he took a tidy shot with his beer can, knocking the offending guy clean over. "I was moved by that!" exclaims Amber.
The family ultimately found a two-bedroom in the Lower Haight neighborhood with enough square footage to legally accommodate everyone. But their upstairs and downstairs neighbors were remote tech workers with no kids, and tensions immediately rose about the noise. On nice days, Marc would take the older kids to practice in Golden Gate Park. He found a way to sneak into an empty underground parking garage, and on days when the weather was bad — most days — the kids spent hours practicing there. In their family argot, "the parking garage" is a historical era of its own.
Classes eventually resumed at the Conservatory, and Pearl's viola teacher encouraged her to audition for Juilliard. Which is how I ended up visiting the de la Mottes in a spacious rental apartment in Harlem, where they now live. Pearl is on a full scholarship at Juilliard (she boards there, too, but makes frequent visits home) and Josiah is at the Manhattan School of Music. Since they arrived, Elijah, 17, Anna, 10, and Chloe, 8, have been invited to audition for Juilliard's pre-college program.
Their road trip east (the Airstream is now parked outside Albany) was buoyed by the possibility of a TV-show deal that had materialized in the streaming boomtimes of the pandemic. Marc and Amber were advised to find an apartment roomy enough to accommodate a camera crew. They got lucky in Harlem; their landlord, an academic, is one of eight children, and sympathized with their struggle to find a place to land. "The reception by the neighborhood here, compared to San Francisco, has been night and day. People have been so kind," says Amber.
But lean times came for the streaming services, and the producers backed away, leaving the family to figure out how to pay their rent — just shy of $10,000 a month — another way. It hasn't been easy. COVID relief checks filled the gaps while they were in San Francisco. Marc is a graphic designer, but occasional freelance work doesn't cut it. Amber is a full-time mom, although the work she puts in editing the family's Reels, TikToks, and YouTube videos is what they hope will float them until the next big opportunity shows itself.
Eight of the ten kids were home while we spoke; Josiah and Pearl were both at school. Before I'd arrived, I had mentally prepared myself for trying to conduct an interview in the presence of that many kids. Make sure you can hear what people are saying over the din, I'd said to myself. I guess I'd had my own kids in mind. For the duration of my time in the de la Motte home, I never once heard a child utter the word "Mom", and that impressed me even more than their impromptu string arrangements of radio hits or their sight-reading of Bach.
The kids are undoubtedly gifted and very bright. They're readers, and obvious critical thinkers, despite what some might uncharitably assume about homeschooling families affiliated with fundamentalist churches. (They attend an independent evangelical church downtown.) Social-media commenters often wonder with suspicion how Amber and Marc managed to coax so much talent out of their kids. The parents insist it's really just positive peer pressure; the younger kids seem to want to catch up with their older siblings, to belong to the band, to practice because it's simply what the family does. What if someone wanted to quit, or play the electric guitar? That would be fine, insist Amber and Marc.
Mostly though, this is just a family trying to get by. The family busks to pay for the kids' music lessons. The money from the sale of their house is dwindling, and TikTok's creator's fund offers a ray of hope — unless TikTok is banned, the prospect of which has Amber and Marc worried. They get most of their groceries at Costco and Trader Joe's and scarcely afford meat anymore. They used to eat salmon once a month but have switched to tuna casserole. Eating in restaurants only happens when they're given a meal in exchange for a bit of content.
Amber hopes things work out on TikTok in the meantime. "My goal for anything that I make online is, we're paying rent, we're paying for food. The rent's paid, the heat's on. The thought of being able to cover the kids' music too? That would just be huge. I wouldn't be buying a Ferrari, I'd be buying violins."