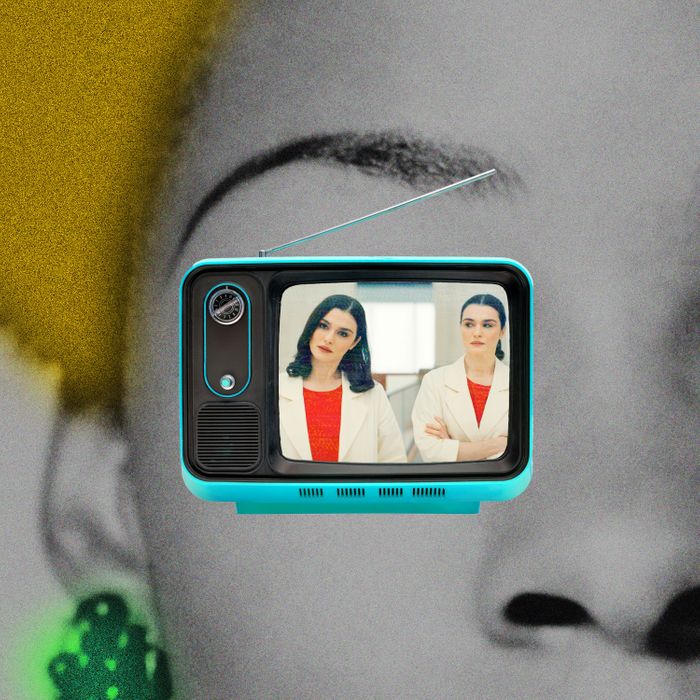 Photo-Illustration: The Cut; Photo: Amazon
We get it: There's an overwhelming amount of television right now. The streaming landscape is an impractical maze, and the good stuff easily gets lost in the shuffle. But most of us can still find that one show that cuts through the noise. We call this Appointment Viewing, or the time you carve out in your busy schedule to watch the show you'll want to unpack with your friends when it's still on your mind the next day. Tune in each month to read what writer Michel Ghanem, a.k.a. tvscholar, deems worthy of a group-chat deep dive.
So far, we've covered HBO's mushroom hit The Last of Us, and we still have songs by Amazon Prime Video's 1970s fictional band Daisy Jones & the Six on repeat from March. This month, we become Rachel Weisz stans — twice over — and get a double dose of her on Dead Ringers, an addicting and unsettling miniseries about twin gynecologists adapted from the 1988 David Cronenberg film of the same name.
What is this David Cronenberg adaptation everyone is talking about?
If, for some reason, you've never heard of David Cronenberg, he is known as the Canadian king of sci-fi body horror, interested in everything visceral and abject. His 1988 film Dead Ringers starred Jeremy Irons as twin gynecologists who both date a patient, a movie star played by Geneviève Bujold. Fans of Cronenberg will notice several parallels to the original film in this gender-swapped remake for Prime Video: blood-red scrubs, the central love triangle, and how the twins begin unconsciously self-sabotaging as they drift from each other.
Dead Ringers, the show, follows Rachel Weisz in an electrifying performance as Beverly and Elliot Mantle, highly intelligent twin doctors working in obstetrics, exasperated and held back by an overwhelmed New York City hospital. They end up working to obtain funding from a Sackler-esque wealthy woman (played by a scene-stealing Jennifer Ehle) to open their own, forward-thinking fertility clinic. Much of the show's conflict revolves around the push and pull between the twins as Beverly enters a relationship and struggles to sever her near-incestuous ties to Elliot.
Annapurna Pictures approached Alice Birch (who is best known for writing Hulu's Normal People) to write Dead Ringers. The series had an all-female writers' room — including Weisz, who also executive-produces — and the show expands on the original premise to include more plot related to fertility and navigating the medical-industrial complex. The result is a raunchy, darkly comedic and slightly surreal show that I haven't been able to stop thinking about since watching the full season a few weeks ago.
How should I watch it? Is it a binge moment?
All six episodes of Dead Ringers will be available to watch on Friday, April 21. If you're brave, you could binge this in an evening (like watching two movies back-to-back), but it might be better digested in chunks. Two episodes per sitting is my recommendation: The first two episodes set up the Mantle twins' efforts to secure funding for their new fertility clinic, the subsequent two episodes chronicle their slow drift from each other, and the final stretch offers a satisfying denouement that builds logically from the film's final act. If you can't help but gobble up all six episodes because Weisz is so magnetic onscreen, I understand!
Okay, but what if I don't like body horror?
There are certainly aspects of Dead Ringers that are psychologically intense to watch, and the first episode features a graphic birthing montage that could make you squirm if you're squeamish, but I wouldn't say the show leans on horror tropes such as pop-ups and jump-scares. Instead, the show is more unsettling in tactile ways — think squelching sound design, characters speaking with their mouths full of food, and mysterious blood clots. Even just watching the intimate behavior of the twins, who live together and share every part of their lives, could be enough to make you feel disconcerted. Dead Ringers draws you in and holds you there, inducing goosebumps with a sci-fi Surrealism reminiscent of Mr. Robot. The show is also grounded in stakes of the real-life struggle for a utopian vision of medical care for birthing mothers akin to what you might have seen in This Is Going to Hurt.
Since Tatiana Maslany won an Emmy for playing 17 different clones on Orphan Black, it feels like we've seen many iterations of the twin dynamic — from James Franco on The Deuce to Ewan McGregor playing brothers on Fargo and Kaley Cuoco arguing with multiple versions of herself in her head on The Flight Attendant. If you've ever had trouble distinguishing twins onscreen, I wouldn't worry: Weisz is astounding in her ability to stylishly set both twins apart. There is also a clever use of hairstyles — Beverly wears her hair up as she is tightly controlled, quiet, and internally brooding, while Elliot wears her hair down because she is relaxed and boisterous and says anything that comes to her mind (with great comedic effect throughout the season).
What I appreciate about the remake is that it presents clearer boundaries around consent. In the original film, the Mantle twins are mostly seeing the same woman, at times without her knowledge. Here, the twins begin to drift apart as one of them enters a relationship with Genevieve (an ode to Bujold who plays this character in the film, played here by Britne Oldford), and although we see evidence that they can shift in and out of each other's lives at the hospital, it was a relief to see those boundaries are not crossed later in the season. Outside of the hospital setting, their effortless ability to pretend to be each other is only really utilized in the finale, in a stunning twist that pays homage to the ending of the film. I still have shivers thinking about it.