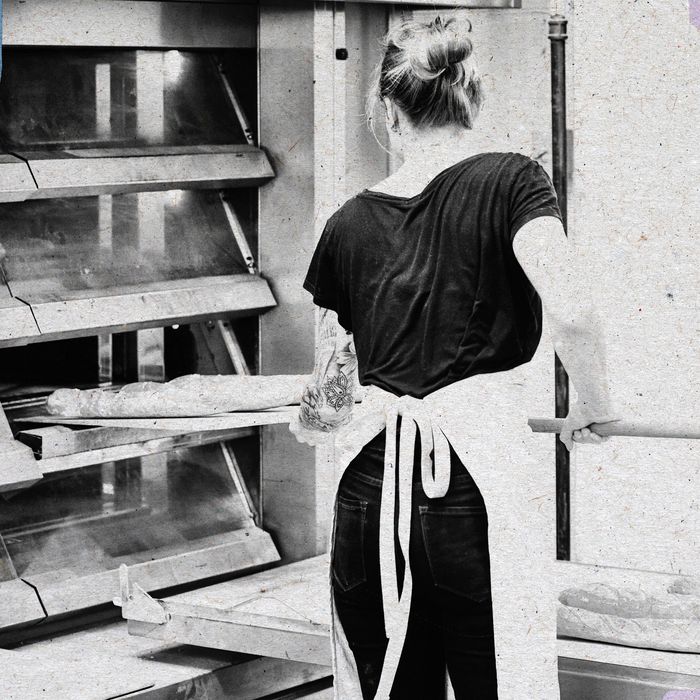 Photo-Illustration: The Cut; Photo: Getty
"Swellness" is a monthlong series exploring the health and wellness stuff no one talks about.
For the three years I worked as a pastry chef, my life revolved around food. I spent my days baking sheets of brownies, hundreds of chocolate-chip cookies, and loaves of banana bread. I was constantly surrounded by food — and I was hardly eating anything at all.
While I'd long struggled with body-image issues — I first started counting calories and drinking meal-replacement shakes as a freshman in high school — I started consciously restricting what I ate only when I began working in kitchens. Tasting ice cream and chiffon cake was a requirement of my job — a dream, for some, including me. I always wanted to eat the things I baked, but if I had more than one bite, I spent the rest of the day steeped in shame, embarrassed at my lack of self-control. I was thin, but never as thin as I wanted to be, and gaining weight as a product of my job terrified me. I'd rather starve.
Attempting to compensate for the sweets I ate at work, I started skipping meals, rationalizing it as a caloric trade-off. Despite the intense physical demands of the job (I was on my feet all day, regularly slinging 50-pound bags of flour over my shoulder), I'd get home from work and force myself into a 45-minute HIIT cardio workout. After all, I'd eaten the scraps of a brownie, a few spoonfuls of ice cream.
Things escalated when I started working the pastry line in a Michelin-starred restaurant. The hours were long: 2:30 p.m. to 12:30 a.m. After family meal at 3:45 p.m. (when I'd half-heartedly pick over a plate of chicken thighs), nobody stopped to eat during the shift. The long stretches without food felt like a rite of passage, the blatant neglect of our bodies a necessary sacrifice of high art. I used it as an excuse to devote myself fully to hunger.
For six months, I subsisted on coffee, rice cakes, and protein bars. I withdrew from social situations, snapped at friends and family, and always had a headache. My blood sugar could plummet on a dime. Eventually, my body was so desperate for sustenance that tasting for work could drive me into a full binge episode. I'd feast on leftover duck-fat potato chips, cold slivers of steak, burnt beignets — my palate indiscriminate, my hunger and fullness cues utterly obliterated. So began the cycle: starving, bingeing, starving again.
Until recently, I've kept all this a secret. When it's your job to feed everyone else, nobody ever suspects that you're starving.
Eating disorders have many ways of manifesting, but one of the trademarks, no matter the type, is an all-consuming obsession with food. In a 1944 study known as the Minnesota Starvation Experiment, physiologist Ancel Keys subjected 36 volunteers (all men) to a period of semi-starvation. His goal was to study the physiological effects of a limited diet. "Food became the one central and only thing really in one's life," recalls one participant. At the conclusion of the experiment, another man reported having collected nearly 100 cookbooks.
For people who work in the food industry, the signs of food obsession (collecting cookbooks, compulsively reading recipes, cooking for others without eating anything yourself) are fairly normal ways to behave. We've built our lives around food, and it can be easy to slip into problematic eating habits.
Shaina Loew-Banayan, the chef-owner of Cafe Mutton in Hudson, New York, and a 2023 James Beard Award finalist, started cooking at the age of 13. Around the same time, they started counting calories. "As I was getting more and more addicted to that diet mind-set, I was also getting more obsessed with reading about food," they say. "Because I loved cooking, but also a little bit because I was so obsessed with food, both of those things took me into a food career."
At 16, in the thick of anorexia and bulimia, Loew-Banayan started working part time at a restaurant in their hometown. They'd go on to work in some of New York City's most elite kitchens, including Eleven Madison Park as a line cook and Prune as a sous-chef. Their eating disorder followed them every step of the way. "At work I tried not to taste but couldn't avoid it altogether and each time the calories pelted loud on my brain like grave dirt," they write in their memoir, Elegy for an Appetite. Consumed by self-imposed starvation, Loew-Banayan recalls occasionally calling out of work for fear of having to taste. If anyone noticed their habits, no one spoke up.
For someone with a troubled relationship with food, a restaurant kitchen — where line cooks often go up to ten hours without eating a real meal — is a disturbingly easy place to hide. Fine-dining institutions in particular have long fostered an environment of intensity: "The common language that I've experienced is always like, 'Well, I don't have time to eat,'" Loew-Banayan tells me. "And then everyone's just trying to run on fumes because adrenaline is better for work than food and then people crash."
Bianca Cruz — now the pastry chef at Lilia in Brooklyn and an editorial assistant at Clarkson Potter — works a nine-hour weekend kitchen shift with no breaks. Even though she's surrounded by food, she rarely stops to eat. "I've somehow conditioned myself into thinking, Oh, this is a good thing for you. You don't need any food right now," Cruz says. "Because with my weight and the way I grew up, I'm like, Well, you're fat, so you can stand to lose a few meals."
Growing up in a Puerto Rican household, Cruz developed a deep love for food. She also fielded constant criticism from family members on her body and her appetite. "My family is kind of ruthless when it comes to weight, even though we're all fat, which is hilarious," Cruz says. Over time, she started to feel more comfortable in her body, but during the pandemic, she gained a significant amount of weight due to anxiety-induced binge-eating. Now she's actively trying to lose weight (she's at risk of developing diabetes) without slipping into disordered-eating habits — a task that proves challenging while working in a kitchen.
When you are a woman who works in food, people feel strangely entitled to comment on your body. Whenever I introduced myself as a baker — whether to strangers, grandparents, or my gynecologist — they all asked the same question: "How do you stay so thin?" Nobody was shy in rewarding me for my thinness, blindly telling me that whatever I was doing, it was working. At the time, it felt good to hear these things (kindling for the starvation fire), but each comment confirmed what I'd long known to be true: There was no world in which I could love food without constantly thinking about my body.
"I remember working a brunch shift and one woman grabbing my very thin arm as I cleared her half-eaten plate of pancakes and urging me to eat it when I took it to the back of house," says Food52 editor Madison Trapkin, who worked as a server in college while battling anorexia. "Oh, how I would always get these questions," echoes food writer and recipe developer Justine Lee. "'If you're always baking, and you're surrounded by all of these beautiful bakes, how are you so thin?'"
In the moment, Lee savored these comments: Her highly restrictive diet was producing results. She first started counting calories while working in recipe development for a health-food start-up; part of her job was to calculate recipes' nutritional value. It's how she first learned the language of orthorexia, a disorder characterized by a fixation on healthy foods, that became anorexia during her next role as a baker at Levain Bakery. "I'd taste things and feel immediate guilt. I'd try to stop myself from eating things, but then there was always the pressure of doing my job," she says. Others' open approval of her thinness — which felt like "a huge status symbol at the bakery" — only fueled the fire: After eight-plus hours of manual labor, Lee would force herself to walk home from work to "burn off the calories."
Although the kitchen environment poses unique challenges for someone recovering from an eating disorder, it can also be a place of healing. Many eating-disorder treatment centers include cooking classes as part of the recovery process, the goal being to create positive, joyful associations with food. For chefs, cooking can have a similar effect.
Today, Loew-Banayan runs their own restaurant, a casual neighborhood spot where the menu changes daily (one morning, you may get crêpes drenched in dark maple syrup; the next, housemade bologna, fried and sandwiched between white bread). While they don't know that they'll ever fully heal from the years of disordered eating, cooking their own food and watching guests enjoy it has been an important step toward healing. "I do love making food for other people," they say. "I really love seeing them relax and experience food in a way that's super-positive."
Similarly work has challenged Rebecca Firkser to shift her mindset around food. She's been an editor, recipe developer, and food stylist all while struggling with and eventually recovering from anorexia, binge-eating, and orthorexia. "I think the best part of working in recipe development, in terms of combating my eating disorders, has been the idea of food becoming a little more mundane to me," she says. When food can be work, and work can be boring, food gradually loses its foreboding power — but it's an ongoing challenge. When she sees co-workers skipping lunch, claiming they're "sooo full" from tasting — the same excuse she formerly used to skip meals — it can revive toxic thought patterns. "There have been times where those old thoughts have crept back into my head," she says, like, "Oh, I sure have eaten a lot today. And then I have been faced with the exact practice of being like, And what's wrong with that? What's wrong with eating a lot today?"
In the food industry, the topic of eating disorders is still kept relatively quiet. "I've had a pretty decent amount of co-workers go through this, and nobody wants to talk about it," Loew-Banayan says. Since it's such a sensitive subject, they've always hesitated to start a conversation or call anyone out for their behaviors. "But then how do we actually look out for one another?" they ask.
Firkser and Loew-Banayan have both seen therapists for their disordered eating, but they've often failed to understand the nuance of their circumstances. "I had this horrible therapist when I was 19 who was like, 'You can't work in food if you can't stop having bulimia,'" Loew-Banayan recalls. "And I was like, Oh, thank you so much. Like, I'll just go change my whole career right now." Firkser strongly recommends that anyone who works in food and struggles with these behaviors see a therapist who specializes in eating disorders, as she does. Unlike previous therapists who have pushed her to leave the industry, "They work with you where you are," Firkser says. She still works in food, and eating-disorder-specific therapy has helped her chart a productive path forward.
In 2020, Justine Doiron (also known as @justine_snacks, the creator behind the "butter board") posted a video on TikTok detailing her history with bingeing and purging. The video got 2.9 million views — far more than her other videos typically received. "It is so easy to reach out to people on social media, and I used to offer that my DMs were open, until I realized, I can't help," Doiron says on the Cherry Bombe podcast. "There's a time when people really want to feel heard, and there's a time when people really want to heal." For the latter, she says, "I think professional resources are the best way."
Last year, I left the kitchen for a full-time editorial role at Bon Appétit and Epicurious. Around the same time, I decided to repair my relationship with food. I started with one rule: I was required to eat three meals a day, even when I thought I wasn't hungry. After a month of force-feeding myself overnight oats (no more coffee for breakfast), my blood sugar stabilized and my headaches went away.
When I decided to start eating again, food loosened its choke hold on my brain. I still think about it all the time, but not from a place of inextinguishable desire. I know that if I want cake, I can bake it. My years in pastry gave me that gift: the ability to feed myself and others.
Lately, the test-kitchen team has been giving away slices of cake — yesterday, it was confetti cake with chocolate frosting and big sprinkles on top. We have a long, complicated history, cake and I. Every time I eat a slice, all the pain and passion of my messed-up love affair with food is mixed up in it. I don't know if I will ever get to a point where I can eat a slice of cake without the bad thoughts creeping in. Still, I close my eyes and taste it all: the plush, tender sponge; the malty chocolate frosting; the light crunch of the sprinkles. That kind of love is worth fighting for.