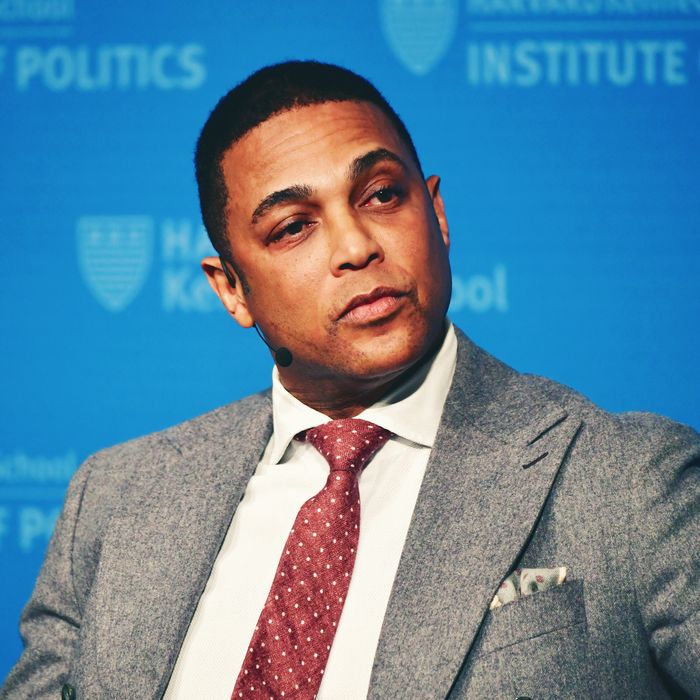 MISSING: Don Lemon
Photo: Paul Marotta/Getty Images
Don Lemon says he has been fired from CNN, two months after he made weird, sexist comments about presidential candidate Nikki Haley's age and a few weeks after a Variety report accused him of being a misogynist both on-camera and off. In a statement posted to Twitter on Monday, Lemon said his agent, not anyone at CNN, delivered the news, leaving him "stunned."
"After 17 years at CNN I would have thought that someone in management would've had the decency to tell me directly," he wrote. "At no time was I ever given any indication that I would not be able to continue to do the work I loved at the network. It is clear that there are some larger issues at play. With that said, I want to thank my colleagues and the many teams I have worked with for an incredible run. They are the most talented journalists in the business, and I wish them all the best."
Asked for comment on Lemon's claims, CNN directed the Cut to a tweet from its communications department, which read: "Don Lemon's statement about this morning's events is inaccurate. He was offered an opportunity to meet with management but instead released a statement on Twitter."
According to the New York Times, Lemon appeared on CNN This Morning on April 24 as usual, apparently before the network confirmed, in a statement from chairman Chris Licht, that "CNN and Don have parted ways." The Times reports that "executives at CNN gradually concluded that his future at CNN had become untenable" and that "CNN's bookers had discovered that some guests did not want to appear on-air with Mr. Lemon," whose popularity apparently nose-dived in recent weeks.
The seeming catalyst: Lemon's on-air reaction to Haley's presidential bid, announced February 14 with a video calling for "a new generation of leadership." Commenting on her entry into the race, Lemon decided to riff on her references to her competitors' ages. "America is not past our prime, it's just that our politicians are past theirs," Haley had said in an address in Charleston, South Carolina. "In the America I see, the permanent politician will finally retire. We'll have term limits for Congress and mandatory mental competency tests for politicians over 75 years old." For reference, sitting President Joe Biden is 80, while Haley's fellow GOP candidate Donald Trump is 76. Haley herself is 51.
After opining that Haley chose "the wrong road to go down" with her focus on age, Lemon said: "Nikki Haley isn't in her prime, sorry! When a woman is considered to be in her prime is her 20s and 30s and maybe 40s." After his co-anchor Poppy Harlow pressed him to explain himself, Lemon continued to spin his wheels. "If you Google 'When is a woman in her prime?' it'll say 20s, 30s, and 40s," he said. "I'm not saying I agree with that, but I think she has to be careful." As his colleagues pushed back, Lemon threw up his hands. "Don't shoot the messenger, I'm just saying what the facts are. Google it!"
To some, the detour sounded like yet another example of Lemon talking out of his ass. (Remember when he suggested to one of Bill Cosby's victims that she maybe could've avoided being raped if she'd fought back a little harder? Just one example.) And according to the Daily Beast, some CNN staffers internally pushed for consequences: "There were grumbles of mansplaining," one source said. "And how much longer the women should have to be talked down to before there's a change." For reference, Lemon is rumored to have screamed at his co-anchor Kaitlan Collins in December after making belittling on-air observations about how men's sports teams are "more interesting to watch" than women's.
The following day, Lemon did not appear in his usual slot, though Collins explained that he had a scheduled "day off." Lemon was missing from the show again the following Monday ("not pre-planned," according to the Hollywood Reporter) and Tuesday, but came back on February 22 with an apology to the "network," his "colleagues, and our incredible audience."
"I've heard you, I'm learning from you, and I'm committed to doing better," he tweeted. Per an internal memo from Licht that THR obtained at the time, Lemon would have to undergo some sort of "formal training," whatever that means.
Then, in early April, Variety published an investigation into Lemon's conduct at CNN, cataloguing hostile encounters with female colleagues going back to 2008. According to the report, Lemon once threatened a co-worker who got an assignment in Iraq that he wanted. He reportedly called a producer fat and openly mocked a co-host — in both cases right to the woman's face. He allegedly questioned Soledad O'Brien's racial identity when he felt he had been passed over for another hosting gig, and while both Lemon and CNN denied the accuracy of Variety's reporting, O'Brien told the outlet that "Don has long had a habit of saying idiotic and inaccurate things."
"We thank him for his contributions over the past 17 years," the statement said of Lemon. "We wish him well and will be cheering him on in his future endeavors."
On Tuesday morning, Lemon's former co-anchors Harlow and Collins read Licht's statement on air. Collins said Lemon was one of the first anchors to have her on his show when she was a reporter, adding: "That's something that I'll obviously never forget." Harlow said Lemon was one of her first friends at CNN. "I'm so thankful to have worked alongside him and for his support for nearly 15 years here, and I wish him all good things ahead," she said.
This article has been updated.