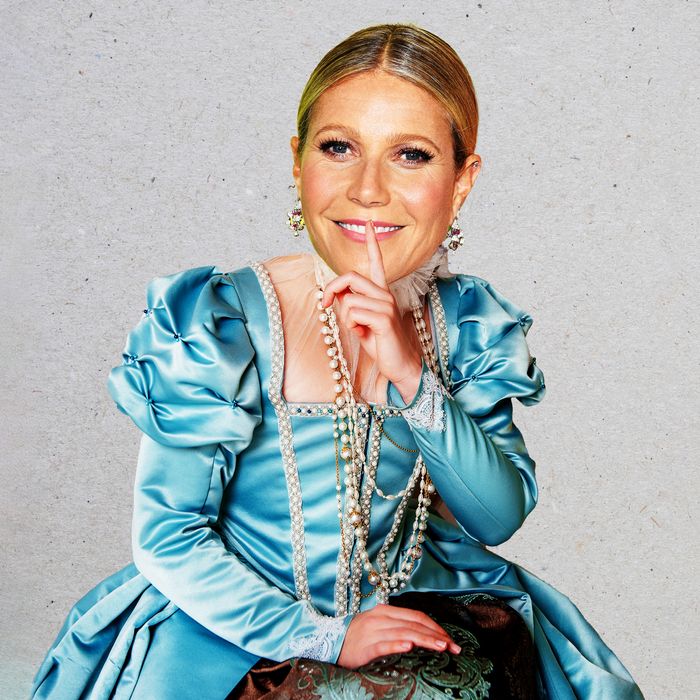 Photo-Illustration: by The Cut; Photos Getty Images
In the early 1800s in Paris and London, upper-class women wore elaborate dresses of delicate silk and linen with layered petticoats, corsets over chemisettes, and ornate skirts. These displays of luxury remained unchallenged until the introduction of the sewing machine in 1842, which allowed everyone to embellish their own wardrobe. As people who weren't rich sought to imitate the wealthy, the upper class went in search of subtler distinctions. Rather than resorting to ever more ostentatious displays of wealth, they made minor adjustments, such as tighter corsets to indicate a lack of mobility or flimsy fabrics that could be thrown away, thereby showcasing the availability of bespoke dressmakers. What they were doing was inventing "quiet luxury." And it's key to the plot of every Edith Warton novel.
Today, rich people continue to play a game of cat and mouse. The definition of luxury constantly evolves to maintain its exclusive relationship with the wealthy, while the middle class immerses itself in the codes and images of luxury without ever truly attaining it. The pop media praised Gwyneth Paltrow for the unassuming $1690 The Row merino wool sweater she wore in March. It set off the discussion of "quiet luxury" once again, which was only furthered by the return of Succession and the case of the ludicrously capacious Burberry bag. Yet the TikTok kids have been romanticizing "old money" and its signifiers since December.
Lots of words were typed last month about quiet luxury and how to achieve it. "Quiet luxury is new age minimalism," Elle magazine wrote. "It's less austere than minimalism but more polished than 'normcore,'" said Vogue. But no one can seem to figure it out. And as we discuss stealth wealth, the conversations about quiet luxury are becoming quite loud.
Quiet luxury emphasizes high-quality materials, craftsmanship, and heritage. It rejects logo mania and creates a sense of exclusivity based on the intrinsic value of the product rather than external markers of wealth. Take Mark Zuckerberg's everyday uniform, which includes what looks like a regular T-shirt that is in fact a custom $300 Brunello Cucinelli. There are the Olsen twins' off-duty looks, head-to-toe The Row, their own label, whose entire thing is its exquisite, subtle materials and understated design.
Brenda Weischer, a fashion editor at 032c magazine, finds it surprising that we're still at this game when there's a new generation she associates with having an "eat the rich" mentality. While the philosophy of stealth wealth involves maintaining an affluent lifestyle without outwardly displaying it, why is Gen Z obsessed with unattainable luxury, wealth, and the allure of "old money"? Weischer questions why Gen Z fixates on emulating what she calls the "oppressor core" instead of challenging existing power structures. "If we want to change who is sitting in the C-suites, why are we looking to blend in with the CEO boomers" and "predominantly white men who are afraid of fashion due to their own internalized toxic masculinity?" she told me. "The stylists of Succession are doing a very accurate job; however, how is it lost on the audience that these characters are absolute miserable losers?"
The elitism of this obsession just entrenches existing economic inequalities. "It's an especially backward trend for women who have worked harder for their careers. Why should they be humble about it?" she asks. "Why would they not want to outshine the man who's been wearing the same Ralph Lauren shirt for the last two decades?" Enough with quiet luxury. If we can't attain it, why not embrace being loud?