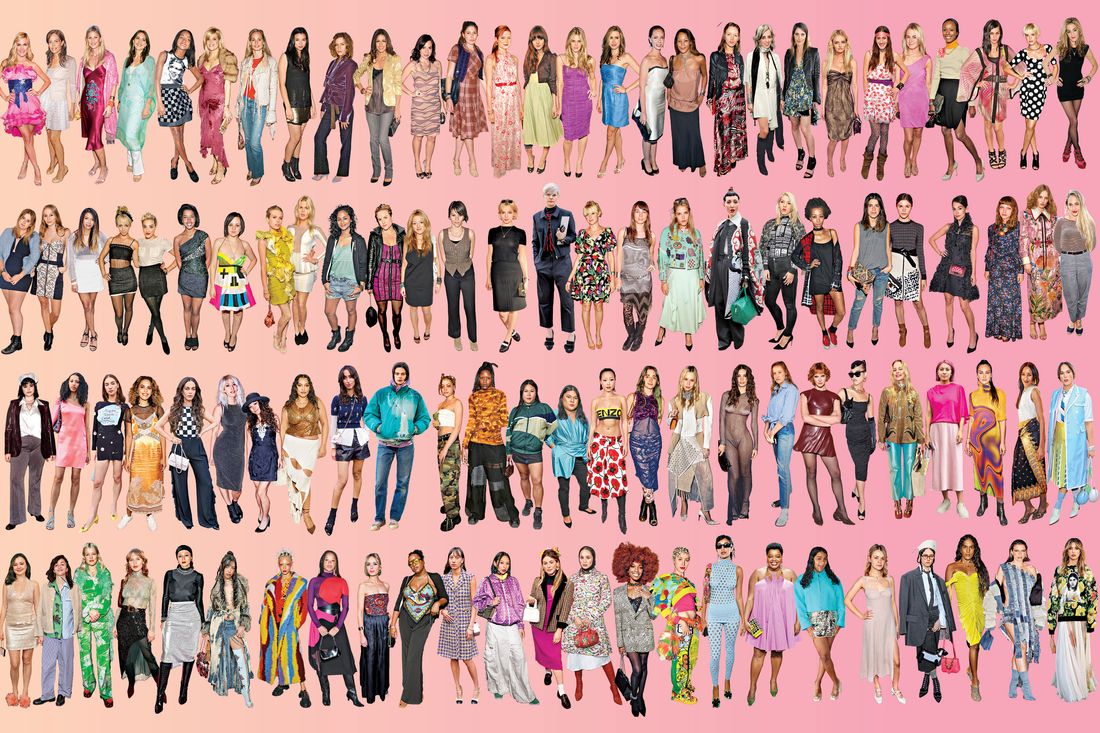 Photo-Illustration: The Cut; Photos: Getty Images/BFA.com
The explosion of the internet changed the market for "It," dramatically increasing both demand and supply. Suddenly, all an "It" girl needed to do was to capture the attention of the multiplying number of party or street-style photographers and the blogs would take it from there. Once Instagram arrived a few years later, you didn't need even them; an "It" girl could just do the chronicling herself.
From left, Tinsley Mortimer (kicked off the step-and-repeat era), Allison Sarofim, Annelise Peterson, Zani Gugelmann (not to be confused with Marjorie Gubelmann), Genevieve Jones, Ali Wise, Lauren Santo Domingo, and Lily Kwong (now an "It" gardener).
"In my day, girls were totally dependent upon others noticing them, liking them, writing about them. Gawker and 'Page Six' wrote about me a lot and, for the most part, got it wrong. I didn't have a publicist back then, and I get that I was an easy target, but it definitely hurt and scared me." — Tinsley Mortimer
From left, Paz de la Huerta, Olivia Palermo, Fabiola Beracasa Beckman, Stella Schnabel, Jessica Joffe, Irina Lazareanu, Byrdie Bell, and Alexis Bryan Morgan.
"Seeing myself in the party pages for the first time was flattering. I'm a very organized person, so having that exposure as a young person, I thought, So what does the future look like? I hired a publicist very early on and had a modeling agent and other agents." — Olivia Palermo
From left, Barbara Bush, Maggie Betts (Bush and Betts are were West Village roommates), Rachel Chandler, Hope Atherton (important hair), Vanessa Traina, and Lydia Hearst.
From left, Arden Wohl, Amanda Hearst, Shala Monroque, Leigh Lezark (Gawker nicknamed her Princess Coldstare), Agyness Deyn, Chelsea Leyland, Cassie Coane (FOOT, friend of Olsen twins), and Harley Viera-Newton (FOOT).
"When I was a young'un, Gawker picked on me for saying silly things to the press — when you're interviewed for not really doing anything, of course you're going to be picked on when you don't really have anything to say or anything to promote." — Arden Wohl
From left, Mei Kwok, Caitlin Moe and Mia Moretti, Hannah Bronfman, Sarah Lewitinn, Theodora and Alexandra Richards, Vashtie Kola, and Olympia Scarry.
"My mom and dad are immigrants from Trinidad, and they didn't really understand what I was doing. They still don't understand what I do for a living. My mom asked me recently if I did catering. I was like, 'Why do you think that?' She said, 'Oh, because you do events.'" — Vashtie Kola
From left, Cat Marnell, Eleonore Hendricks, Annabelle Dexter-Jones (Naomi Pierce!), Kate Lanphear, Melissa Bent, and Mirabelle Marden.
From left, Ashley Smith, Michelle Harper (married to Jenny Shimizu), Jeanette Hayes, Brandee Brown, Leandra Medine Cohen, and Emily Weiss.
From left, Audrey Gelman (FOLD, friend of Lena Dunham), Tavi Gevinson, Petra Collins, Jemima Kirke (FOLD), Barbie Ferreira, and Sahara Lin.
From left, Alexandra Marzella, Cleo Wade, Hailey Gates, Karley Sciortino, Sandy Kim, and Paloma Elsesser.
From left, Chloe Wise, Lexie Smith (bread artist), Seashell Coker, Oyinda, Kyle Luu, and Dese Escobar.
"It's like if I'm not posting, then I'm not booking jobs." — Fiffany Luu
From left, Fiffany Luu, Jo Rosenthal, Lindsay Vrckovnik, Emily Ratajkowski, Kaitlin Phillips, and Hari Nef.
"I feel like I'm more defined than what 'It' girl has traditionally meant. It's an ineffable quality, and I'm really transparent about being good at two things: I'm an actress, and I'm a writer." — Hari Nef
From left, Dara Allen, Emilia Musacchia, Michelle Li, Miyako Bellizzi, Yohana Lebasi, and Tommy Dorfman.
From left, Eileen Kelly, Laila Gohar, Ruby Redstone, Ivy Getty, Noor Elkhaldi, and Savannah Hudson.
"I wouldn't say the world knows who I am. I would say I'm influential to my friends and they're influential to me, so in a way, every one of my friends is kind of an 'It' girl." — Ivy Getty
From left, Jazzelle Zanaughtti (no-eyebrows influencer), Salem Mitchell, Anna Weyant, Imani Randolph, Bella Newman (Jaime King's niece), and Lumia Nocito.
"Free stuff is a perk: free meals, drinks, clothing items. But you don't need to accept every gift that comes your way. You can be refined in the way you take the free things." — Imani Randolph
From left, Caroline Calloway, Maria Al-Sadek, Pierrah Hilaire, Clara Perlmutter, Anaa Saber, and Gabriella Karefa-Johnson.
"I found Tavi Gevinson and fell in love with Rookie. I found this world, and I was like, Yes. A bunch of cool kids everywhere, just doing their own thing at a very young age. That made me want to explore." — Pierrah Hilaire
From left, Devin Halbal, Dasha Nekrasova (new-right icon), Ella Emhoff (center-left icon), Richie Shazam, Julia Fox, and Eve Jobs (New New Yorker).
"An 'It' girl is what you make it. It's not that deep. It's fun. It's silly. We're all just doing silly shit, wearing clothes. There's no pressure. But then there's also a lot of pressure." — Ella Emhoff
Photos: BFA.com (Sciortino, Kim, Redstone, Rosenthal, Musacchia, Lebasi, Phillips, Elkhaldi, Nocito, Hilaire; Getty Images (remaining)