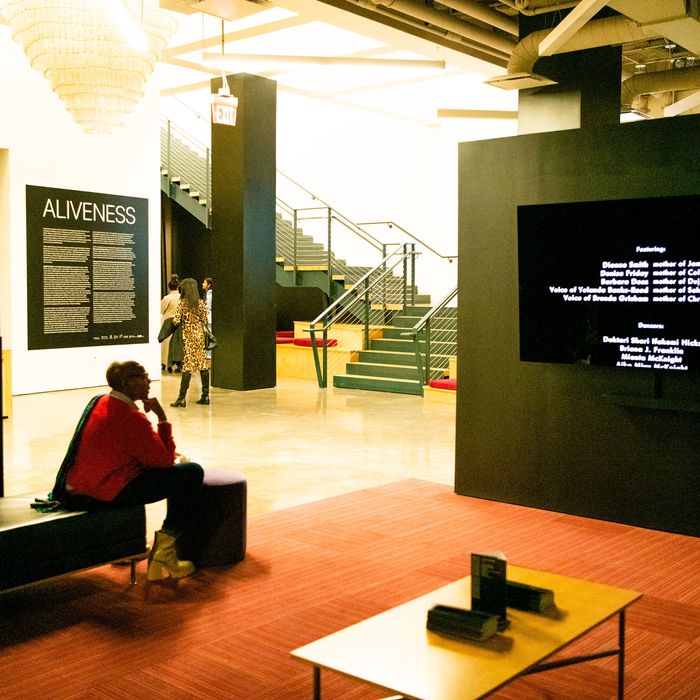 Photo: Irina Mason Photography
The high-ceilinged interior of a former department store in Newark, New Jersey, might not be where you'd expect to find a powerful exhibition of short films, but this spring and summer, that venue is home to one of the most relevant and essential art shows of the year.
"Things We Do in the Dark: Cinematic Experiments in Kinship," a two-part film exhibition currently on view at Express Newark, includes nearly two dozen films by Black and Indigenous artist collectives whose work takes on subjects including environmental and racial justice, beauty standards, education, and grief and healing. The first rotation of films is on view until the end of April, and the second rotation will run through July. "Things We Do in the Dark" is one of several exhibitions, installations and lectures that are part of Express Newark's yearlong series, "Aliveness," inspired by Kevin Quashie's recent book, Black Aliveness, or a Poetics of Being.
Individually, the films reveal ordinary moments in the lives of certain people — a trip to a hair salon, a college newspaper meeting, a family gathered on a front porch. But collectively, they remind viewers of the importance of coming together to celebrate, to mourn, to protest. The curatorial thread throughout the exhibition is the power of partnership, relationships, and community, says Farrah Rahaman, the curator-in-residence at Express Newark. Rahaman, a Trinidadian scholar and activist in Philadelphia, is best known for her work with the BlackStar Film Festival. Her long-standing interest in informal film collectives, or people who work together without the rigid structures of manifestos and LLCs, informed the curation of "Things We Do in the Dark." Fittingly, none of the works featured was created by a single individual.
"I'm interested in how kinship shows up in artistic practice," Rahaman tells the Cut. "With this show, I was thinking about different relationships in a variety of directions and was interested in work that is made with grandparents and grandchildren, work that is made in groups of best friends or artists who work together in one medium and are trying a different medium."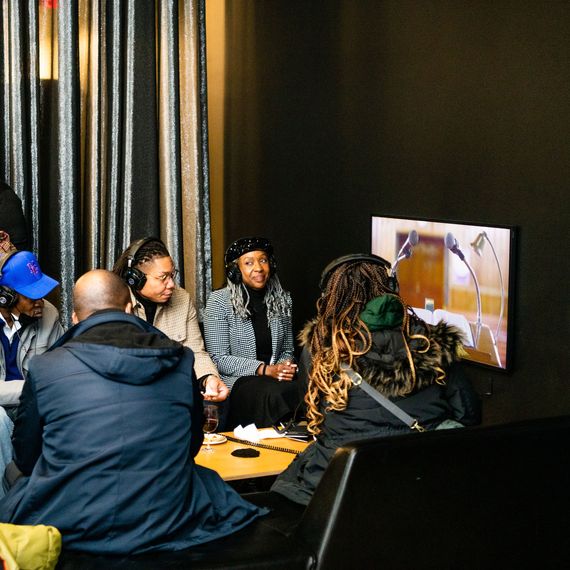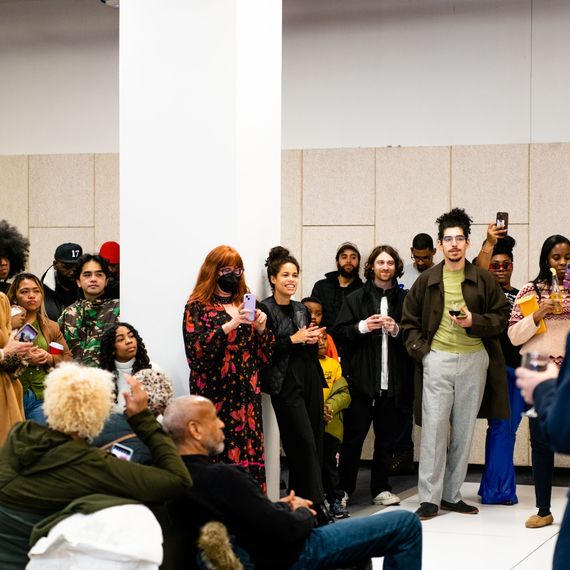 Spread across three floors inside Express Newark, Rahaman has created mini-theaters where viewers are invited to enter and watch the films. The timely exhibition's title was inspired by June Jordan's poem "These Poems." While many of the films show moments of sadness and strife, their larger message is a reminder that in the dark, there is hope to be had, community to be found, and work to be done, together.
In Kevin Jerome Everson and Claudrena N. Harold's film, Pride, an aspiring writer in early-1990s Charlottesville works on stories for a student-run newspaper at the University of Virginia that focuses on issues affecting Black students. The students are shown talking about their frustrations with financial aid at their school and, together, they write a letter about the issues. Watching the film in 2023, at a time when several politicians and institutions are pushing to quash opportunities for students to learn Black American history, it's hard to miss the urgency of work that shows Black students speaking up together, in spite of any fear of retaliation. "We get to say whatever we want because they're going to say whatever they want anyway," one student says as the group writes its letter.
In a similar vein, Kym Allen and Amber J. Phillips's Abundance, about a self-described fat Black woman who loves herself and her body in a society that doesn't encourage it, feels eerily relevant in today's Ozempic-crazed age. While the three-part film shows the challenges of having an identity that is often othered and ostracized, it also reveals the possibilities and joy of loving oneself despite the ongoing noise that discourages certain people from speaking up, being confident, and claiming space. Her existence and the decision to stay alive every day is in itself a form of resistance.
Perhaps Process, a film about loss, depression, isolation and healing experienced in the past few years, by Christian Padron, captures the exhibition's ethos best. In the film, musician Samora Pinderhughes can be heard singing a gentle reminder as the protagonist grieves but keeps pushing through life each day: "I guess I'll just say it's a process. One day at a time."
Few exhibitions feel as fitting for the current moment as "Things We Do in the Dark," which ultimately urges viewers to remember that in times of personal and sociopolitical challenges, we can only make changes together — as groups of friends, collaborators, collectives, and communities. Rahaman wants people to leave the exhibition feeling moved to be part of the process each day: "I hope that the works ignite people, not just to step into this space of imagining a freer world, a more tender world, a beautiful world — because I think we do that all the time in small ways — but also to feel more ready and encouraged to start their own projects."